Rose Parade® memories from behind-the-scenes
In two years, Mark Leavens '83 takes the helm as president of the Tournament of Roses, a culmination of nearly three decades of service and devotion to bringing the traditions and festivities surrounding the Rose Parade® presented by Honda and Rose Bowl Game to Pasadena.
He has served on countless Tournament of Roses (ToR) committees ranging from the Royal Court to his current position on the Executive Committee as secretary. As ToR president, he'll be charged with selecting both the Rose Parade theme and the grand marshal.
This year is especially meaningful to Leavens as his alma mater, Claremont McKenna, has been selected to enter a float in the parade – a first for any of The Claremont Colleges. His wife, Kay, an '82 Scripps graduate is also thrilled to cheer on her fellow alumna, former Congresswoman Gabby Giffords Scripps'93, who was selected as the grand marshal.
The Pasadena couple can't wait to see CMC's float travel down Colorado Boulevard with their three children.
We asked Leavens to reflect on what inspired him to get involved with ToR, and share some of his favorite memories over the years.
When and why did you decide to get involved with the Tournament?
I became a volunteer member of the Tournament of Roses Association in 1995. It was a chance to join an organization unique to Pasadena where my wife Kay (Scripps class of 1982) and I chose to live. I was very interested in going behind the scenes to learn how the Rose Parade was organized and planned each year. Also being a college football fan, being able to buy Rose Bowl Game tickets was a big plus.
What is your favorite aspect of volunteering for the Tournament?
It's the people who I get to meet that makes the volunteer experience special for me. Starting with the countless volunteer members and professional staff that I am fortunate to spend time with daily who have become close friends — including the city department heads, law enforcement and fire department leads, our vendors, sponsors and broadcast partners, and the VIP's we interact with including coaches, players, television announcers and our parade grand marshals. Lastly, I enjoy the conversations with the hundreds of guests I have met over the years who are quick to share their memories of being in Pasadena on New Year's Day.
What is your favorite float and why?
My new favorite will definitely be the CMC float. Other floats that I will always remember include a couple of Nestle floats back in the 1990s (full disclosure I worked for Nestle for 33 years) one featuring the Star Trek USS Enterprise and another with bungee-jumping clowns.
What is the most exciting Rose Bowl game you have attended so far and why?
In the last several years, we have been fortunate to have a string of close, high-scoring games that have come down to the last possession, but the one game that stands above all others for me is the 2006 Rose Bowl when Vince Young and Texas scored in the last minute to edge Matt Leinart and USC for the National Championship.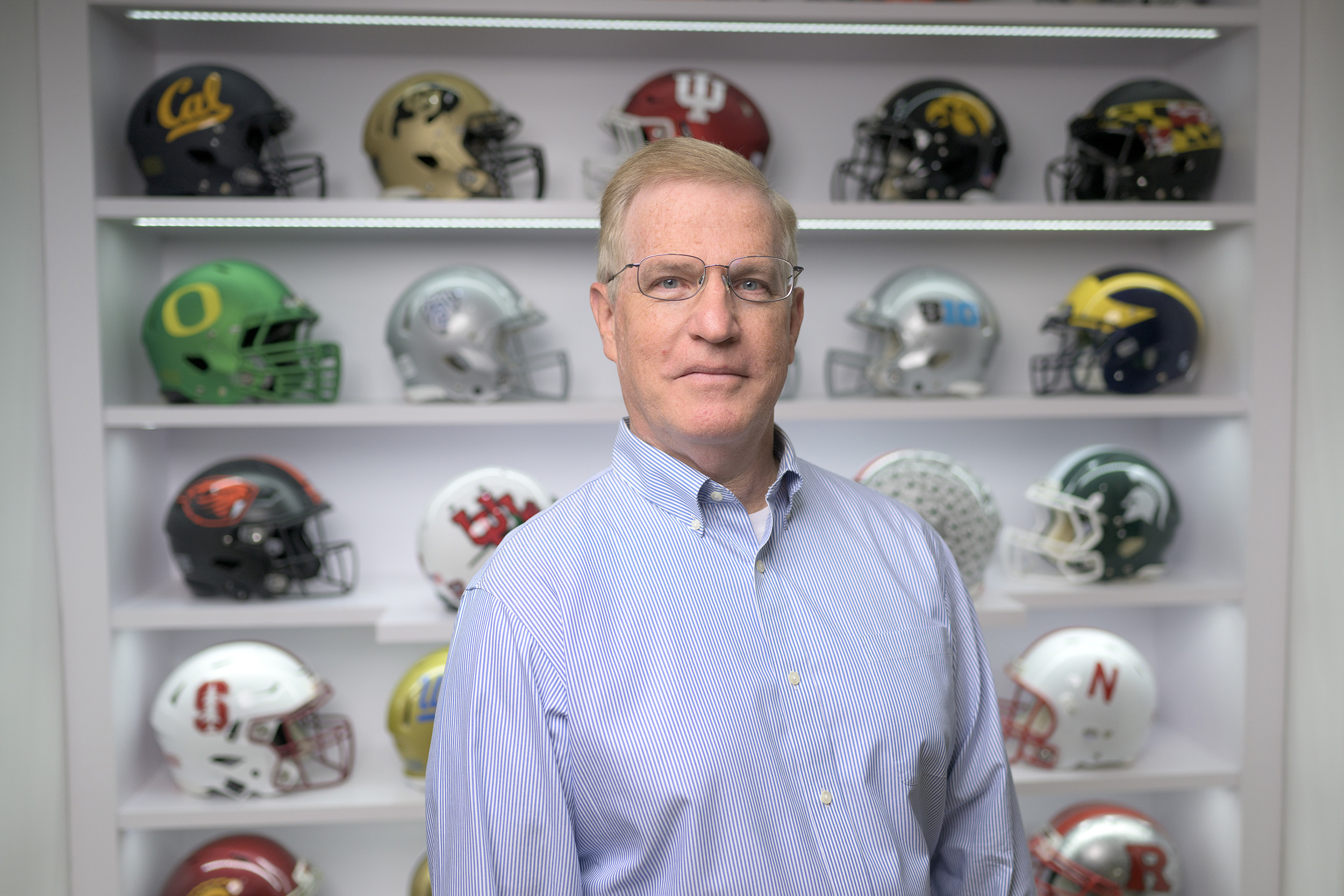 How has the Tournament changed since you became involved?
Like all organizations the Tournament must continuously adapt to stay relevant. Our Rose Parade content is constantly changing to bring in new creative ideas for floats and live entertainment that will enhance our broadcasts and in-person guest experiences. For the Rose Bowl Game, we are continuously working with our Conference partners from the Pac-12 and the Big Ten, along with the College Football Playoff, to continue to bring the best in college athletics to southern California.
CMC is entering its first float ever in the parade to celebrate our 75th anniversary. As a CMC alum, how do you think our float will resonate with the CMC community – many who will be watching from around the world?
I think the float will be a great source of pride for everyone involved with CMC. Showcasing CMC and our 75th Anniversary on a national and international stage will continue to add to the legacy of CMC.
What was your experience like as a CMC student?;
I have great memories from CMC. I really enjoyed living on campus and having the opportunity to go to classes and events at all the Claremont Colleges. One of my favorite courses was Bank Simulation with Professor Gordon Bjork. I remember the Bank our group managed didn't fare very well from a profitability standpoint, but we learned a lot. One fun CMC memory was in my senior year as captain of the Stags football team. We were 0-7 and ranked #1 in the Bottom Ten by Steve Harvey, a Los Angeles Times syndicated writer, but to close out the season our team came from behind to get the one win we had to have against the Sagehens.
What does this year's parade theme "Turning the Corner" mean to you personally and as a CMC alum?
I think it is a great theme. The theme has really resonated with all kinds of people, not only those who have had to deal with unimaginable challenges over the last few years due the pandemic, but with people who have overcome major obstacles in their lives, like our Parade Grand Marshal, Gabby Giffords. For me personally, after we had to manage through the cancelation of the Rose Parade in January 2021 (the first cancelation since the Pearl Harbor attack in 1941), it is great to be 'turning the corner' and feel like our volunteers and staff are fully getting back to a new normal.
How are you preparing to become the 2026 president? Have you started thinking about themes?
When the Tournament elects one of our volunteer members to be elevated to our Executive Committee, we serve for eight years annually rotating assignments that ultimately provide oversight across our 31 Operating Committees and nine Subcommittees responsible for policy making, so by the time we get to our single year as President we have a thorough understanding of all the aspects of our Association. With that much time to prepare we have lots of time to think about our year as President, so I do have some theme ideas I'd like to explore, but it will depend upon the Parade themes our Presidents announce over the next few years.
With so many worthy volunteer opportunities, how did you select the Tournament, and what has been the most rewarding aspect?
My wife and I have so many memorable life experiences from my years as a Tournament volunteer. For example, when I was chairman of our Queen and Court Committee, we took our Royal Court to over 100 community events and met so many wonderful people who contribute to organizations throughout Southern California. We also got to ride with the Royal Court members in the Goodyear blimp.
I am also very fortunate to have the opportunity to travel and represent the Tournament of Roses. The Tournament is a member of the International Festival and Events Association, so we host other festival guests in Pasadena for New Year's and in turn visit their events including trips to the Kentucky Derby Festival, Portland Rose Festival, Calgary Stampede, Fiesta San Antonio, the Macy's Thanksgiving Parade and the Indianapolis 500 Festival. I've also visited a number of Pac-12 and Big Ten campuses and met with University Presidents and Athletic Directors while enjoying great football games in their historic stadiums. I am very grateful for the all the experiences my time as a Tournament of Roses volunteer has provided and humbled by the honor of representing our Association.
Is there anything else you would like to add?
I am really looking forward having CMCers join us on Monday, January 2, 2023 (not New Year's Day this year since the Tournament of Roses has had a "Never on Sunday" tradition since 1893) to experience the fantastic floats, marching bands and equestrian units of the 134th Rose Parade presented by Honda.
Contact
Office of Strategic Communications & Marketing
400 N. Claremont Blvd.
Claremont, CA 91711
Phone: (909) 621-8099
Email: communications@cmc.edu

Media inquiries: David Eastburn
Phone (O): (909) 607-7377
Phone (C): (808) 312-8554
Email: deastburn@cmc.edu