Tamoy Pitt '26: Thankful for her GOLD Scholarship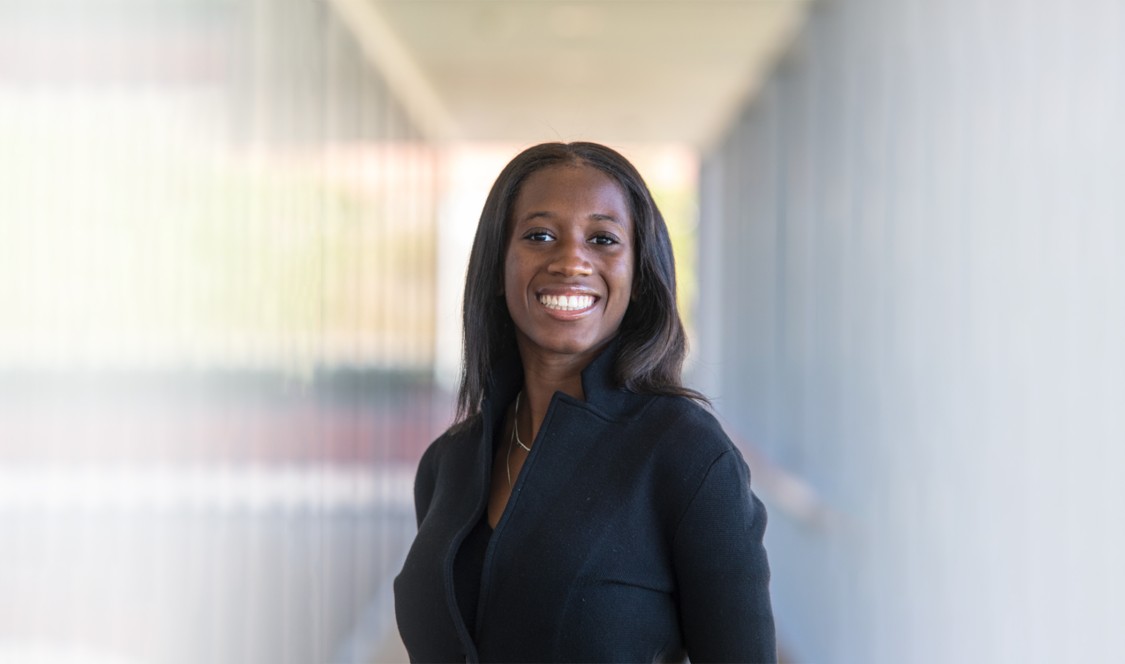 Tamoy Pitt '26 believes she wouldn't be at CMC if not for her GOLD Class of 2012 Scholarship.
The economics and public policy major, who dreams of being an international criminal law attorney, always believed she would attend community college before transferring to a residential college.
"I accepted the fact that if I didn't get good financial aid, I would just go to community college and transfer into one of my state's schools. CMC and the GOLD Scholarship granted generous financial aid and an amazing college experience. I wouldn't have met all my amazing friends and professors without the GOLD Scholarship."
Part of the historic Campaign for CMC: Responsible Leadership, now in its final months, the GOLD Challenge helps the College to expand student opportunities by encouraging collective participation.
The GOLD Challenge is targeted at graduates of the last decade to raise funds for student support and scholarships and takes place Tuesday through Thursday, March 28-30.
Pitt is actively involved in a number of student organizations. She is an associate consultant at SOURCE, a research assistant at the Salvatori Center for the Study of Individual Freedom in the Modern World, a member of CMC's Mock Trial team, and a member of the Black Student Association.
"Coming to school at CMC has made me throw myself into a lot of activities because this college has so much to offer," she said. "It can be hard to juggle at times, but I truly enjoy what I do and the people I have met."
Pitt recently engaged in a job shadow opportunity with a CMC alumna who currently works at the International Criminal Court in the Netherlands.
"Hearing about the work and time that goes into prosecuting war criminals was fascinating," she said. "After the session, I wanted to learn more about international criminal law and relations, and it has been the major reason why I have been rethinking my major" and switching to international relations.
Pitt, who grew up in Alpharetta, Ga., finds the motivation to work hard when she looks at her family, especially her mother and grandmother, who are models of diligence and perseverance.
"My grandma works two jobs at the age of 66, not only to support my uncle but to build her dream house in Jamaica. The house is almost done, and I have never seen her happier because I know this is what she has always wanted and she's finally done it because she persevered," she said. "My mom came to the United States when she was 18 and worked for years to be where she is now in her career as a fleet analyst at a logistics company. She raised me, my brother, and my aunt, while working two jobs and getting her degree online."
"They inspire me to push myself and reach for the stars because they believe that I have the ability to become great."
Make your gift during the GOLD Challenge to ensure you're included in the Campaign for CMC: Responsible Leadership honor roll.
If you've already made your gift this year, it is included in your Class participation. Thank you! Now, share the GOLD Challenge with your peers. #Give2CMC
Contact
Office of Strategic Communications & Marketing
400 N. Claremont Blvd.
Claremont, CA 91711
Phone: (909) 621-8099
Email: communications@cmc.edu

Media inquiries: Gilien Silsby
Phone: (213) 500-8673
Email: gsilsby@cmc.edu