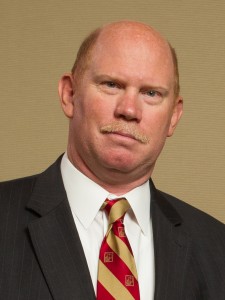 Ernie Iseminger, who serves as Claremont McKenna College's Vice President for Development and External Relations, has been named one of "6 people to watch in 2015" by The Chronicle of Philanthropy.
Iseminger arrived at CMC in 2010 and was responsible for spearheading one of the Nation's largest capital campaigns for a private, liberal arts college. In 2013 Claremont McKenna College concluded The Campaign for Claremont McKenna and raised an impressive total of $635.2 million to help build, support, and transform the College's academic environment. While CMC celebrated its historic achievement, Iseminger and his Development team began to work with CMC President Hiram Chodosh and the Board of Trustees on a new effort to increase student scholarships and financial aid for its students.
Fast forward to 2015, and Claremont McKenna College is on track to raise $100 million for student financial aid. With more than half of that sum raised in cash and pledges, Iseminger says the key to the College's success comes from creating scholarships that match donor interests or passions. "A lot of the newer-wealth donors want to know in a more intimate way what their money is helping to leverage," he told the Chronicle.