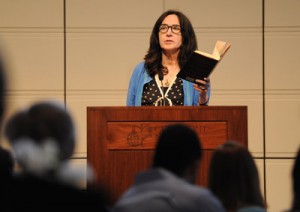 Francine Prose, the distinguished American author of numerous novels, nonfiction books, stories, reviews and essays, is aptly named. Her work has ranged from satire (Blue Angel) to lyrical meditations (Goldengrove) to nonfiction explorations of the creative process (The Lives of the Muses; Caravaggio).
During a presentation this week of her latest work, Anne Frank: The Book, The Life, The Afterlife, at the Marian Miner Cook Athenaeum, sponsored by the Family of Benjamin Z. Gould Center for Humanistic Studies, Prose explored the life of the Dutch teenager whose World War II diary has become a classic of literature and has been adapted into a Pulitzer Prize-winning Broadway play and movie, among other iterations.
Prose opened her remarks with a comment on some topical news that has gone viral worldwide–– the report of teen heartthrob Justin Bieber's recent visit to the Anne Frank Annex in Amsterdam, after which he mused that if Anne had survived the war, she might have been one of his fans––a "Belieber." It was a comment that Prose thought particularly "tasteless" seeing as how Frank did not survive incarceration at Auschwitz and later Bergen-Belsen.
"The incident really illustrates, still, the iconic power that Anne Frank has in our culture," she said, "and the fact that many people still have a very strong personal relationship to her. In Justin Bieber's case, I think it was an offshoot of his relationship with himself."
Prose said she got the idea for her book on Frank in 2005 while she was writing a novel told from the perspective of a young girl. "I was trying to remember what it had been like to be a 13-year-old girl," she said. "I kind of hit a wall and thought that to break the block, maybe I should read something written by a 13-year-old girl."
In Prose's view, the best thing ever written by a 13-year-old girl is Anne Frank's Diary.
Prose found in the long interim between reading the book in school and re-reading it as an adult how wonderfully written it was, and that it was a bona-fide work of literature, the work of a teenage genius.
Initially, Prose planned to do a close reading of the Diary and analyze how Anne Frank wrote. She also felt some redress was necessary; that Anne had not received due credit as a writer, partly perhaps because she was a teenager (Prose cited a stinging, dismissive review by literary critic Harold Bloom).
According to Prose (who did much of the research for her book at the Anne Frank House and Annex in Amsterdam) the most startling fact she learned was that Anne completely revised the Diary before her capture and incarceration by the Nazis.
"There are 250 sheets of colored paper with her rewrites," Prose said. "The revisions are extraordinary and really show the writer she had become. Part of it is the difference between being a 13-year-old girl when she started the diary and a 15 year old when she revised it."
Prose added that the reason the world knows about the revisions was because of Holocaust deniers who claimed they were forgeries or that Otto Frank (Anne's father) had written them himself.
According to Prose, there are three versions of Anne's Diary: the original version, the second version containing Anne's revisions and a third version that Otto Frank edited.
"Anne originally imagined her diary as a sort of detective novel, like a Dutch version of Nancy Drew," Prose said. "She wrote spontaneously and then when she went back and did the revisions, she clarified things."
Although Prose admits that the play by playwrights Albert Goodrich and Frances Hackett introduced the Diary to new audiences worldwide, by her own estimation, Prose considers the plotting and dialogue of the play and later Hollywood movie that starred Millie Perkins in the Anne role to be "cheesified."
As to the question of what kind of a writer Anne Frank could have become if she survived the war: "Anne was supremely talented," Prose said. "Because the Diary was spontaneous, because there was real literary heft behind it and the imagination of someone who really knew how to write, maybe she would have become a journalist. That was another of her ambitions. There's no telling."
In addition to her books, Prose's work has appeared in The Atlantic and The New Republic. She was awarded the first Dayton Literary Peace Prize in fiction and in 2000 was a finalist for the National Book Award. Prose is also the recipient of the Washington University International Humanities Medal, Guggenheim and Fulbright Fellowships, as well as two NEA grants and a PEN translation prize. She teaches writing at Bard College.
RELATED:
For Pico Iyer, home is a quality of soul, not just an address