Three CMC presidents share reflections and aspirations at Alumni Weekend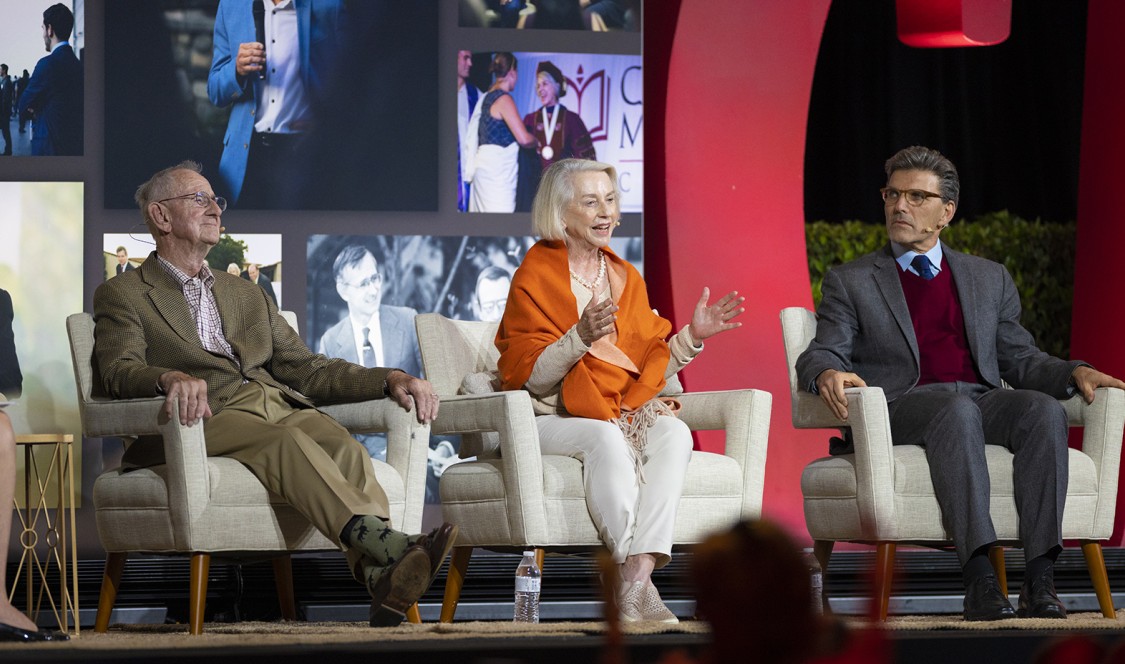 For the first time, the three living presidents of Claremont McKenna College convened for a panel discussion that encompassed CMC's 75 years of swift growth and its remarkably steep trajectory.
For the CMCers who gathered for Alumni Weekend, the Presidential Panel evening discussion proved to be an auspicious moment, bringing together Jack Stark '57 GP'11 (1971-1999), Pamela Gann (1999-2013), and Hiram Chodosh, CMC's current president (2013-).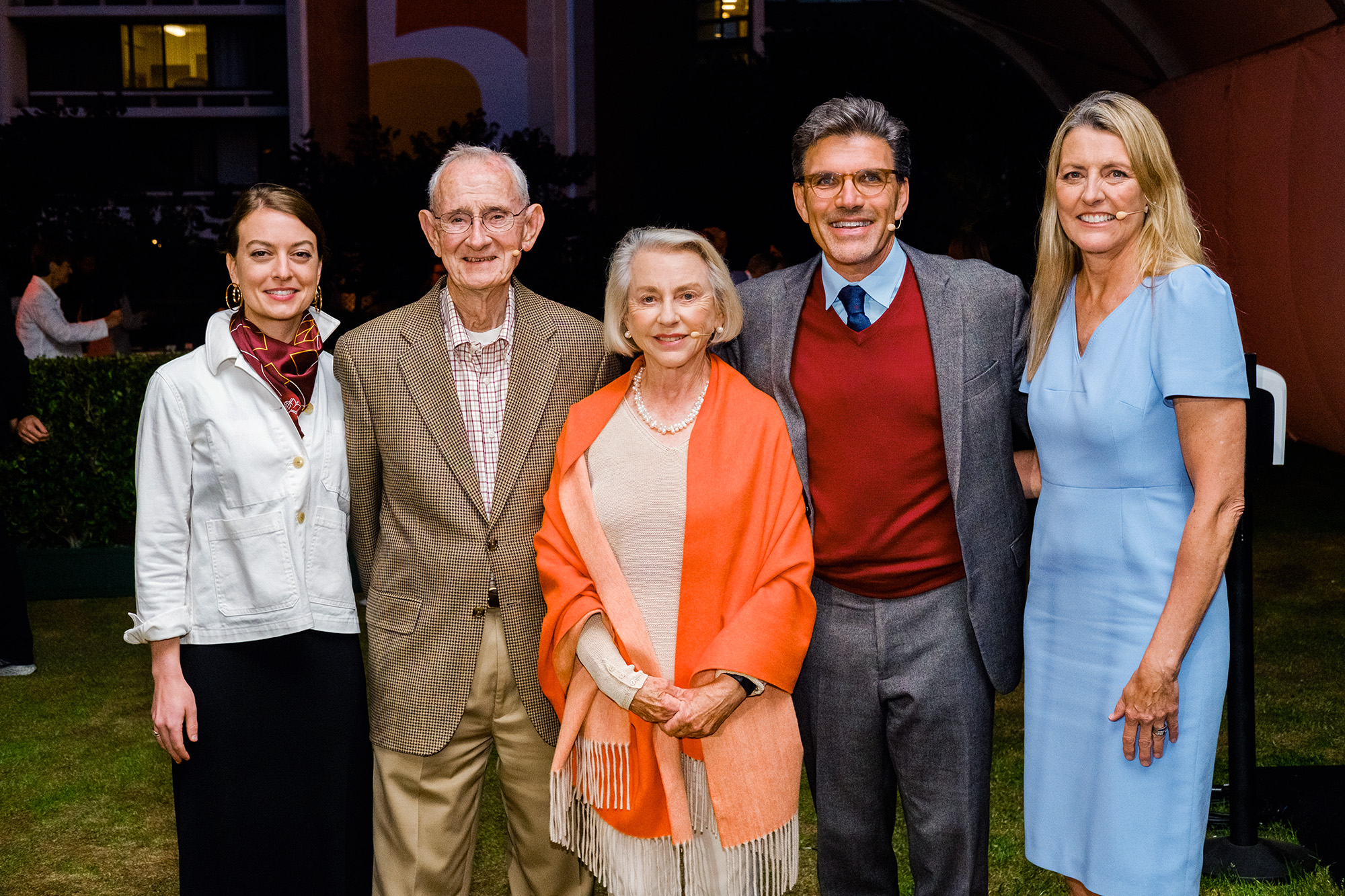 At the end of the evening, the crowd stood and cheered, unified in celebration.
The panel explained what drove CMC's rise as one of the top liberal arts colleges in the nation: the leadership community that generated milestone achievements and transformational change in the College, since its founding in 1946.
"There's been no young college that has succeeded as quickly and as wildly successfully as CMC," Chodosh said. "Arguably, there's been no other university in the country that has done this." He attributed this success to the "reflexive" internalization of its mission within the leadership responsible for the College's future.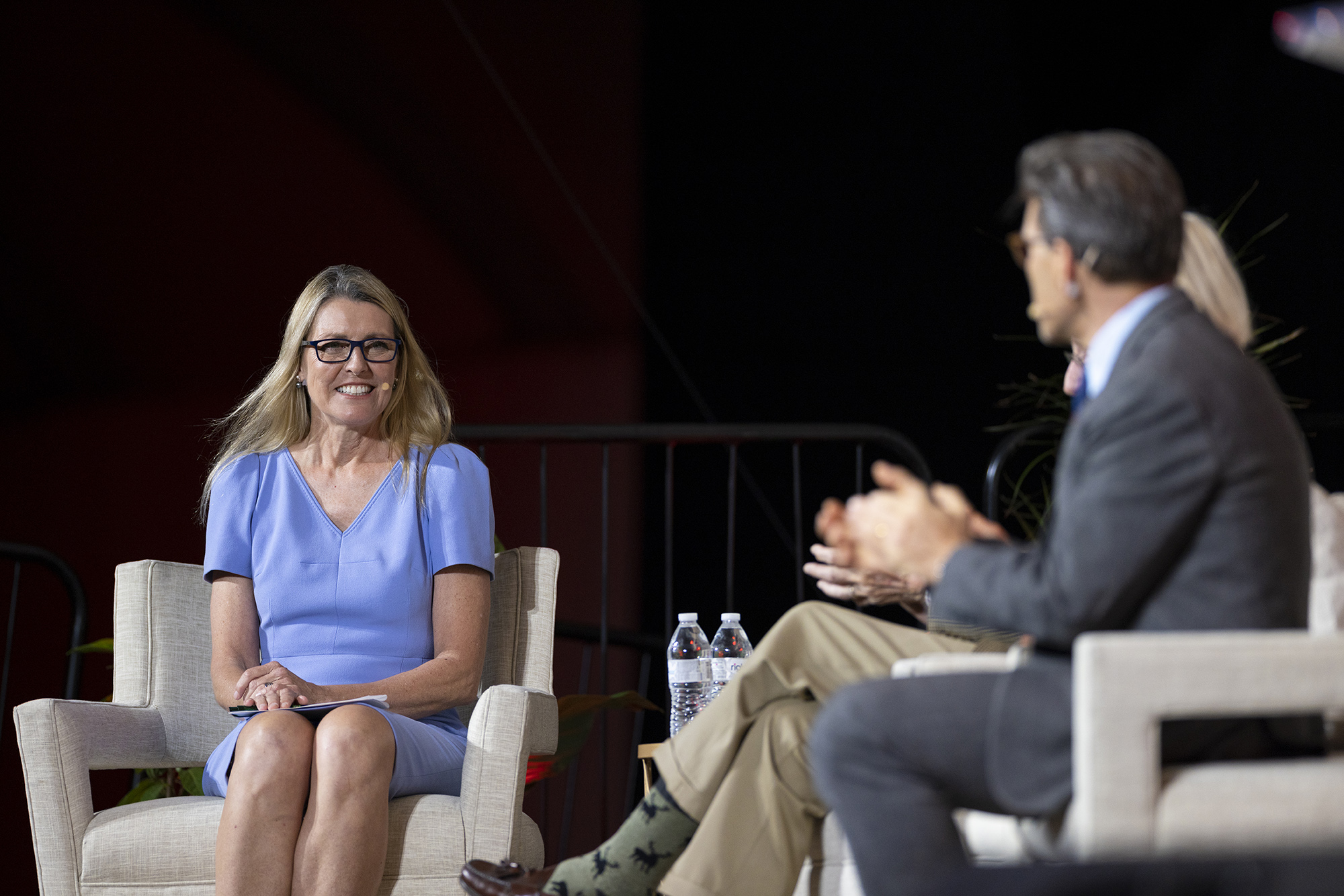 CMC Trustee Sue Matteson King '85 P'18, chair of the 75th Anniversary Committee, moderated the discussion, asking each leader to talk about their legacies, and ending with a "lightning round" of questions about their favorite Athenaeum speaker, Commencement speaker, and tradition.
Stark started by sharing the origins of the Athenaeum. "The late '60s and '70s were kind of a time of great turmoil on college campuses," Stark said. "And when I took over after Howard Neville (1970), we thought that we had to find a way to get closer to the students. So, we started what later became the Athenaeum by having dinners at what was then the president's house on the campus and inviting faculty and others over, and that became very popular."
Stark's reminiscences on the effort to make CMC co-ed brought applause at many points.
"The women's movement was sweeping the campus, and single-gender campuses started to go coeducational, so I suggested to the Board that we should investigate this possibility." When it came time for the Board to vote, he and his wife, Jil Stark '58 GP'11, were prepared to pack their bags if they didn't succeed.
"We got … one vote over the two-thirds," Stark said. "I was very proud of those initial women who came to CMC. They did a terrific job. It was obviously the right decision."
A Culture of Philanthropy
King noted that Gann's administration was known for its development of a strategic plan for long-term growth.
"It's easy to write a strategic plan and master plan, but if you really want to accomplish it, you're … going to have to have it come through the generosity of the alumni," Gann said. "That generosity follows from many, many reasons. One of which is, I think, that the alumni care so much about the mission of this College. They see how the College has changed their lives. They see how it's contributed to their personal and professional outcomes in their lives, the close relationships they've had with faculty here, and coming back to see those faculty."
During her presidency, Gann oversaw a capital campaign that raised a record $635 million. It focused first, she said, on human capital—students and faculty—with Gann recruiting 65% of current tenured faculty during her administration. Only after that, she said, did they turn to the campus master plan, which included construction of the Kravis Center, remodeling the Athenaeum, the initial work for Roberts Pavilion, and more.
Gann shared how she accomplished it all. "Creating a culture of philanthropy was a critical transition," Gann said, "and I'm forever grateful to the Board and the alumni for recognizing that and for making that successful transition."
"In my mind, Claremont McKenna College is the most successful young liberal arts college in the United States, bar none," she added, acknowledging an exceptional community of leadership, teacher-scholars, and alumni.
Gann gave a special shout-out to the alumni. She pointed to the various ways alumni support the College, including service on boards, recruiting, mentoring, and philanthropy. To the audience, she said: "You are the product of the college. We exist to educate young men, and now women, and our success is [measured] through your lives, both personally and professionally.
"And if you're looking at data, the amount of philanthropy at this College per graduate has to be No. 1 in the country."
Next-Generation Integrated Sciences Program
Chodosh remarked that the pillars of the current Campaign for CMC: Responsible Leadership—"Honoring Our Leadership Mission," "Expanding Transformative Student Opportunities," and "Preparing Future Leaders Through Integrated Sciences,"—were built upon a solid foundation established by past leadership, starting with Founding President George Benson (1946-1969).
Chodosh called CMC's mission the College's greatest asset: "It's allowed us to focus and deepen our commitments and roots so that we can really spread out our branches to great success." He mentioned the strong liberal arts curriculum and relationships between students and faculty, as well as the Open Academy, as ways the College is honoring its mission.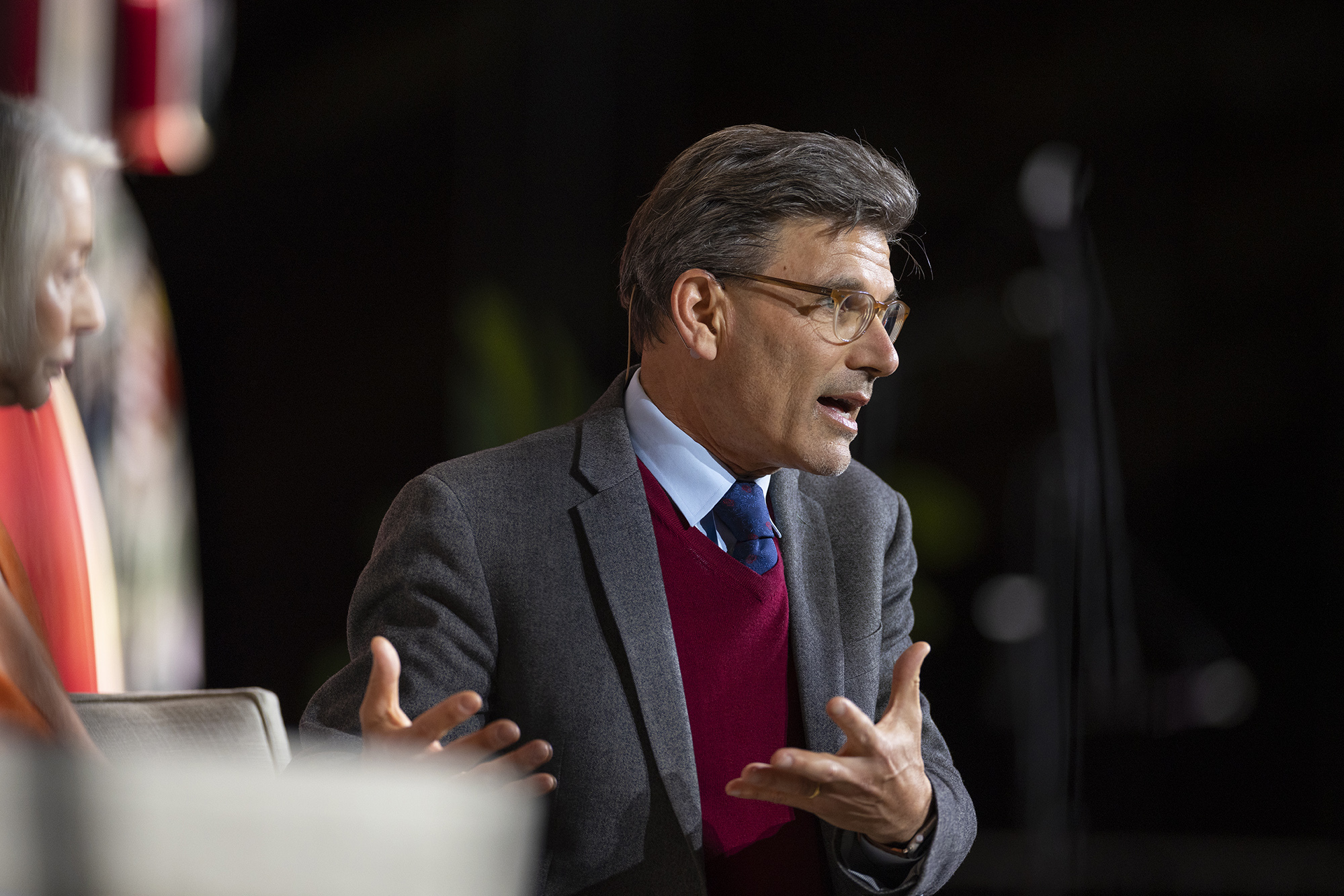 Looking at the data on how CMC has been expanding student opportunity, Chodosh noted the CMC's extraordinary success in recruiting and graduating students who are first in their families to attend college and in achieving social mobility for those who start in the lowest quartile of U.S. family income and move into the top 1%. He also observed that CMC has the sixth-lowest average cost of attendance among selective colleges and universities.
For the campaign's third pillar, CMC will create "a completely next-generation integrated sciences program with a computational core" at "the intersections of business, policy, ethics, and all of the disciplines where we are strongest." With a major gift announced in December 2021, the College will build the Robert Day Sciences Center to house the new Kravis Department of Integrated Sciences, funded by a commitment from Henry and Marie Josee Kravis, up to $215M, which was announced in February 2022. Beyond the Day Sciences Center, President Chodosh also described the most recent gift announcement, a $140M commitment from George and Linnea Roberts, to expand and fully develop the eastern half of the CMC campus, including:
Construction of academic and administrative buildings, expanded student apartments, and a Commencement Green;
Three pedestrian malls created to encourage interaction, engagement, and public art; and
Development of a sports bowl, as well as a pedestrian bridge across Claremont Boulevard
Building on Gann's leadership, particularly the strategic plan and culture of philanthropy at CMC, Chodosh explained that the current Campaign initially set a record-breaking $800 million, and had already surpassed $920 million.
"And we're only at this level," he added, "because of that reflexive value of responsible leadership in the leadership of the College" and the response of our alumni to answer that challenge.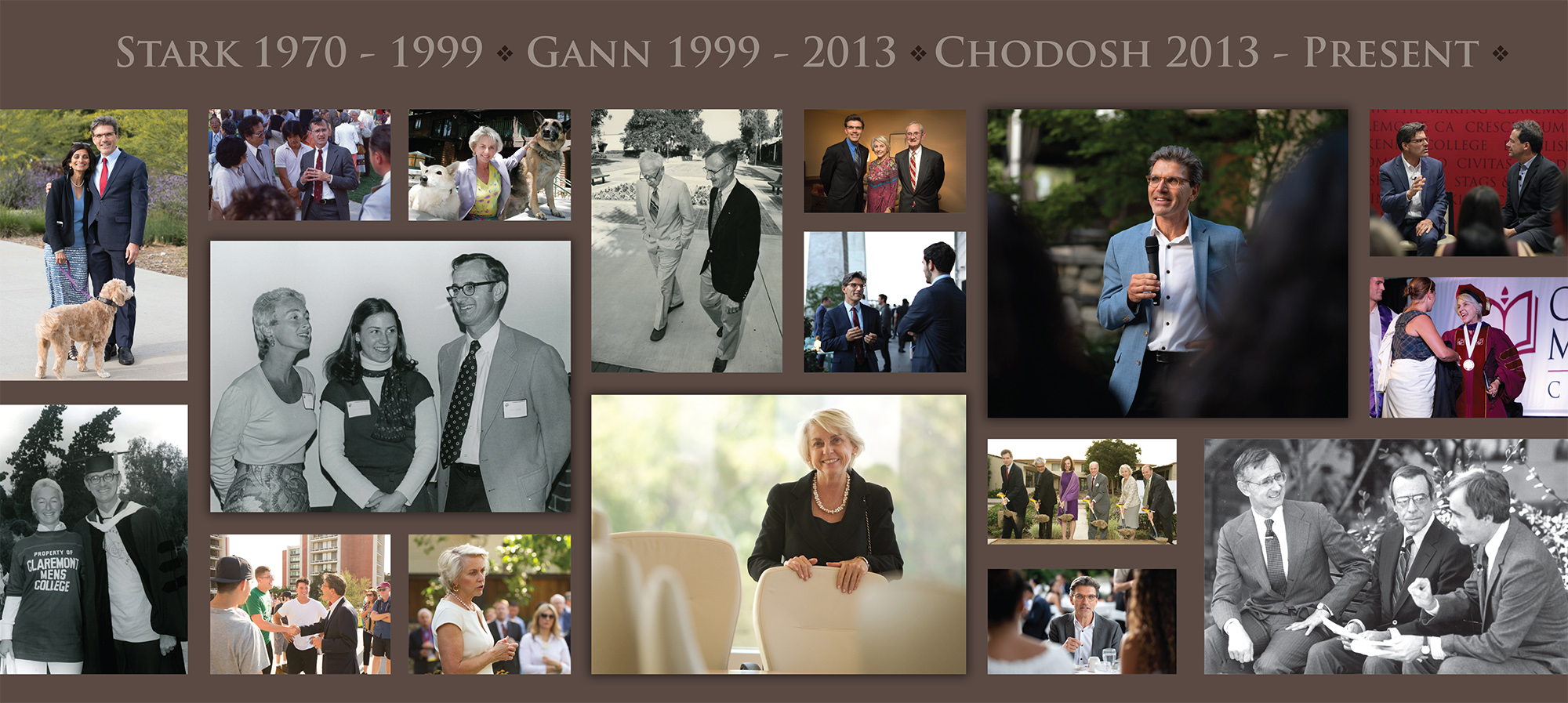 Contact
Office of Strategic Communications & Marketing
400 N. Claremont Blvd.
Claremont, CA 91711
Phone: (909) 621-8099
Email: communications@cmc.edu

Media inquiries: Gilien Silsby
Phone: (213) 500-8673
Email: gsilsby@cmc.edu