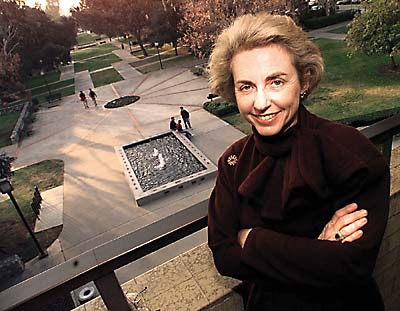 Pamela Brooks Gann, dean of the Duke University School of Law, will become president of Claremont McKenna College, college officials announced today. A highly regarded legal scholar and academic administrator, Gann succeeds Jack L. Stark, who announced last March that he will retire in June after 29 years as president.

Southern California faces shortages in landfill space that will adversely impact communities across the region, according to a new report from Claremont McKenna College's Rose Institute of State and Local Government. The report released today, Regional Solid Waste in Southern California for the New Millennium, coincides with the state-sponsored waste management summit being held at the Industry Hills Sheraton Hotel in the City of Industry.
Bernice Waller McKenna, a generous benefactress of Claremont McKenna College and widow of college founder Donald Carnegie McKenna, died Saturday, January 9, 1999, at her home in Laguna Beach, California. She was 91.
The San Gabriel Valley wants its representatives in Congress to vote against impeachment. This is the finding of a post-election survey of 500 San Gabriel Valley residents who voted in the November 3 election.
P. Edward Haley, an expert in Middle East security and a former foreign policy aide to members of Congress and the U.S. Senate, is available to discuss the possibility of US air strikes against Iraq.
California's preeminent historian, Kevin Starr, has written a new book detailing the history of Claremont McKenna College. Commerce and Civilization: Claremont McKenna College, The First Fifty Years 1946-1996 (372 pages; $29.95) was published this fall by the college.
How much debt has the City of San Diego taken on in the last four years? Which city taxes and charges have increased the most? How many city staff positions have been shifted to enterprise and special fund activities? How does San Diego city spending compare to other cities in the county?
The Honorable Surin Pitsuwan, foreign minister for the Kingdom of Thailand, will deliver an address "The Good News from Asia - After the Meltdown" at 6:45 pm on Thursday, October 29, 1998 at Claremont McKenna College's Marian Miner Cook Athenaeum, 385 E. Eighth Street in Claremont.
The students of the Mary B. Eyre Children's School's will break ground for their new campus, to be located at 6th Street and Claremont Boulevard in Claremont, at 9:30 am on Wednesday, October 28, 1998.
Roberts Hall, a remarkable state-of-the-art academic center with classrooms, seminar rooms, faculty offices, and laboratory space, will open to students and faculty in a formal dedication ceremony at 1:30 pm on Monday, Sept. 28, 1998. The ceremony will be held at Roberts Hall South, 325 E. Eighth Street, in Claremont.
Pages