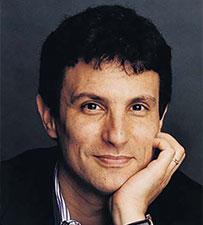 Pulitzer Prize-winning author David Remnick, editor of The New Yorker and host of the award-winning magazine's new radio show and podcast, will deliver the 2016 Commencement address at Claremont McKenna College's 69th Annual Commencement Ceremony on Saturday, May 14, 2016.
Critically acclaimed author Azar Nafisi was the featured speaker at Claremont McKenna's 68th Annual Commencement Ceremony, held May 16 on Pritzlaff Field.
Nafisi, who also received an honorary degree from CMC, urged graduates to use their liberal arts education to disrupt or "disturb the peace" and avoid complacency. "This is the main function of knowledge," she said. "It is here to … provoke you to not only question the world but in fact pose yourselves as a question mark, to shed your prejudices, your assumptions, your presumptions about the world."
Critically acclaimed author Azar Nafisi will be the featured speaker at Claremont McKenna's 68th Annual Commencement Ceremony, to be held at 2 p.m. Saturday, May 16 on Pritzlaff Field.
[Processional] Rabbi Daveen Litwin: Please rise. The renowned leader and educator Booker T. Washington taught, "Remember that everyone's life is measured by the power that individual has to make the world better—that is all life is." O, Source of Life whom we call by many names and understandings, on this beautiful afternoon, we come together to honor all those whose graduation today will take their place in the chain of tradition of Claremont McKenna College.
Good afternoon. President Chodosh, distinguished guests, families, members of the faculty, members of the Board of Trustees, students and especially Class of 2014, it is an honor to be with you here today.
Class of 2014, this is your day; this is your commencement, the commencement of your journey as adults and, yes, as leaders who will inherit responsibility for our great nation and our precious planet. So let me offer a few thoughts to shape that journey.
Congratulations. You may be seated. Chairman McMahon, Dr. Brainard, Dean Warner, faculty, trustees, alumni, families, friends and especially this outstanding Class of 2014, it is a privilege to stand here before all of you today to look out and see the faces of so many who belong to our CMC family.
Now one of the many conditions of graduation is receiving tons of advice, always wise and sometimes even actionable. From career advice about promising industries—plastics for Dustin Hoffman's generation of graduates—to motivational salvoes about dreaming big or changing the world.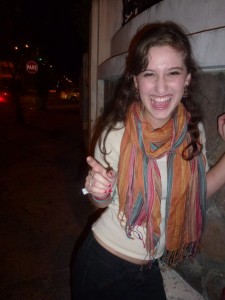 Tamar Kaplan would have graduated with the Class of 2014. Students wore light-blue ribbons with her initials for Commencement.
"Find your focus," "take risks," "make sure you know who has your back," "when you have an opportunity, act," and "make your contribution meaningful by making it your narrative, your soundtrack, your screenplay" – such were some of the key bits of advice imparted to the graduates by commencement speaker Dr. Lael Brainard, former under secretary of the treasury for international affairs and presidential nominee to the Federal Reserve Board of Governors, at the College's 67th Annual Commencement ceremony on May 17.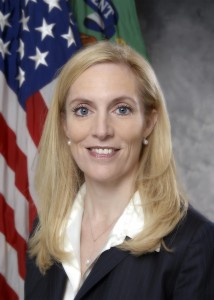 Lael Brainard
Pages