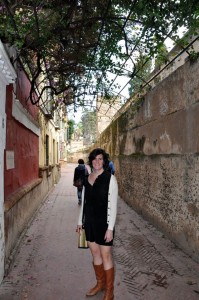 Laura Shunk '07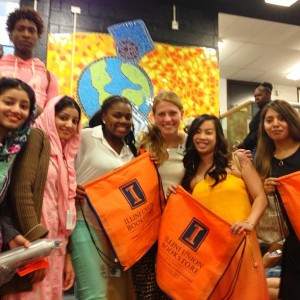 Lanier Zimmer '09 with students.
Two CMC alumni – Laura Shunk '07 and Lanier Zimmer '09 – have been named to the prestigious roles of Luce Scholars for 2015-16.
In a highly competitive field, Shunk and Zimmer were among 18 candidates (from 16 institutions) selected from a pool of 156 nominees who won scholarship positions. Nationwide, up to 75 colleges and universities vie for the annual award. This year, in addition to CMC, only one other institution had two scholars.
The last time that a member of the CMC community received a Luce Scholarship was in 2009.
"I'm absolutely thrilled to have received the Luce Fellowship," said Shunk. "I've been plotting an international career move for some time now, and to be able to make that move with an organization as prestigious and transformational as the Luce Foundation is humbling, to say the least. I have no doubt that I'll learn lessons during this year that I could learn under no other circumstances. And I hope to pay those forward 1,000-fold over the course of my career."
Shunk graduated from CMC with a B.A. in International Relations and currently is a writer/editor who covers the national restaurant and bar industry as well as the local scenes in New York City and, occasionally, Denver. Except for a brief stint as a consultant, Shunk has been employed in the food and beverage industry for her entire career.
For the past two years, Shunk has been the editor of The Village Voice food section. Passionate about all aspects of the food community, she studied global food politics while enrolled at CMC. She sits on the board of directors for the New York City Coalition Against Hunger, a nonprofit organization that advocates on behalf of impoverished communities and food banks in New York City.
Shunk said that she will be placed in a job related to her career interests, which, at this juncture, involves figuring out "how we're going to feed the planet without destroying the environment or making ourselves sick."
"I'll likely be working with ecologically concerned food producers, and on policy issues related to food security and sustainability," she said.
***
Likewise, Zimmer said she is honored to be a recipient of a Luce award to live and work in Asia for the year. "Asia was not on my radar but when CMC sent out information about the fellowship, I thought, 'Why not? Who wouldn't want to live in Asia for year?' "
Zimmer singled out Kim Babon, Assistant Director of Fellowships at the Center for Global Education, who assisted her through every step of this process.
Since leaving CMC, Zimmer said her career focus has been in the education field. "I don't know which country in Asia I will be placed in but I will most likely be working in an education NGO or a university," she said. "I have a passion for providing access to education for under-served students and I will seek to gain a better understanding of how other countries address this issue so I can return with new ideas."
Zimmer graduated from CMC with a bachelor's degree in psychology. Currently, she is assistant director of recruitment and placement for the Golden Apple Foundation, a non-profit that gives awards to excellent teachers and prepares future teachers through a college scholarship program.
In her first year with the foundation, Zimmer initiated and led three major reform projects. She streamlined the application process by moving the application online and created an online job board, which resulted in 100% placement for graduating students. Most recently, recognizing that the preferred method of communication for high school students is texting, she initiated the successful use of a texting platform to communicate with them.
In January, Zimmer started in a master's program in organizational change at Northwestern University, which focuses on leadership and organizational development, to further her goal of leading an education non-profit.
Earlier, Zimmer worked for three years in admissions for the University of Illinois, Urbana-Champaign. She recruited and provided outreach to first generation, low income and underrepresented students from Chicago Public Schools (CPS) and led an expanded early outreach program for underserved 9th and 10th graders. Working in CPS, she witnessed the dramatic inadequacy of education for students in poor neighborhoods and the dire need for improvement.
***
The Luce Scholars Program is a nationally competitive fellowship program launched by the Henry Luce Foundation in 1974 to enhance the understanding of Asia among potential leaders in American society. The program provides stipends, language training, and individualized professional placement in Asia for 15-18 Luce Scholars each year, and welcomes applications from college seniors, graduate students, and young professionals in a variety of fields who have had limited exposure to Asia.
Luce Scholars have backgrounds in virtually every field other than Asian studies, including but not limited to the arts, journalism, law, medicine, science, public health, environmental studies, and international relations.
Successful candidates have a record of high achievement, outstanding leadership ability, and clearly defined interests with evidence of potential for professional accomplishments.
Luce Scholars gain new perspectives and cultural insights on their host countries through immersive living and working experiences in Asia. A professional placement is individually arranged for each scholar on the basis of his or her professional interest, background and qualifications.
Placements can be made in the following countries or regions: Cambodia, China, Hong Kong, India, Indonesia, Japan, Laos, Malaysia, Mongolia, Philippines, Singapore, South Korea, Taiwan, Thailand, and Vietnam.
The "Luce year" begins in late June with orientation in New York and San Francisco. Luce Scholars engage in intensive language study in Asia in July and August. Placements begin in September, and conclude with a wrap-up meeting in July of the following year.