Athenas tennis team wins national title!
The Claremont-Mudd-Scripps women's tennis team beat No. 1 University of Chicago on Wednesday to earn the 2022 NCAA Division III National Championship at the USTA National Campus in Orlando.
The team led 2-1 after doubles, winning the first set on all six singles courts, and went on to capture a 5-1 win over No. 1 Chicago. 
With the win, CMS finishes its season with a 27-3 record and a national title, coming a long way since its fourth-place finish at the ITA Indoor Tournament in March, where it suffered two of its three losses. At nationals, the Athenas rolled to wins over two teams that had not lost to a Division III team all year, beating 23-0 Wesleyan in the semifinals 5-0, and then taking down 22-1 Chicago in the finals, which suffered only a loss to Division I Eastern Michigan prior to the national finals.
Ella Brissett picked up the clincher at No. 4 singles, with a 6-4, 6-3 win, although she and Audrey Yoon (at No. 3) both had match points on adjacent courts at the same time trying to close out the championship. Sarah Bahsoun earned a 6-1, 6-3 win at No. 6 for the third CMS point, and Nikolina Batoshvili followed with a 6-4, 6-3 win at No. 5 to put CMS ahead 4-1.
Chicago actually threw the first punch in doubles, taking the first five games across three courts, leading 2-0 at No. 2 and No. 3, and 1-0 at No. 1. Batoshvili held serve in a key game at No. 1 doubles to start the momentum swing, and she and Alisha Chulani broke for a 2-1 lead, starting a run of six straight wins.
At No. 3, Bahsoun and senior Devon Wolfe got on a roll in the middle of the match. The two teams went through a series of games where they broke each other's serves, but both Athenas held to take a 7-4 lead. Batoshvili and Chulani, meanwhile, had to respond to a late run from the Maroons at No. 1, who got back within 7-6 after taking consecutive games.
Within moments of each other, though, they were able to take 8-6 wins and give CMS a 2-0 lead. Batoshvili held serve at love for an 8-6 win at No. 1, and Bahsoun and Wolfe won a deuce game to avoid the tiebreaker with an 8-6 win at No. 3.
Chicago salvaged the last doubles point, but CMS took all the momentum into singles and won the first set at every court. Crystal Juan set the tone by roaring out to a 5-0 lead at No. 1 singles, and Bahsoun also got a big lead at No. 6 and took a 6-1 win.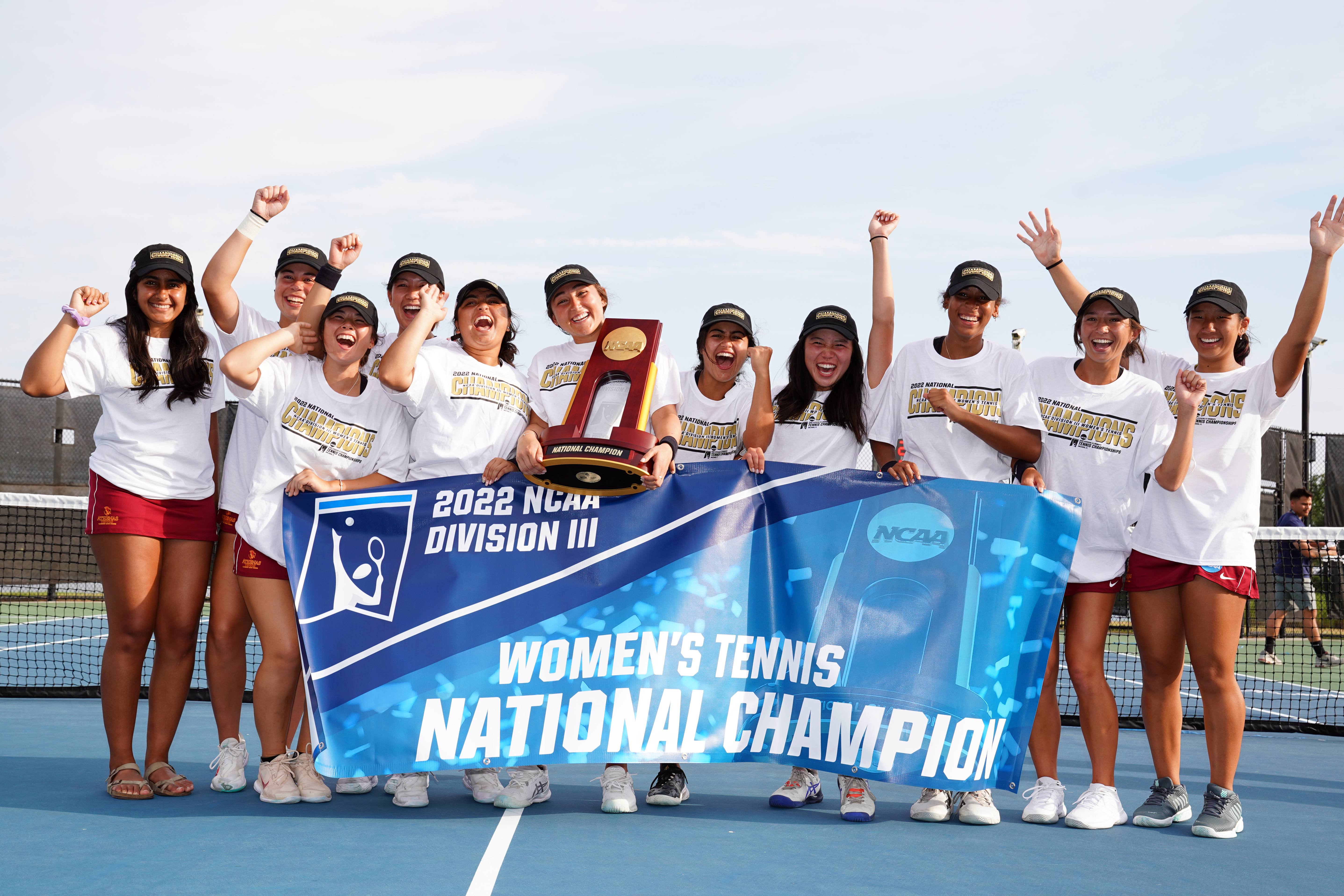 The Athenas didn't let up, as Chicago was only able to mount a little bit of a comeback at No. 1, where it split. CMS got off to second-set leads at courts No. 3-6, and the Maroons eventually were left holding on for dear life with Brissett and Yoon both up 5-2 in the second. Chicago did temporarily stave off defeat on both courts to pull within 5-3, but Brissett was able to close out her match for the national title.
CMS won its first national title in 2018, although no players are left from that squad. In 2019, the Athenas fell in the national championship match to Wesleyan, and were ranked No. 1 in the nation in 2020 before the season was canceled. The 2022 title marked its second in its last three NCAA appearances.
Crystal Juan and Sydney Lee will continue on to compete in the NCAA singles championship from Friday-Sunday, while Batoshvili and Chulani will be in the doubles championship.
Contact
Office of Strategic Communications & Marketing
400 N. Claremont Blvd.
Claremont, CA 91711
Phone: (909) 621-8099
Email: communications@cmc.edu

Media inquiries: David Eastburn
Phone (O): (909) 607-7377
Phone (C): (808) 312-8554
Email: deastburn@cmc.edu