CMC's trophy-winning Rose Parade journey
Did you miss out on adopting a rose for our exciting inclusion in the 2023 Rose Parade®? It's not too late! The CMC community still has the opportunity to support students with 100% of donations invested in student scholarships. Please click here to donate.
Just before CMC's Rose Parade float glided more than five miles down Colorado Boulevard on Jan. 2, CMCers rejoiced in the news that the College's 55-foot-long entry had won the Golden State award for "Most Outstanding Depiction of Life in California."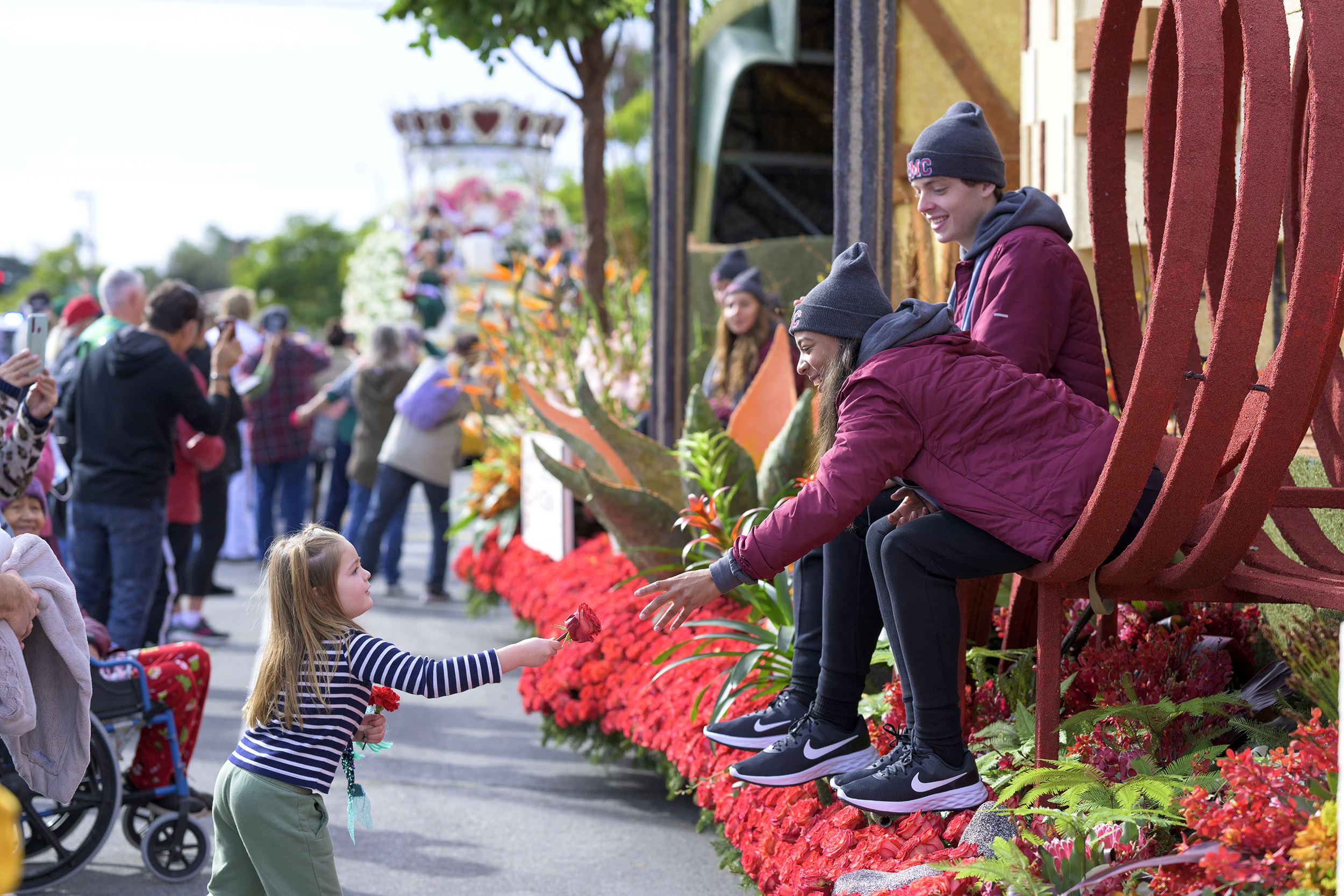 Celebrating the College's recent diamond anniversary, the trophy-winning float showcased floral versions of CMC's campus buildings and public art against the backdrop of a replica of snow-capped Mt. Baldy. The float—one of 24 honored by the Pasadena Tournament of Roses—was composed of 90,000 flowers, including gladiolas, birds of paradise, and bicolor roses.
The first-ever Rose Parade float from CMC or any of The Claremont Colleges was themed, "Launching Responsible Leaders," representing the College's mission to prepare students for thoughtful and productive lives and responsible leadership in business, government, and the professions.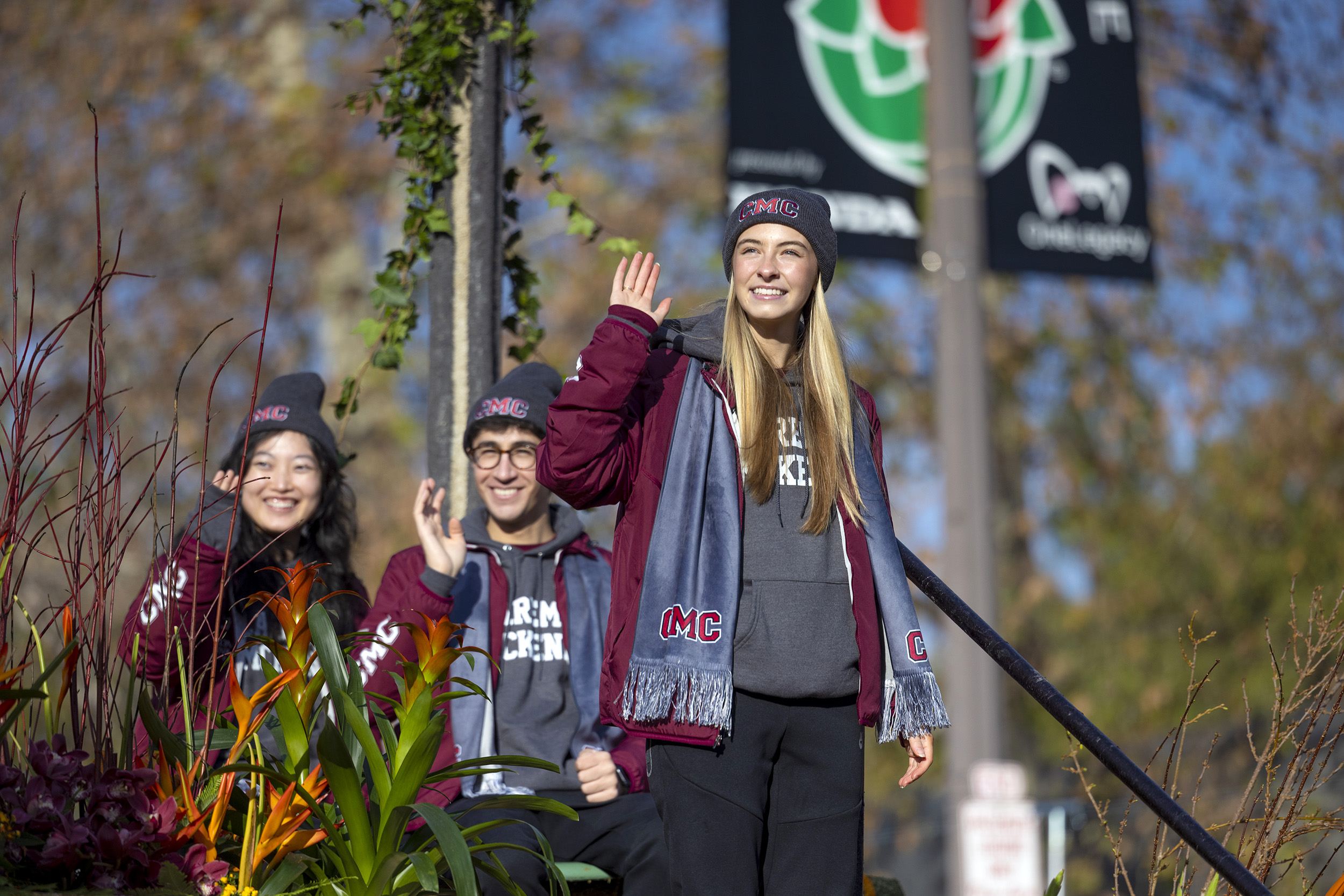 Ten exemplary CMCers rode the float, showcasing how the College is creating student experiences to launch responsible leaders into the world. The float riders were selected for their commitment to recharging and reinvigorating the country, in line with the parade's theme, "Turning the Corner." These nine students and one recent alumna represented a Rhodes Scholar to student-athletes, SOURCE consultants, and a range of other CMC experiences.
The 25-foot-tall float was a massive undertaking for the more than one thousand CMCers who either volunteered to help decorate, or took part in a Rose Parade program. In addition, hundreds of CMCers donated to the Adopt-a-Rose program, with 100% of donations supporting student scholarships.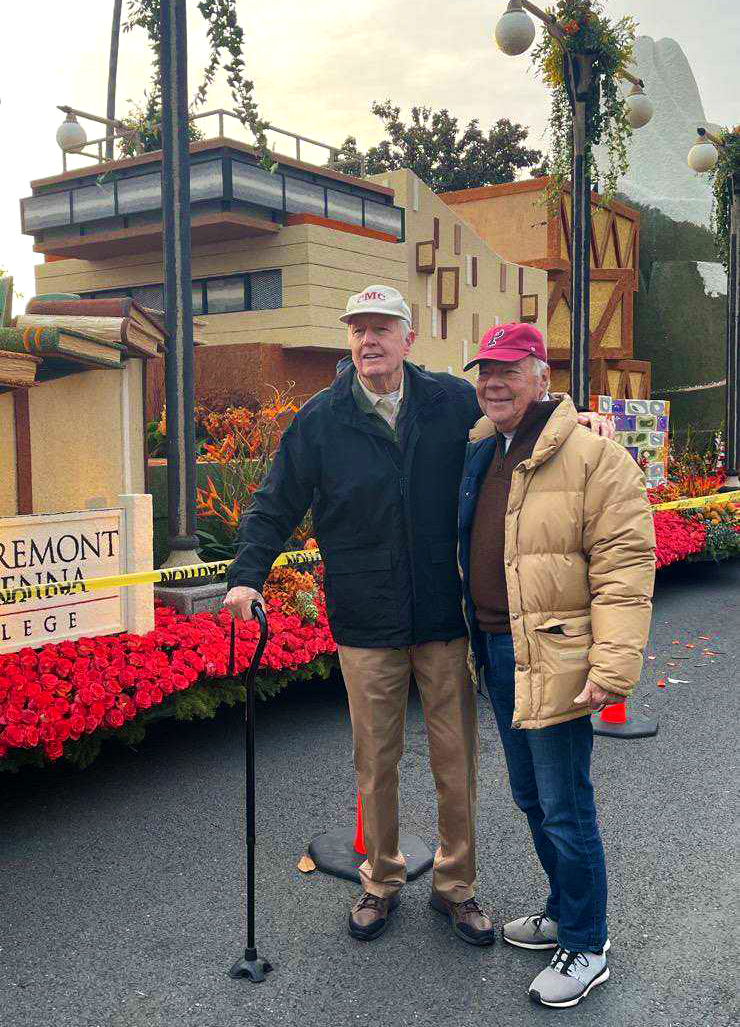 Labiba Hassan '25 spent three days of her winter break decorating CMC's Rose Parade float. Hassan, who's from New York, is a PPE major with a data science sequence. She planned to attend the Rose Parade to cheer on her friend and fellow QuestBridge scholar, Stacey Leyva '26, one of CMC's float riders. "I'm so happy for her! It's nice to see someone representing our community on the float," Hassan said.
Hundreds of thousands of spectators made their way to the parade route to watch in-person, including former CMC roommates John Poer '58 P'90 and Robert McCrary '58 P'92, who enjoyed meeting the student float riders. Both CMCers are former board presidents of the CMC Alumni Association.
Then there were CMCers who tuned into the parade from across the country, including Charles Tilson '72 who watched from Texas.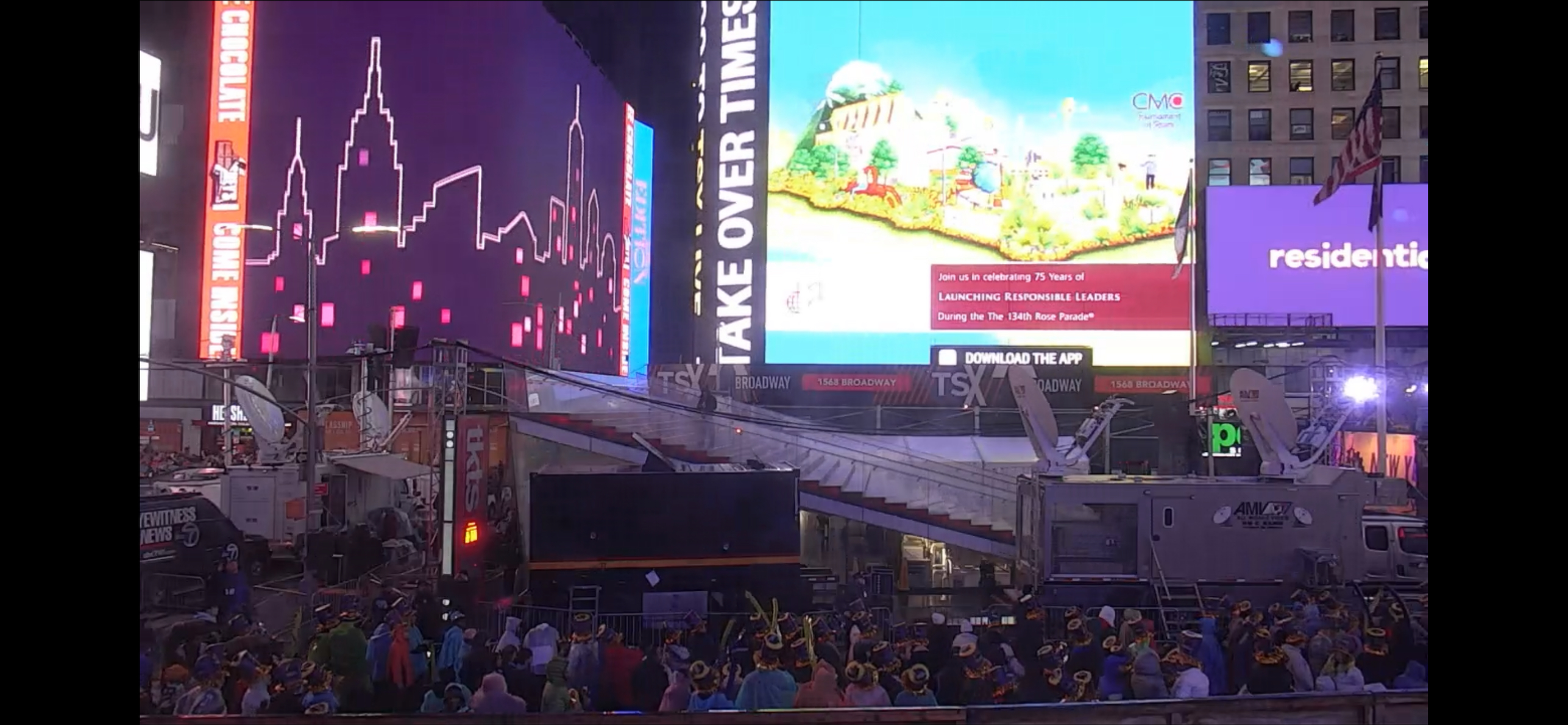 "I was intrigued when I discovered CMC would have a float in this year's Rose Parade and looked up the appearance order for the floats so I could be sure to see it," he said. "Color me impressed!! I thought it was a great representation of CMC and what it has to offer…. Of course I immediately shared my TV screenshot of the float with several friends."
The CMC community celebrated this once-in-a-lifetime Rose Parade experience with activities including: a holiday reception at Tournament House®, a Family Fun Day at Fiesta Floats, three days of float decorating, and a "Walk the Route" event the night before the parade.
Designed by Fiesta Parade Floats in Irwindale, Calif., CMC's float was one of nearly 90 entries in the 2023 Rose Parade presented by Honda.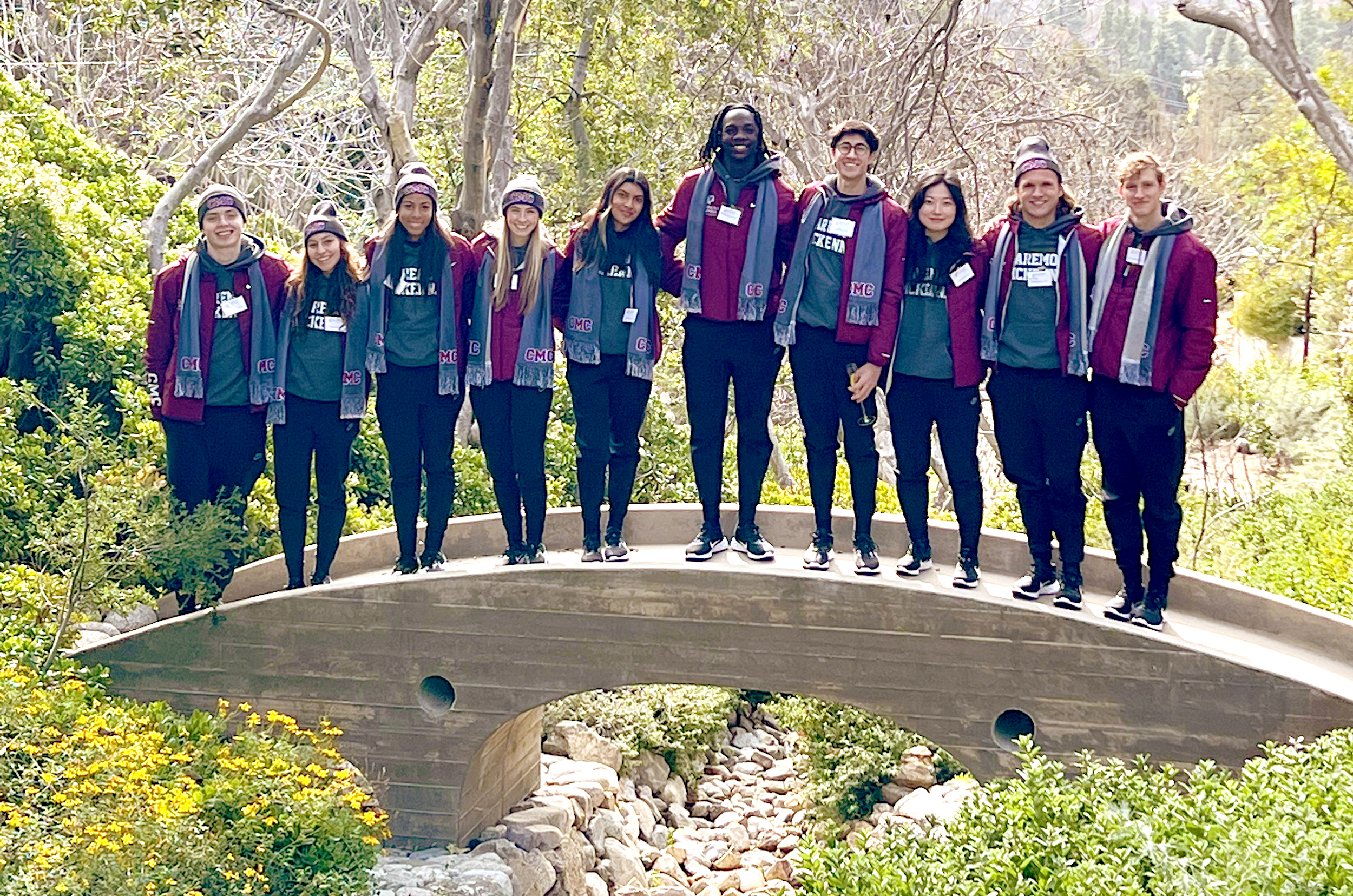 Contact
Office of Strategic Communications & Marketing
400 N. Claremont Blvd.
Claremont, CA 91711
Phone: (909) 621-8099
Email: communications@cmc.edu

Media inquiries: David Eastburn
Phone (O): (909) 607-7377
Phone (C): (808) 312-8554
Email: deastburn@cmc.edu