Farewell faculty celebration
Claremont McKenna College honored four retiring faculty members in a celebration full of warm memories and gratitude for their contributions to the CMC community.
Professors Esther Hernandez, Fred Lynch, Marc Massoud P'89, and Ralph Rossum P'01 P'08 were toasted by their colleagues, friends, and family at a May 3 event, led by Vice President for Academic Affairs and Dean of the Faculty Heather Antecol and President Hiram Chodosh.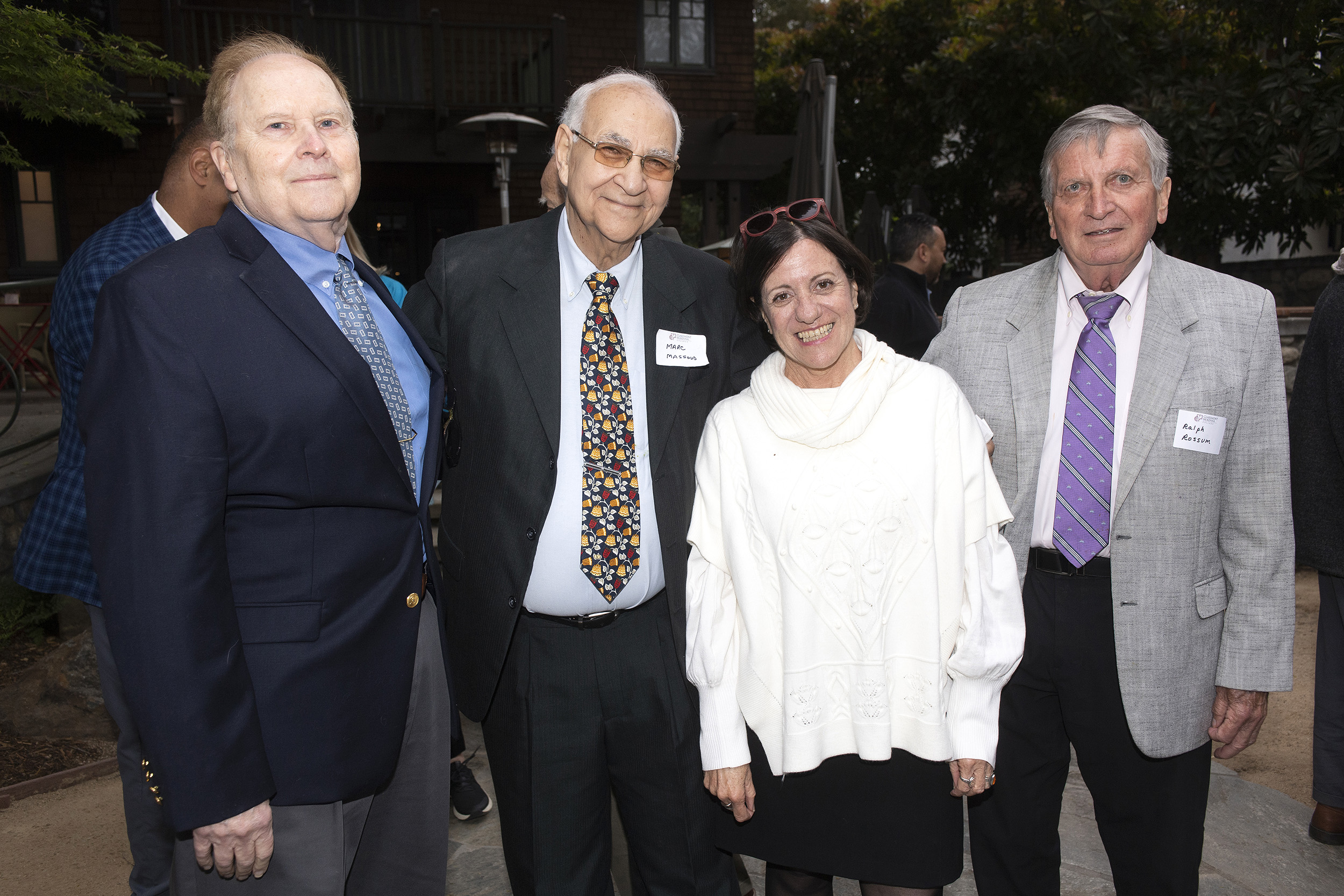 "It is an honor for me to be here today to celebrate these extraordinary faculty members who have contributed so profoundly to the intellectual and social vitality of our community," Antecol said as she introduced the honorees. She noted that collectively Hernandez, Lynch, Massoud, and Rossum had served the College for approximately a combined 135 years. "Their commitment to our students, their research, their colleagues and friends, as well as their community is unparalleled."
A noted playwright and theater director, and prolific writer and editor, publishing articles on theory in academic journals in Mexico, Spain, and her native Cuba, Hernandez was introduced by her colleague, Prof. Salvador Velazco.
Hernandez expressed gratitude for the two decades she taught language, culture and theater courses at CMC. "But more importantly," she added, "I'm grateful for 20 years of learning. Yes, learning. My students have been my instructors….they kept me refreshed and up-to-date throughout this time at CMC."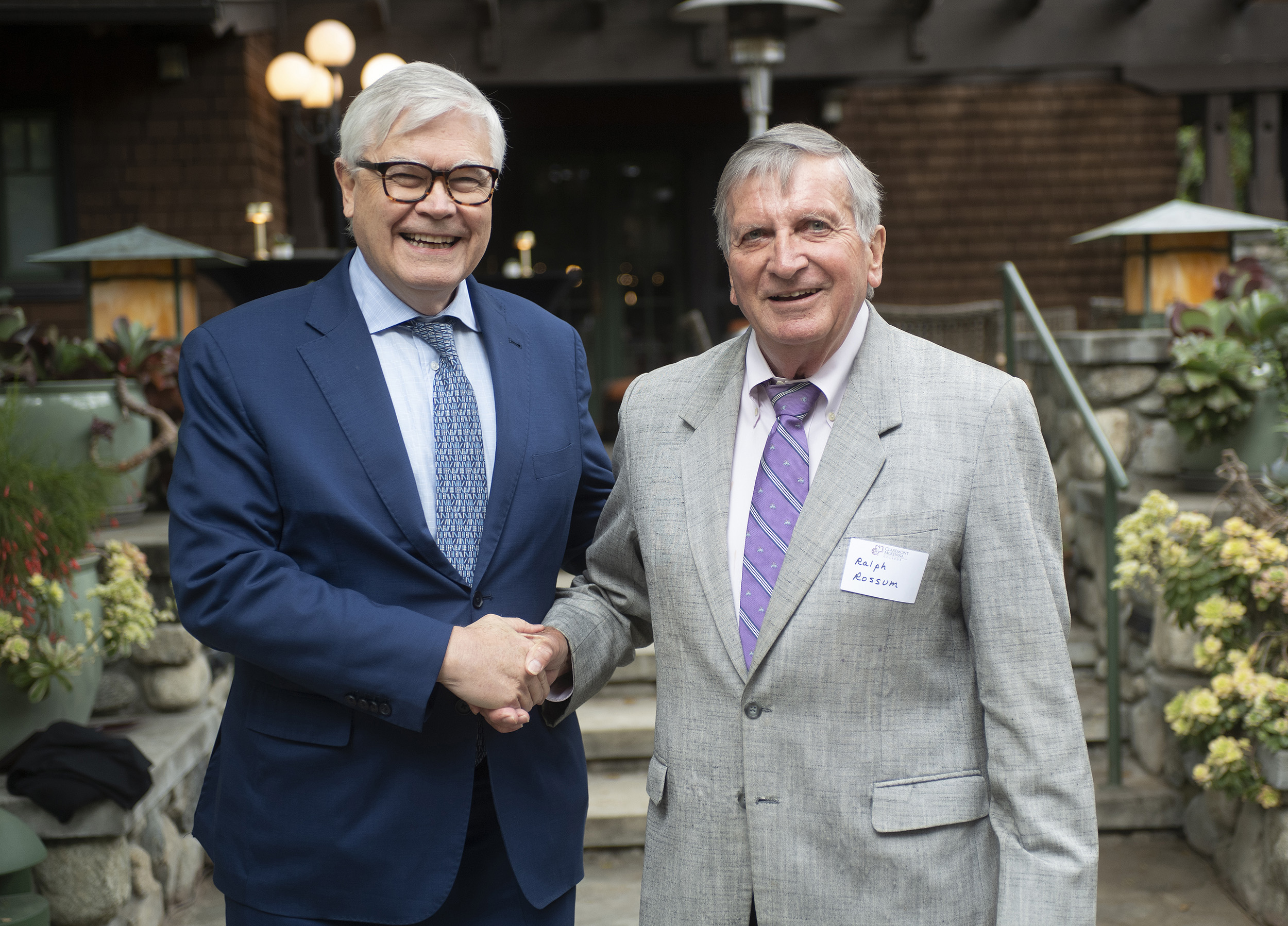 Rossum's colleague, Charles Kesler, the Dengler-Dykema Distinguished Professor of Government at CMC, described Rossum as the definition of "responsible leadership." Rossum, the Henry Salvatori Professor of American Constitutionalism, arrived at CMC in 1984 and, between 1988 and 1991 served as Vice President and Dean of the Faculty, after serving as Director of the Henry Salvatori Center for the Study of Freedom in the Modern World. In 2000, he began a decade-long term as Director of the Rose Institute of State and Local Government.
Kesler noted that Rossum is a "voluminous and impressive author" and Constitutional expert, who "set the standard" publishing 12 books and more than 70 book chapters on the American founding and history, including his two-volume textbook American Constitutional Law, now in its 11th edition; and more recently, Understanding Clarence Thomas: The Jurisprudence of Constitutional Restoration, and Antonin Scalia's Jurisprudence: Text and Tradition.
After accepting his honor, Rossum then introduced Government department colleague, Lynch, who served 32 years at the College. Rossum highlighted Lynch's many books and professional articles, including The Diversity Machine and One Nation Under AARP. In addition, Rossum noted that Lynch's classes were popular with students, who were drawn in by his expertise in social inequality, diversity policies, political correctness, and generational politics. Throughout his years at CMC, Lynch's expertise also drew attention from national media outlets for interviews, and he penned countless op-eds for publications ranging from Newsweek and The New York Times, to Forbes.
"This place is fabulous," Lynch said, describing the joy he experienced teaching CMC's "wonderful students."
Josh Rosett, the Curb Family Associate Professor of Business and Law, and George R. Roberts Fellow, introduced his colleague, Massoud. Rosett shared how when he arrived at CMC, a mutual colleague told him that Massoud "was a force of nature."
"After knowing and working with him for 20 years, I have to say that in the comparison between Marc and nature, nature takes the second place," Rosett said, adding that, "Marc is a powerful force for good," who had a substantial impact on the entire CMC community.
Massoud, the Robert A. Day Distinguished Professor of Accounting, joined the CMC faculty in 1980. Affectionately known as "Dad" by his students and colleagues, Massoud won multiple Huntoon Teaching Awards at CMC, and the Kravis Living Room was recently renamed "The Massoud" in his honor. In addition, his legacy will be preserved with a named professorship and funds for student support.
In his remarks, Massoud promised that he would continue to dedicate himself to CMC in "every way that I can," thanked everyone for joining the celebration, and wished his fellow retiring colleagues the best of luck on their next ventures. "Thank you for giving me this opportunity to be part of CMC's legacy," he said.
Contact
Office of Strategic Communications & Marketing
400 N. Claremont Blvd.
Claremont, CA 91711
Phone: (909) 621-8099
Email: communications@cmc.edu

Media inquiries: David Eastburn
Phone (O): (909) 607-7377
Phone (C): (808) 312-8554
Email: deastburn@cmc.edu