Gould showcases hands-on humanities research
Students in Claremont McKenna College's Gould Humanities Lab program recently unveiled their thought-provoking, interdisciplinary projects to an audience of peers, as well as CMC faculty, staff, and alumni.
Students presented their art projects —including handmade jewelry, embroidery, and paintings — to bring what they learned to life, sharing personal stories tied to the themes they explored this academic year on a global level. Others shared how they engaged each other, as well as members of CMC's community in respectful and constructive dialogue to gain an understanding of a complex topic.
Launched in 2019-2020, the annual Gould Humanities Lab offers students a funded opportunity for a yearlong, hands-on experience in humanities research in a collaborative format and in close mentorship with a faculty member. Each academic year features two or more labs with topics specially designed by the faculty members supervising the labs.
This year, History Professors Ahona Panda and Heather Ferguson each led a Lab, guiding their student teams and engaging them in creative problem-solving. "Students in both Labs engaged with core questions about how race and identity are formed through different historical and geographical contexts," said Prof. Amy Kind, director of the Gould Center for Humanistic Studies.
At the Lab's showcase on April 28, Panda's nine-student team presented first, exploring the theme of "Caste, Race and Diaspora."
Each student depicted a personal diaspora story through artwork, from one student's reflection on settling in Washington state after immigrating to the U.S., to another's on how his father returned to Japan to discover their family's heritage, and another's on learning to take pride in their Mexican-American identity.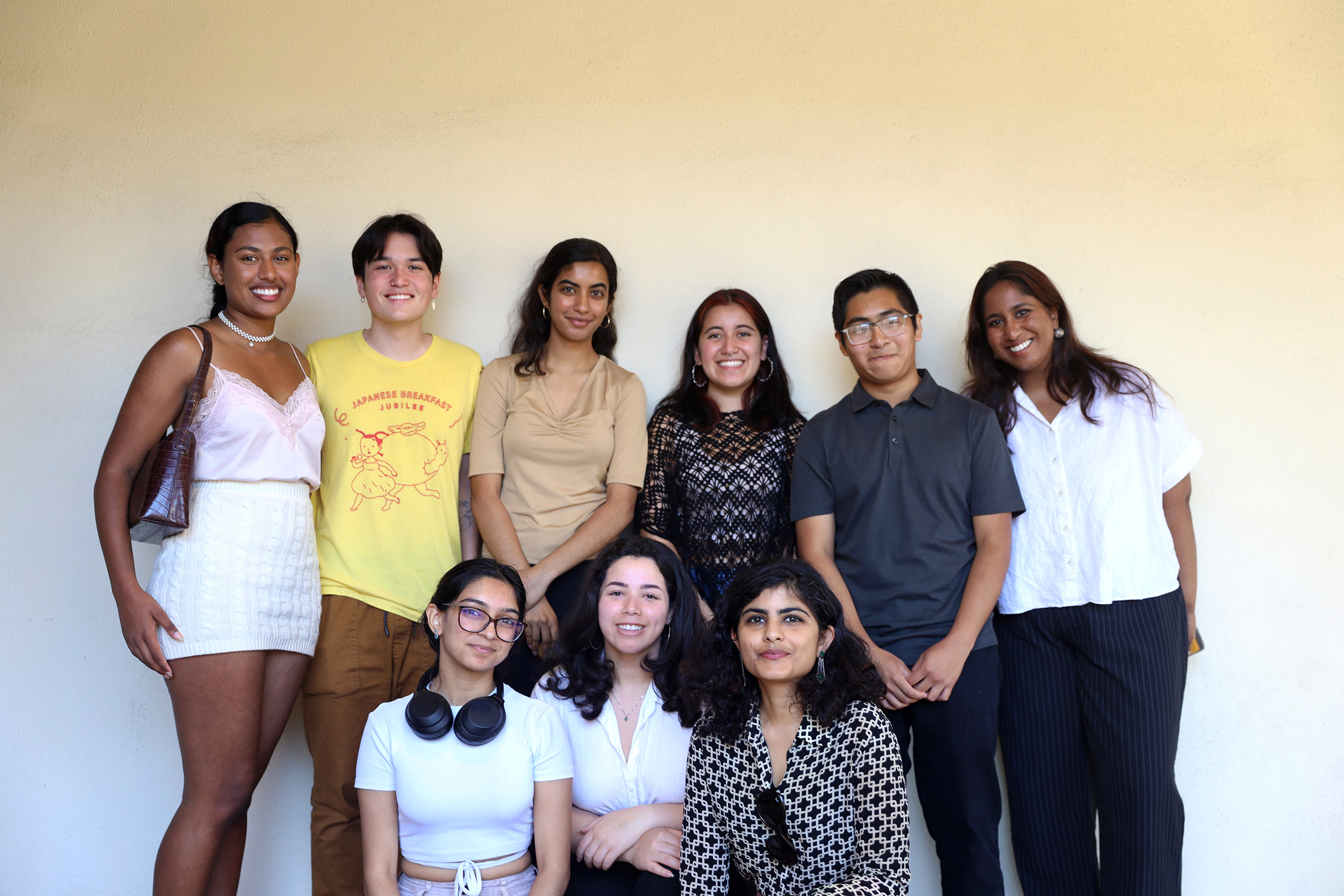 "These individual pieces come together to express that even in exile one can find joy and creativity," said Panda, whose research and teaching interests include modern South Asia and decolonization. "And with this joy and creativity, we can work to address larger structural forces."
In addition, the team completed readings, screened films, and attended guest lectures presented by leading experts such as Wendy Doniger, Mircea Eliade Distinguished Service Professor Emerita of the History of Religions at the University of Chicago, whose research focuses on Hinduism and mythology.
Ferguson's seven-person team took on "Race and Islam," which addressed "how the emergence of Islam in the seventh-century Arabian Peninsula redefined racial, social, and economic hierarchies and generated a new Qur'anic discourse of race and identity that remains a touchstone for self-identified Muslims and an important correction for contemporary, race-based Islamophobia."
Melanie Kallah '25, an international relations major, said that, like the students in the previous Lab, her experiences and those her teammates were "personal, even if some of us are not Muslim."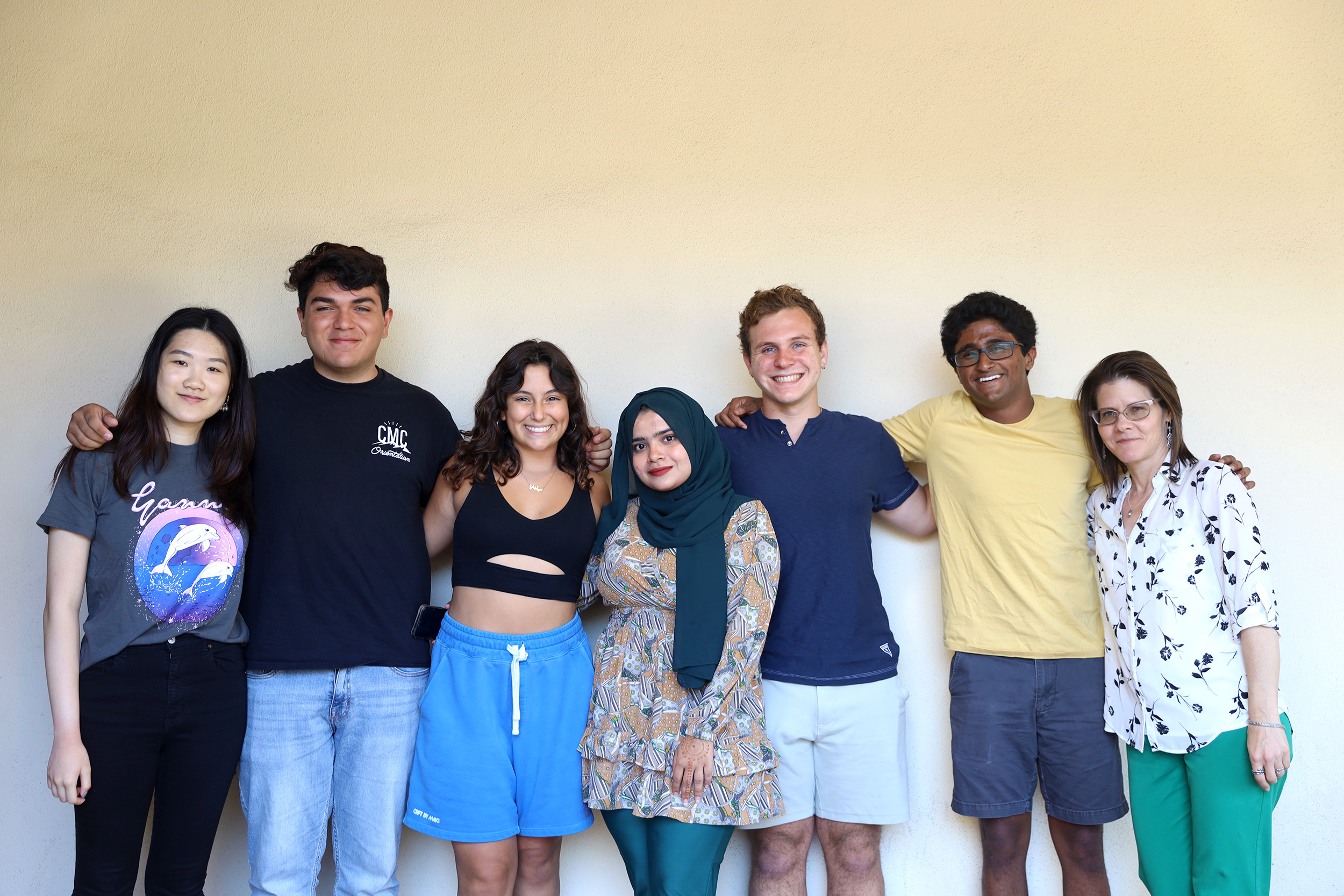 Students undertook a substantial reading list to create a "shared knowledge base," and then gathered to discuss what they had read. Through these discussions, they decided to expand their team's footprint and host two workshops for the CMC community to embrace "thinking in public" as their primary "action step." One was countering race-based Islamophobia in the media, while the other was, "'Whose Democracy?' Current Protests in Israel/Palestine in Context."
The team was excited that the events created high engagement at CMC by hosting these workshops, which Ferguson said fits with the Humanities Lab's "overarching focus: to figure out how to have difficult conversations together and then in public."
And, even though the Lab has concluded for this academic year, Kallah shared that they are hoping to continue these "rich conversations" throughout their time at the College, and be "representatives of our Humanities Lab here at CMC."
The projects from 2022-23 Labs will be on display in the Gould Center during the academic year, 2023-2024.
Contact
Office of Strategic Communications & Marketing
400 N. Claremont Blvd.
Claremont, CA 91711
Phone: (909) 621-8099
Email: communications@cmc.edu

Media inquiries: David Eastburn
Phone (O): (909) 607-7377
Phone (C): (808) 312-8554
Email: deastburn@cmc.edu