CMC's upcoming and first-ever float in the Tournament of Roses is generating excitement and vivid memories.
It was cold and dark in the early morning, when Isabelle Bibbler Parker '96 lined up with a team of young athletes for the 1996 Rose Parade – she was a CMC senior at the time. Invited to be a marshal, Parker led a team of youth vaulters and their horses from the Woodside Vaulting Club along Pasadena's Colorado Boulevard on that chilly January morning more than 25 years ago. Best described as gymnastics and dance set to music atop a moving horse, vaulting is a specialized and competitive equestrian sport.
Parker remembers the parade well – from the pomp and circumstance to its thorny logistics. "There was a buffalo in front of us and a loud marching band behind us and of course we were on pavement," she recounted, "so I was very focused on keeping my team safe and moving."
(In the YouTube clip of the team in the procession, the announcer marvels at the explanation of the sport of vaulting and quips she'd rather "stick to her Thighmaster" than face the challenge of performing gymnastics on a moving horse.)
Vaulting is normally performed in a ring on forgiving dirt, so Parker remembers directing her 25 athletes and four horses to perform only simple demonstration moves during the parade, though the team had done a full pre-game performance that was carried nationally on CBS the previous day.
Parker started in the competitive equestrian sport when she was just six years old and went on to compete nationally and in Europe, adding coaching along the way. She wonders now how she was able to juggle her studies, stints on the CMC's swimming and diving teams, and the highly demanding sport, often flying up to Northern California several weekends a month to train or coach. An economics and psychology major, Parker's senior thesis, not surprisingly, centered on the social and emotional impact of being involved in elite-level sports as a child.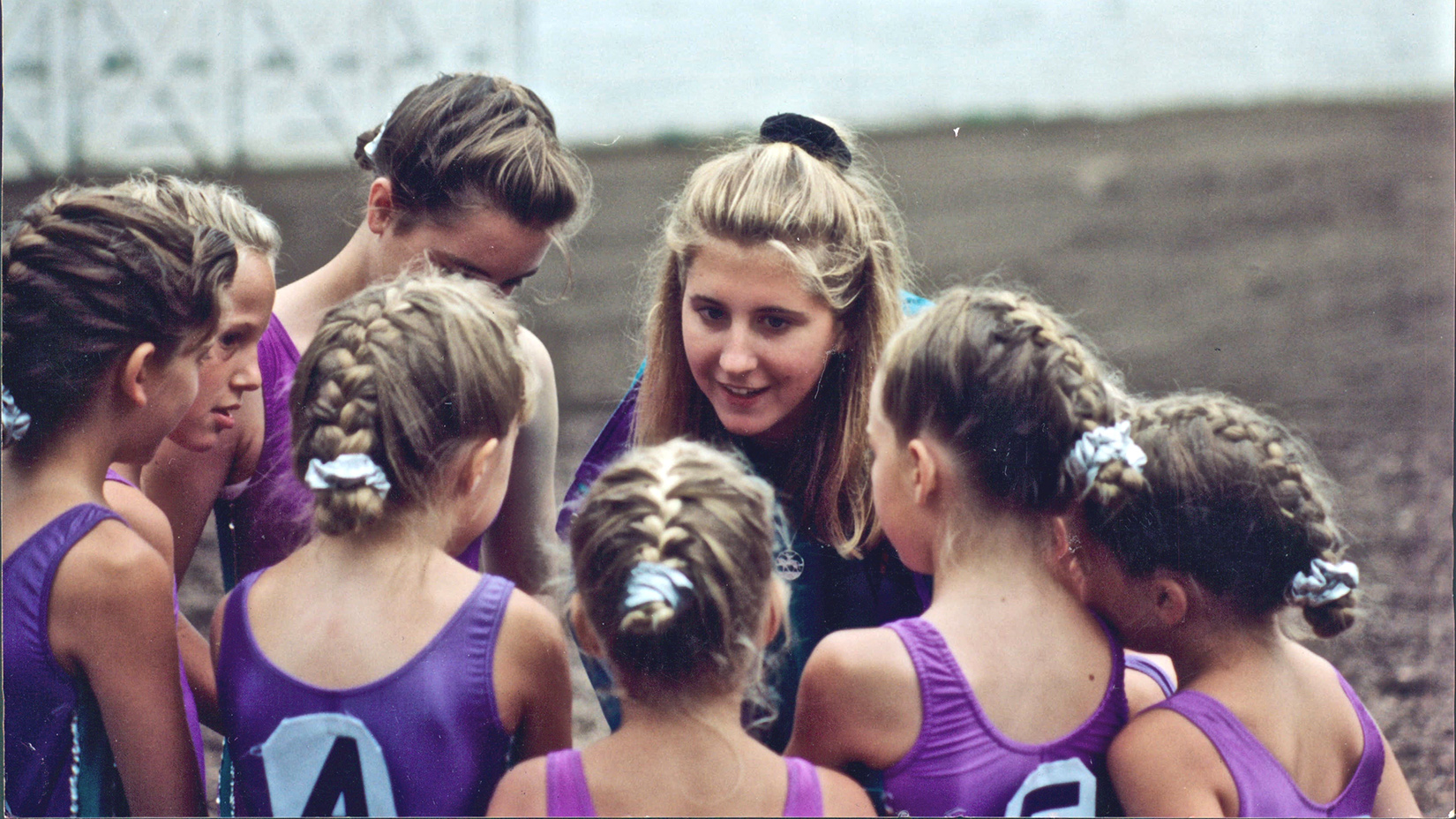 Vaulting is still a big part of her life – one of her two daughters competes in the sport and the U.S. Equestrian Federation recently appointed her to a new role as Vaulting Director of Performance – but Parker's career has been in education. After earning her graduate business degree from Northwestern's Kellogg School, she co-founded and served as COO/CFO of the network of charter schools Summit Public Schools and now serves as the CFO of The Wildflower Foundation, which supports the adoption of Montessori programs.
Though living in Northern California close to where she was raised, some years ago Parker took her daughters to Pasadena for a Rose Parade experience as spectators, touring the flower-laden floats and watching the bands compete before the event.
"It's a great way to engage with the community," she says.
Her advice to participants in this year's parade is to embrace its uniqueness.
"Whether it's the high school band or the guy with the buffalo, this is an experience of a lifetime for so many people," said Parker. "I think that's just the right mindset to go into it with. It's just very special."
Photos courtesy of Isabelle Bibbler Parker '96.
---
CMCers will have the opportunity to take part in decorating the float at Fiesta and can attend other family-friendly events to celebrate CMC and 2023. Learn more here.
Alumni, parents, and friends can contribute to scholarships for current CMC students, in honor of our participation in the 2023 Rose Parade® by adopting a rose that will "float" down Colorado Blvd. 100%—every dollar—will support student scholarships. Please see more details here.
Contact
Office of Strategic Communications & Marketing
400 N. Claremont Blvd.
Claremont, CA 91711
Phone: (909) 621-8099
Email: communications@cmc.edu

Media inquiries: David Eastburn
Phone (O): (909) 607-7377
Phone (C): (808) 312-8554
Email: deastburn@cmc.edu