Students lead sustainable campus projects
Whether it's planting a vibrant native plant garden, devising a way to recycle disposable face masks, or tracking CMC's progress toward carbon neutrality, four CMC students are making a tangible and sustainable difference on campus.
CMC's commitment to reducing climate change through campus-wide efforts is personified by these four environmentally aware student leaders who have earned 2022 Sustainability Fund grants.
Sponsored by the President's Fund at the Roberts Environmental Center, the grants are competitive, fueling innovative and entrepreneurial ventures at CMC that benefit the entire community and reduce the College's carbon footprint.
The grants—in amounts up to $2000—are awarded by the Sustainability Fund Committee, an independent body of students, staff, and faculty
Meet Andrew Bradjan '22, Zoe Carlson '22, Elmir Kouliev '23, and Nicole Jonassen '24, who have earned CMC Sustainability Fund grants for projects that are both practical and inspirational, boosting sustainability efforts and raising awareness. 
Andrew Bradjan '22: Crunching numbers toward carbon neutrality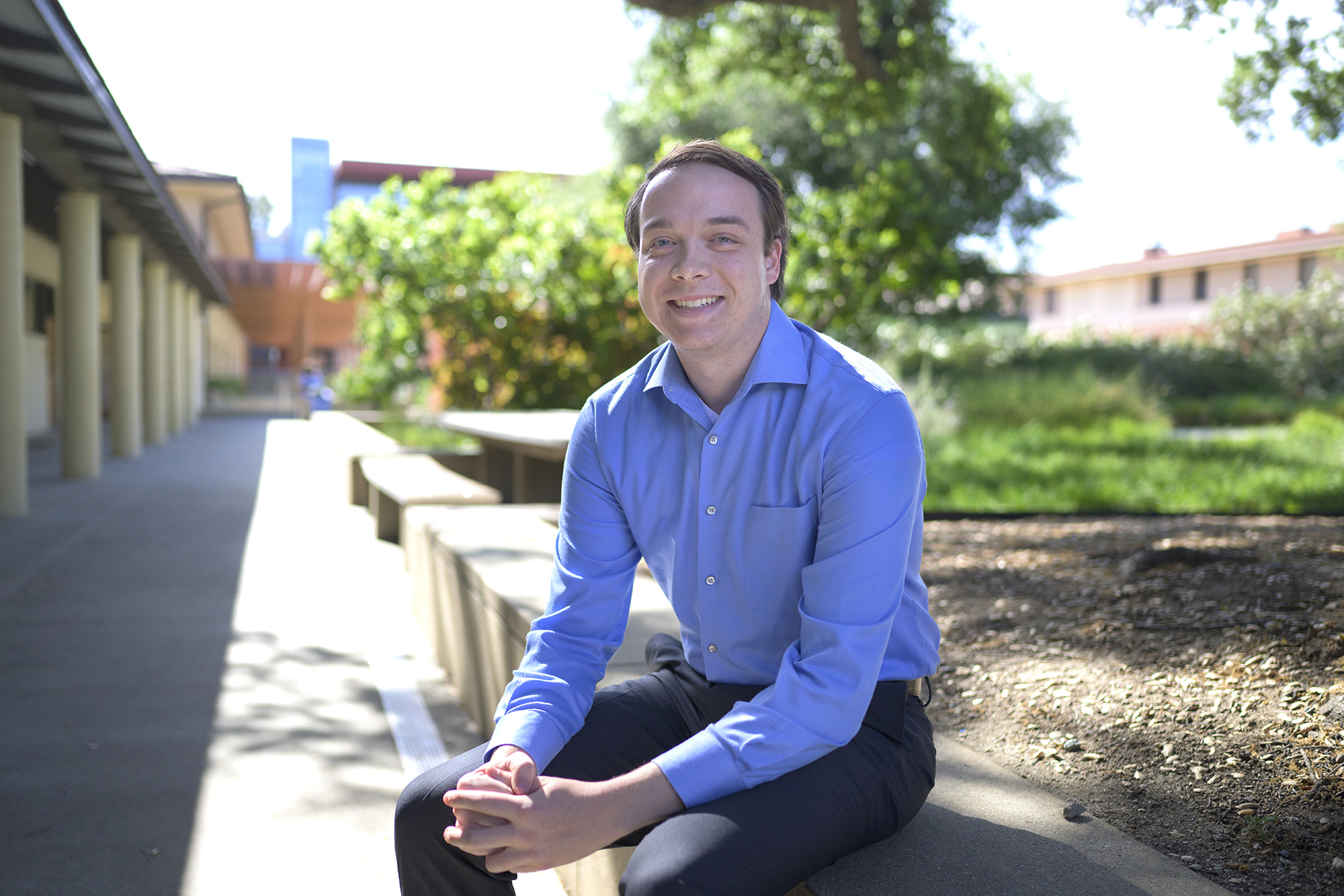 During his first year at CMC, Andrew Bradjan '22 was propelled by a sense of urgency about climate change to make a tangible difference on campus.
He immediately sought leadership roles on ASCMC's Environmental Affairs Committee and the Sustainability Fund, and eventually earned CMC's Building and Energy Management internship.
The internship was a perfect fit for Bradjan, a dual government and economics major with a computer science sequence.
Tasked with collecting and analyzing data on utilities, study abroad air travel, fertilizer usage, and, what he described as "everything in between," Bradjan said that the information he gathers is "vital" to setting a baseline to assess CMC's greenhouse gas emissions, the foundation for CMC's Climate Action Plan.
With a goal of becoming carbon neutral by 2050, Bradjan said that CMC is on track. "CMC is an incredibly versatile and sustainable campus due to the phenomenal work from those in Grounds and Facilities," he said. "COVID-19 marked a big dip in our greenhouse gas emissions followed by a big jump as students came back, and we are still very much on track for our carbon neutrality target, if not much sooner."
Not only has the Sustainability Fund project benefited CMC, but also Bradjan himself, who credits the internship, with helping him acquire "vital data collection and analysis, communication, and researching skills," he said.
Upon graduation, Bradjan will put those skills to work as a business analyst for Deloitte.
As commencement approaches, Bradjan reflects on what he's accomplished, confident that there are equally passionate student leaders, such as Nicole Jonassen '24 (see below) and Ben Eibl '23, who are ready to take the reins. "I have no doubt that the on-campus sustainability work will continue to grow sustainably through the next generation," he said.
"Working towards a greener campus for the past four years has been one of the most rewarding experiences of my life," Bradjan continued. "Having been able to positively contribute every day to the school and campus I love has been a source of immense pride for me and something I will be able to carry with me as I move on to the next phase of my life and beyond."
Zoe Carlson '22 and Elmir Kouliev '23: Planting the Seeds
A hawk soars overhead, bees buzz from blossom to blossom, as a cool breeze wafts through a miniature oasis tucked behind Beckett Hall, the home to a native plant garden cultivated by two CMC students and staked by CMC's Sustainability Fund.
Zoe Carlson'22 and Elmir Kouliev '23 (and his dog Coraline) are currently spending most of their free time and energy restoring garden beds located behind Beckett. The duo applied to the Sustainability Fund after meeting on a wilderness hike and realizing that they both shared a love for Southern California's wildlife and native plants, and a desire to see more of them on CMC's campus.
As neither Kouliev nor Carlson are from California, acquiring knowledge about native plants, they admit, required a steep learning curve. Carlson a religious studies major, immersed herself, spending five hours a week over the summer at the California Botanic Garden in Claremont, the largest botanic garden dedicated to California native plants.
"I think learning about native plants is the first step in finding a way to get the campus to be more sustainable," said Kouliev. Not only are native plants drought-tolerant, they don't require fertilizers. And —bonus — birds, lizards, and butterflies use them for food and shelter.
Boosting the campus' biodiversity is one of the main drivers of Carlson's efforts. "In addition to fulfilling her goal of "having this garden be so beneficial to wildlife," Carlson has also hosted human-centric events, such as a poetry reading, in the space.
With Carlson graduating in May, Kouliev, who is majoring in environment, policy, and politics, will continue their work on the garden with hopes of enlisting fellow environmentally minded CMC students. "I'm hoping our work will propagate to other students," Kouliev said with a smile.
Meanwhile, Carlson is savoring her time in the garden. "I come here every other day," she said. "I love gardening."
Nicole Jonassen '24: Masking and Recycling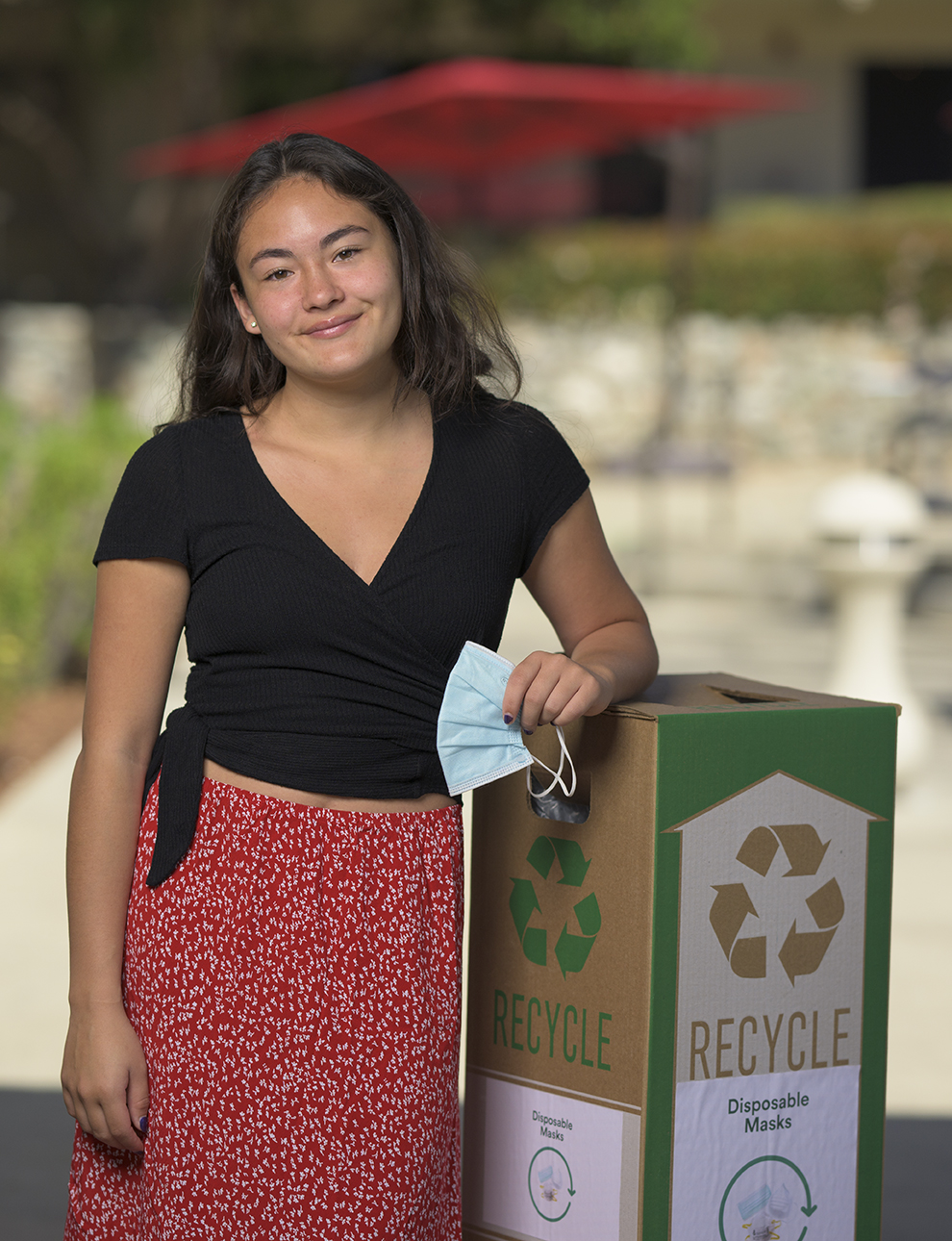 When CMC began mandating the use of disposable surgical and KN95 masks to help contain the spread of the omicron variant, Nicole Jonassen '24 knew they would eventually end up discarded as environmental waste, so she seized the opportunity to divert them from the landfill, and found a way to give them new life by recycling them.
As chair of ASCMC's Environmental Affairs Committee, Jonassen is perpetually on the lookout for ways to make campus more sustainable. When she saw that other campuses were installing TerraCycle boxes to collect used disposable masks for recycling, she was inspired to do the same.
She drafted a successful proposal to the Sustainability Fund, securing the mask recycling boxes, installing them outside of Collins and The Hub in March.
But her work didn't end with their installation, as Jonassen is also charged with shepherding them through their journey back to TerraCycle, where they are transformed into manufacturing material for a variety of new products including outdoor furniture, plastic shipping pallets, and storage containers.
Jonassen, who grew up in upstate New York, considers herself fortunate to have had access to ample green space, as well as clean water and air throughout her childhood. She is aware, however, that not everyone has had that same opportunity, especially when it comes to community-wide environmental health.
"Unfortunately, the way that our waste systems are structured—the way that the environmental hazards are distributed—systematically targets people who are already the worst off in our society," she said.
While Jonassen is majoring in philosophy, politics, and economics (PPE) with a legal studies sequence, rather than environmental science, she is passionate about environmental justice.
"I spend a lot of my time thinking about these issues, and my focus and research at CMC is environmental law, environmental policy," Jonassen said, adding that she hopes to weave sustainability into her career path "from a private sector perspective."
On CMC's campus, she sees projects like the mask recycling boxes, and the native plant garden behind Beckett Hall, as offering students a gateway to further sustainability efforts. "Even for students who aren't as interested in sustainability as I am, they see a beautiful garden, or a way to recycle masks, and they could be inspired to seek out more opportunities," she said.
Find out more about how to make a sustainable impact at CMC.
Contact
Office of Strategic Communications & Marketing
400 N. Claremont Blvd.
Claremont, CA 91711
Phone: (909) 621-8099
Email: communications@cmc.edu

Media inquiries: David Eastburn
Phone (O): (909) 607-7377
Phone (C): (808) 312-8554
Email: deastburn@cmc.edu