Summer research, future possibilities
Liann Bielicki '24 had never used statistical software or taken a probability class, but the Claremont McKenna College sophomore wanted a challenge when she signed on for a summer research project. With Assistant Professor of Government Andrew Sinclair, she is learning Stata to help create a "political predictions" game. Think pro football Pick'em, but for elections.
"The general idea is to look at a variety of upcoming political events, list their possible outcomes, and record what your prediction is—also to rank your predictions, like you would for a football betting pool," said Bielicki, who is a Rose Institute of State and Local Government student.
Working with Sophia Diomande '23, they hope to have a game ready for pilot testing in the midterm elections this year.  For Sinclair, "it's a game, but a serious one.  Thinking through what is likely to happen is important for policy advocates in planning and evaluating their own strategies.  Is what you are doing likely to ever get you what you want?  Is conflict driven by different goals or different beliefs about how the policy process works?"  
Bielicki is one of 25 Claremont McKenna College students spending an extra eight weeks on campus as part of the Summer Research Program (SRP). Launched in 2019, the SRP is a full-time, immersive research experience that has doubled in popularity since its inception.
"We are excited about the SRP because it provides students an opportunity they don't have during the school year: to live and breathe research next to other students who are doing the same and come to solid questions and conclusions about something they really care about," said former Associate Dean of the Faculty for Research Shana Levin, who developed the program. "Close student-faculty collaborations are the hallmark of the CMC experience, and there is no better time than the summer to dive into them."
Building Skills and Community
The SRP's two goals are: to provide an immersive research experience and to promote community building. "It is the combination of an active residential and intellectual environment that sets this program apart," Levin said. "Students from different disciplines are constantly interacting with each other both intellectually and socially. Ideas get batted around over lunch seminars and after hours in the apartments."
Research projects run the gamut from the mathematical and social sciences to the humanities. While practicing their research and analytic skills, students get involved with data analysis and coding. They write papers, create posters, and give a final presentation. Every week, they meet for lunch seminars where some of the 13 participating faculty give talks about their own research as well as how to conduct and present research.
"Students do research for the fun of turning good ideas into great ones and in the process learn how to think better, analyze new arguments and data, and communicate more effectively," said Levin, who is Crown Professor of Psychology and George R. Roberts Fellow.
Directing the program for the second year, Associate Professor of Psychology Stacey Doan wants to build on the program's successes. First, she wants to bring the program "back to life." While the program did continue during the pandemic, it was completely virtual.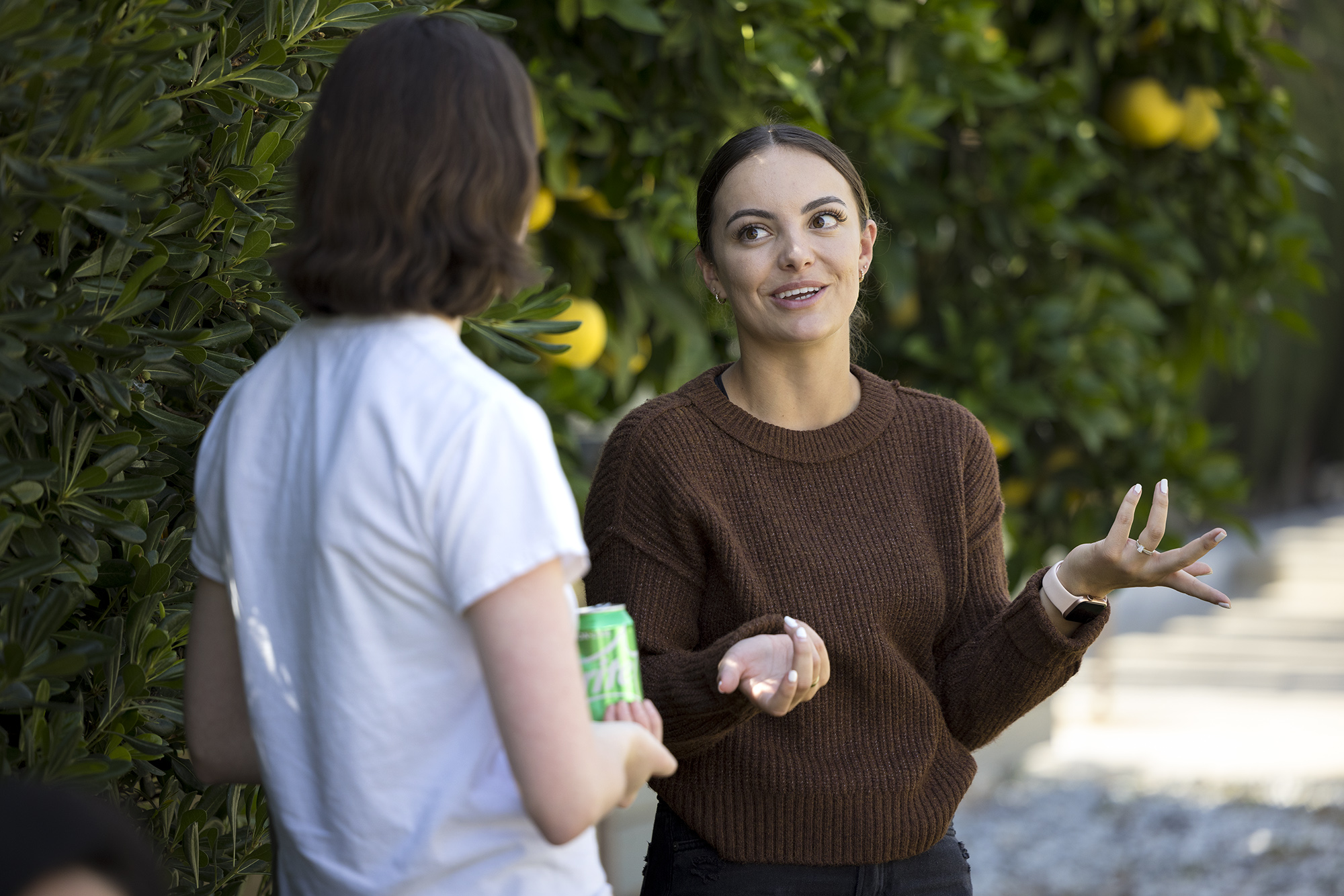 "Deep, engaging, and meaningful research experience has always been a core component of SRP that even the virtual environment could not take away. But we missed something working in silos, spread out around the world, seeing each other only in two-dimensional space. For this year, I really wanted to bring everyone back together, to remind everyone of the importance of community and how much fun it is to bounce ideas off of each other," said Doan, who is also director of the Berger Institute for Individual and Social Development. "Already, I see a difference, when we sit together in one room, when we gather together for a meal, the conversation is engaging, the questions thought-provoking and ideas spread, changing and morphing in incredible ways. Informal discussions happen, people talk and connect, laying the groundwork for creativity, innovation, and synergy."
Doan's second priority is to create awareness about the program with a larger audience. For the past four summers, the Summer Research Program has been generously supported and funded by the Sponsored Internships and Experiences Program (SIE), the Dean of Faculty's Office, the President's Office, and the following CMC research institutes and centers:
Berger Institute for Individual and Social Development
Gould Center for Humanistic Studies
Keck Center for International and Strategic Studies
Kravis Leadership Institute
Lowe Institute of Political Economy
Mgrublian Center for Human Rights
Roberts Environmental Center
Rose Institute of State and Local Government
Salvatori Center for the Study of Individual Freedom in the Modern World
"SRP is funded right now through a patchwork of sources," Doan said. "I hope that by highlighting its impact, and simply the fact that an elite liberal arts college like CMC needs a summer research program like this, we will be able to find parents and alumni who can help to grow and strengthen the program."
A Collaborative Space
The SRP's collaborative nature was a big draw for Philosophy, Politics, Economics (PPE) major Olivia Fish '23. This summer, she is working with Associate Professor of Government Michael Fortner, who is creating a proposal for his new book on the origins and consequences of the crack epidemic.
"I have done several of my own independent research projects and fellowships, and while I really enjoyed those experiences, I am hoping to get a research experience this summer where I learn what research looks like in a more collaborative space," she said. "I have really enjoyed that part of this process—the other two research assistants on this project are focusing on different aspects of the crack epidemic, and having the chance to forward along information that is not as relevant to me but could be useful to them, and vice versa, has been a great aspect of this role."
"My specific role is to look into the congressional response to the crack epidemic," Fish explained. "Alongside this, I am also looking into the attitudinal responses of the larger American constituency, understanding what policies the public wanted compared to the policies the government actually implemented. Analyzing the distinct preferences of different sects of the black population, the white population, high-income Americans, and low-income Americans helps to paint a clearer picture of how America saw the drug problem, specifically with crack cocaine, at the time, and also helps us understand how and why Congress responded in the ways that they did."
She was eager to participate for more than one reason. "This research project, beyond providing an opportunity to work with an amazing professor, connects somewhat to my own personal interests," said Fish, who is writing her thesis in the fall with Professor Fortner and Edward J. Sexton Professor of Philosophy Paul Hurley on the role of art in the AIDS epidemic. "It intersects human rights with public policy, and I have even been able to analyze some forms of advertisements and media relating to the realm of art as a tool for social movements."
"Moreover, I chose to participate in SRP because it provides a fairly rare opportunity for an undergraduate student to be involved in such in-depth, serious research," she added. "I really feel as though I am a valuable asset to Professor Fortner's work and feel like a real part of the team engaging in this research."
Professional Experience
While the SRP projects are valuable preparation for theses, graduate studies, and careers, many students also build on their summer research experiences in various ways, presenting at conferences, publishing, and pursuing further research. Building on their SRP projects, CMC students may apply to two different sources of funding for future research or conference presentations, the Libby Family Fund and the Presidential Student Research Fund, both of which are administered by Andrew Schroeder, associate dean of the faculty for research.
"It can be really instructive—and exciting!—to share your work with the broader community of scholars," said Schroeder, who is also associate professor of philosophy. "The Libby Family Fund and the Presidential Student Research Fund give students the chance to attend major academic conferences, where they can present their research and make connections with scholars from around the world."
Two of Doan's students from last summer, Natalie Clark '22 and Phil Tran '23, are perfect examples of leveraging summer research into future opportunities. They presented their SRP 2021 work with Doan at the International Society for Developmental Psychobiology Conference.
Catherine Murphy '24 worked on research into the top-two primary system with Sinclair in 2021. During the past academic year, she has continued that work.
"Catherine Murphy's work went into the new Rose Institute series, Questions and Answers," Sinclair said. "The first edition covers California's top-two election procedure." Murphy is listed in the acknowledgments. She's currently working on an academic paper with Sinclair and two CMC alumni, Bryn Miller '19 and Ian O'Grady '15.
Daniela Corona's '23 summer research contributed to a paper presented at the Midwest Political Science Association meeting with Sinclair. Her work remains ongoing, and she is helping to organize this coming fall's Rose Institute Poll.
"The SRP has provided a model not just for summer research but also for developing research partnerships that last throughout, and beyond, a student's time at CMC," Sinclair noted.
With his summer research, International Relations and Chinese major Jonathan Becker '24 is preparing for both his thesis and possible graduate studies in Chinese history. He participated in SRP with Bank of America Associate Professor of Pacific Basin Studies Albert Park in 2021, and he signed on for a second summer with Assistant Professor of History Chelsea Zi Wang.
"I am deeply passionate about Chinese history," he said. "I am researching the Qing Dynasty, China's last dynasty. In particular, I want to learn more about the Manchu ethnic group, who ruled China's last dynasty but whose culture and language have since fallen into relative obscurity."
Prior to the summer, Becker drew up a reading list of books and scholarly articles on the Qing Dynasty based on his earlier research and communications with other scholars in the field, and he has already set to work.
"Jonathan is working on a pretty independent project this summer," said Wang, a historian of late imperial China. "He is interested in graduate school, and I think the program will help him immensely in this regard, as he will be able to get a good understanding of the development of scholarship in the field, and hopefully identify a set of research questions that he would like to focus on in the future."
Finding a Career Path
Bielicki doesn't yet have a definitive answer to that perpetual question about career goals, but she has a lot of options. "I'm considering data analyst-type roles, whether that be in research or in industry," she said, "and I would particularly love to work somewhere with an environmental mission. I've also learned a lot about careers in government and law at CMC."
With her summer research project, she is acquiring skills that may help her navigate those choices and begin to define her future.
"I've found that this project is stretching my skills in the best possible ways," she said. "I hope that doing this research will acclimate me to tackling issues outside my comfort zone and to applying the concepts I've learned in class to research problems. For example, I've taken several computing classes in Python, Java, and R, and this summer I am learning Stata. I think this type of skill translation is valuable as I build a career."
Contact
Office of Strategic Communications & Marketing
400 N. Claremont Blvd.
Claremont, CA 91711
Phone: (909) 621-8099
Email: communications@cmc.edu

Media inquiries: David Eastburn
Phone (O): (909) 607-7377
Phone (C): (808) 312-8554
Email: deastburn@cmc.edu