Ukrainian journalist shares stories from the war zone
Anna Romandash didn't intend to be a war correspondent. Yet, for the past six months, she's been reporting from Ukraine, after Russia invaded her country.
On Oct.10, the war hit even closer to home, as Romandash reported that Russia had bombed her own small village. "I don't know how you start your work week, but here's how mine went: I woke up to running for my life into the basement," she wrote. "We are okay now. it's been a few hours, and the initial fear has passed. My hands no longer tremble, and I am just angry."
The award-winning Ukrainian journalist, who had previously focused on global climate issues and international relations, has committed herself to reporting about the invasion and the devastating effects on Ukrainians. In addition to covering the missile strikes in her own town, Romandash has written stories about Ukrainians who've survived massacres, been forced to flee their homes, and stayed behind to help others.
Romandash brings the weight of these experiences to CMC as a research affiliate this fall semester, co-hosted by the Mgrublian Center for Human Rights, the Keck Center for International and Strategic Studies, The Open Academy, and the Religious Studies Department.
She will give an in-person presentation on Monday, Oct. 24 at the Athenaeum, "Do No Harm: Witnessing War Crimes in Ukraine, Collecting the Evidence." She'll also join Pomona Professor Mietek Pawel Boduszynski for a Saturday Salon sponsored by The Open Academy on Oct. 29.
Throughout the fall semester, Romandash has taken part in a hybrid program of on-campus presentations and Zoom-ins from Ukraine, presenting a "News from the Ukraine" briefing. She has also joined Prof. Wendy Lower's seminar, Europe's Total Wars, which is focusing on Putin's terror in a deeper historical context; Prof. Hilary Appel's seminar, "Russia Politics;" and Prof. Terril Jones' course on International Journalism. She is also speaking about women in wartime for a seminar on Race, Gender and Identity in International Relations, taught by Appel and Prof. Jennifer Taw.
"Anna's extended and repeat visits to campus bring the war home for students," said Appel, director of the Keck Center. "This is a human tragedy that is unfolding in their young lives in real-time. The war can no longer remain distant or abstract as students get to know Anna on a personal level and follow how the war affects not only her work as a journalist but as a person whose small town was directly bombed this month."
In addition, the Mgrublian Center is publishing her reports from the war zones and other regions of Ukraine. She has met with Mgrublian research fellows to discuss their projects, as well as other students who are interested in careers in human rights. And, she's also been busy with campus activities, taking part in the Ukraine Engagement Fair and giving interviews to Keck Center student podcasters.
Romandash's journey to CMC began when Lower, director of the Mgrublian Center for Human Rights, arrived in Berlin over spring break, shortly after Russia's invasion of Ukraine. There, she personally witnessed "tens of thousands" of refugees arriving daily at the city's main train station, including a shell-shocked colleague from Dnipro in eastern Ukraine.
"As I listened to her story of the warfare she witnessed and her fears about suddenly being a refugee, I began to think of ways that the Mgrublian Center for Human Rights could do more to support scholars and activists who were at risk," Lower recalled. "When I returned to campus, students started appearing in my office trying to make sense of the war, wanting to learn more about Ukraine and help the displaced. I added our Center's name to a growing list of colleges and universities around the world that were willing to offer virtual or residency fellowships to Ukrainian scholars and activists."
In May, Romandash responded, reaching out and introducing herself to Lower, who along with Prof. Appel, offered Romandash the opportunity "to contribute somehow to share my story with people," Romandash said. "It was unexpected and very nice."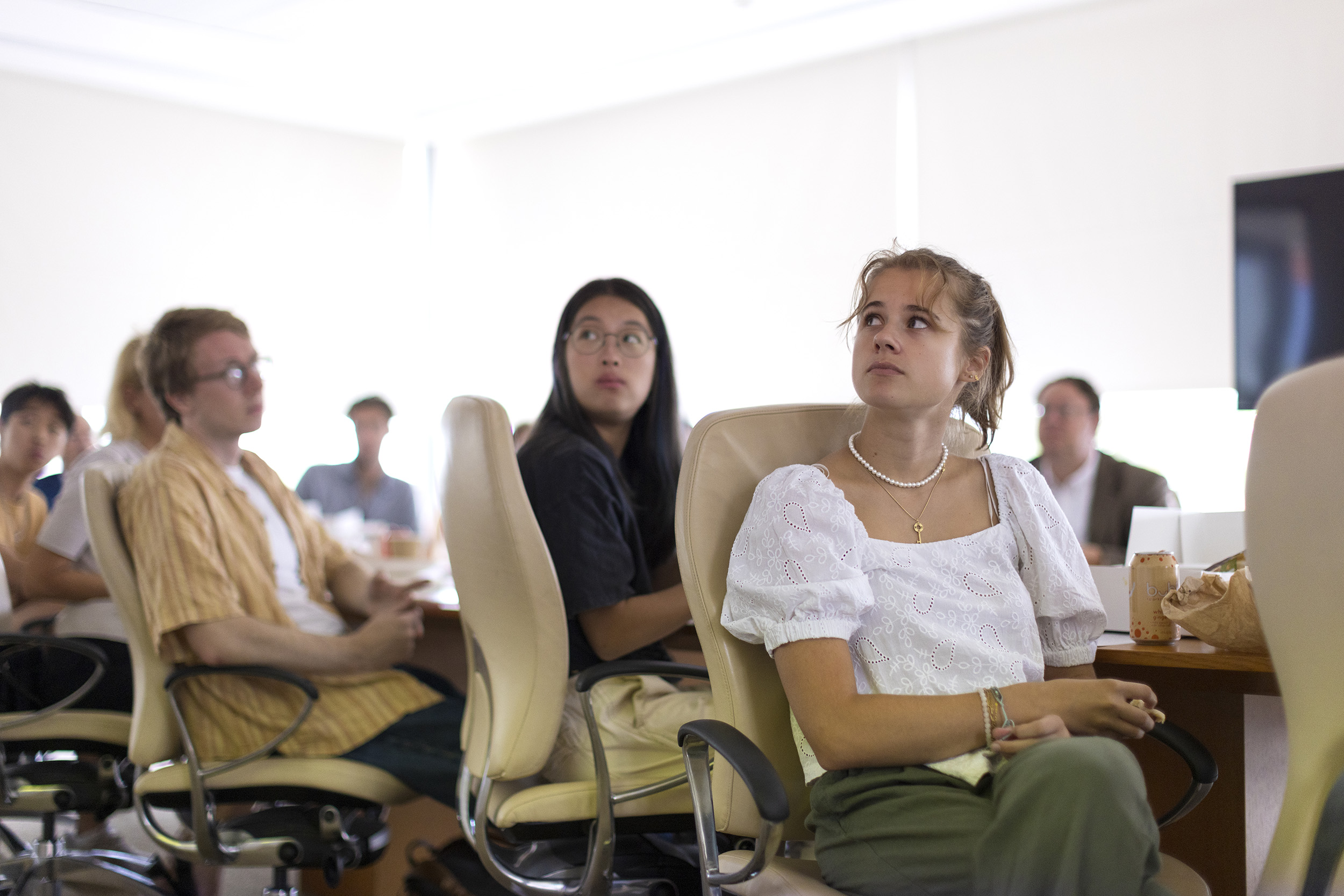 Of Lower's work with the Mgrublian Center, Romandash said, "She's helping people understand and remember genocides. Unfortunately, it is happening in the present. And we have to do something so we can stop it. I think it's very important what [Lower] is doing and the way that she's raising that question to her students, who are going to be decision-makers soon."
Sasha Shunko, a Mgrublian Fellow, is one of the students who's met with Romandash. Originally from Estonia, Shunko is of Ukrainian heritage and grew up in Seattle, as the child of two immigrants.
"My first language is Russian, and growing up Estonian with my whole family having been brought up in Soviet times, the effects of Russian propaganda are still prevalent today," she said. "I have family members living in Moscow who are being fed lies every day. I want to understand it more and get started on figuring out a way to combat the effects of the Russian media."
To that end, Shunko said she chose to major in psychology and international relations because she's "interested in how, by understanding people's psychology, we can better predict the actions of international politicians and societies." Shunko was also one of the student organizers of CMC's Ukraine Engagement Fair Oct. 7-8.
While Shunko has access to information about the war from friends in Ukraine and Russia, she said she can imagine that "other American students who primarily consume their information from U.S. sources, are now able to really wrap their head around what the individual Ukrainian goes through, thanks to her stories."
Lower said her own teaching has been impacted by hosting Romandash. Teaching "Europe's Total Wars" this semester for the first time since 2012, when she joined CMC's faculty, Lower said she's added readings on Putin's wars and literature on just war theory. "Anna's reports and her briefings are integrated into the course as our attention this semester is focused on questions such as: What kind of war is Putin waging? How can campaigns of total war and terror be stopped and dismantled?"
By the end of the semester, Lower added, "students will give final presentations on the case of Ukraine, proposing strategies and policy recommendations for ending the war and securing peace in Europe," based on class readings, and Romandash's briefings from Ukraine.
For Romandash, the experience at CMC underscores what she considers the most effective way of helping Ukrainians: To hear their stories. "Talking to Ukrainians and listening to their voices is so important, so that this topic, the Russian war against Ukraine does not disappear. It's important to keep that discussion going, so that U.S. citizens remember that the war is still going on."
Valuable learning experiences such as these are made possible at CMC, in part, by the generous support of donors and philanthropists. Through the Campaign for CMC: Responsible Leadership and the specific pillar of honoring our leadership mission, we will ensure that the College continues to deliver on its liberal arts and leadership mission.
Contact
Office of Strategic Communications & Marketing
400 N. Claremont Blvd.
Claremont, CA 91711
Phone: (909) 621-8099
Email: communications@cmc.edu

Media inquiries: David Eastburn
Phone (O): (909) 607-7377
Phone (C): (808) 312-8554
Email: deastburn@cmc.edu