Biography of President Chodosh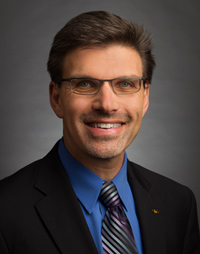 Hiram E. Chodosh became the fifth president of Claremont McKenna College on July 1, 2013. An accomplished leader in several domains, he is widely recognized for his innovations in higher education, scholarship in comparative law, and expertise in international justice reform.
As Claremont McKenna College's president, Chodosh has implemented several new programs and centers to enhance the College's singular leadership mission in liberal education. Chodosh has led the College's commitment to generating opportunities for student learning, personal growth, and success. Under his leadership, the College has raised more than $135 million in new funding for the Student Imperative, a scholarship, financial aid, and student cohort program. Additionally, the College opened three new centers – the CARE Center, designed to foster the understanding and mitigation of social divisions; the Soll Center for Student Opportunities, which both integrates and elevates advisory support for summer internships and post-graduate success; and the Roberts Pavilion, an award-winning facility for athletics, recreation, and community events that supports the three-college athletic programs of Claremont McKenna College, Harvey Mudd College, and Scripps College ("CMS"). In the 2016-17 NCAA Division III Learfield Directors' Cup, CMS ranked fourth in the nation. Finally, support for advanced faculty – student collaborative research and 11 institutes and centers has positioned the College as a preeminent research-focused liberal arts institution.
Born in Elizabeth, New Jersey, Chodosh received his B.A. in history from Wesleyan University in 1985 and his J.D. from Yale Law School in 1990. He entered law practice at the New York City headquarters of the international firm Cleary Gottlieb, where he specialized in transnational practice. In 1993, he left the firm to join the faculty at the Case Western Reserve University School of Law in Cleveland. During his 13-year tenure at Case, Chodosh taught courses in conflicts of law and comparative and international law. He also served in multiple leadership roles including as the Hostetler Professor of Law, director of the Frederick K. Cox International Law Center, and associate dean for academic affairs. In 2000, he received the Distinguished Teacher Award for his innovations in curriculum and instruction.
Building on his achievements at Case, Chodosh became dean of the S.J. Quinney College of Law at the University of Utah in 2006. During his tenure, he served as the Dean, the Hugh B. Brown Endowed Presidential Professor of Law, and the Senior Presidential Advisor on Global Strategy. In that dual capacity, he helped establish several new university centers to address law and bioscience, global justice, educational innovation, and research on veterans in transition. With his direction, the university embraced the vision, design, and approval for an award-winning LEED Platinum law school facility that now serves as a new gateway to the Utah campus. The building was developed to foster creative educational models that enhance student leadership experiences, interdisciplinary research, and global education. In 2002, National Jurist magazine named Chodosh one of the 25 most influential people in legal education for his numerous contributions to the field.
Beyond his academic leadership, Chodosh has made a global impact through his justice reform efforts, having worked on projects or studies in more than a dozen countries in Asia, Europe, and the Middle East. Since 1996, he has played a central role in the growth of mediation in India, where he lectured and taught mediation as a Fulbright Senior Scholar in 2003. From 2007-2009, he founded and directed Global Justice Project: Iraq under a $10.4 million grant from the U.S. Department of State. This law and policy think tank advised the Iraqi government on legislative and constitutional priorities. He has served in advisory positions on justice reform for the World Bank Justice Reform Group, the International Monetary Fund Legal Department, and many court systems, non-profit organizations, and national commissions. In 2011, President Chodosh was named a recipient of the Gandhi Peace Award.
He has published numerous articles, books, and essays on mediation, legal reform, and comparative law. His recent books include Uniform Civil Code of India: A Blueprint for Scholarly Discourse (with Shimon Shetreet, 2016), Law in Iraq: A Document Companion (with co-editor Chibli Mallat, 2013), both published by Oxford University Press, and Global Justice Reform: A Comparative Methodology (2005, NYU Press).
President Chodosh is married to Priya Junnar, director of CMC's distinguished Marian Miner Cook Athenaeum.