President's Office
Biography of Hiram E. Chodosh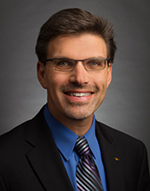 Hiram E. Chodosh became president of Claremont McKenna College on July 1, 2013. He is CMC's fifth president, and joined the College having already achieved distinction as an educator, an academic administrator, a legal scholar, and an internationally recognized advocate of judicial reform around the world.
Just prior to his arrival in Claremont, Chodosh served as Dean of the S.J. Quinney College of Law at the University of Utah, where he was also the Hugh B. Brown Endowed Presidential Professor of Law and Senior Presidential Adviser on Global Strategy. During his seven-year tenure, he worked collaboratively to establish several new centers on law and bioscience, global justice, educational innovation, and veterans, and led efforts to begin construction of a new $60 million facility.
Born in 1962 in Elizabeth, New Jersey, Chodosh received his B.A. in history from Wesleyan University in 1985, and his J.D. in 1990 from Yale Law School. He began his law career at the international firm of Cleary, Gottlieb in New York. In 1993, he left the firm to join the faculty of the Case Western Reserve University School of Law in Cleveland, Ohio.
Over the next 13 years at Case, Chodosh developed a reputation as an innovator, both in the classroom and in positions of academic leadership. He served as the Hostetler Professor of Law and Associate Dean for Academic Affairs. He also directed the Frederick K. Cox International Law Center. He worked on a broad range of projects and initiatives, ranging from the enhancement of leadership opportunities for students to the development of interdisciplinary courses and the introduction of new skills training. He taught courses and labs about global judicial reform, and received a Distinguished Teacher Award in 2000.
During this same period of time, Chodosh took a direct, hands-on approach to the question of global justice reform. He worked in more than 20 countries in Asia and the Middle East, serving in advisory positions on pressing problems in justice reform for the World Bank Justice Reform Group, the International Monetary Fund Legal Department, and many court systems, non-profit organizations, and national commissions. He also served as a Fulbright Senior Scholar in India in 2003.
Recognized for designing and executing groundbreaking educational models to enhance leadership experiences for students, interdisciplinary research projects, the adaptive use of technology, and global education, Chodosh was recently named one of the 25 most influential legal educators by the National Jurist magazine.
He has published many articles, books, and essays on mediation, legal reform, and comparative law. His recent books include, Law in Iraq: A Document Companion (with co-editor Chibli Mallat) published this year by Oxford University Press, and Global Justice Reform: A Comparative Methodology, published in 2005 by NYU Press. His forthcoming book, The Uniform Civil Code of India: Blueprint for Scholarly Discourse (co-authored with Shimon Shetreet), will be published by Oxford University Press in 2014.
Beyond his scholarship and innovations, Chodosh has been recognized for the impact of his justice reform efforts, including his collaborative role in the growth of mediation in India (since 1996) and his leadership as director of the Global Justice Project: Iraq, a law and policy think tank (2007-2009) that advised the Iraqi government on legislative and constitutional priorities. In 2011, Chodosh was named a recipient of the Gandhi Peace Award.
His unanimous selection to become CMC's next president was made by a 15-member Presidential Search Committee of trustees, faculty, students, and alumni.
"I am both humbled and honored to be named the next president of Claremont McKenna College," said Chodosh, when his selection was announced. "The faculty, students, staff, and Board, under the inspired leadership of Presidents Pamela Gann, Jack Stark, and George Benson, have created a global treasure in higher education. CMC's stunning success grows from the College's singular, historic commitment to leadership in the world through the creative power of the liberal arts. I am eager to learn from and work with the CMC community to build upon this special legacy."
He is married to Priya Junnar and they have two children, Saja, 20, and Caleb, 18.