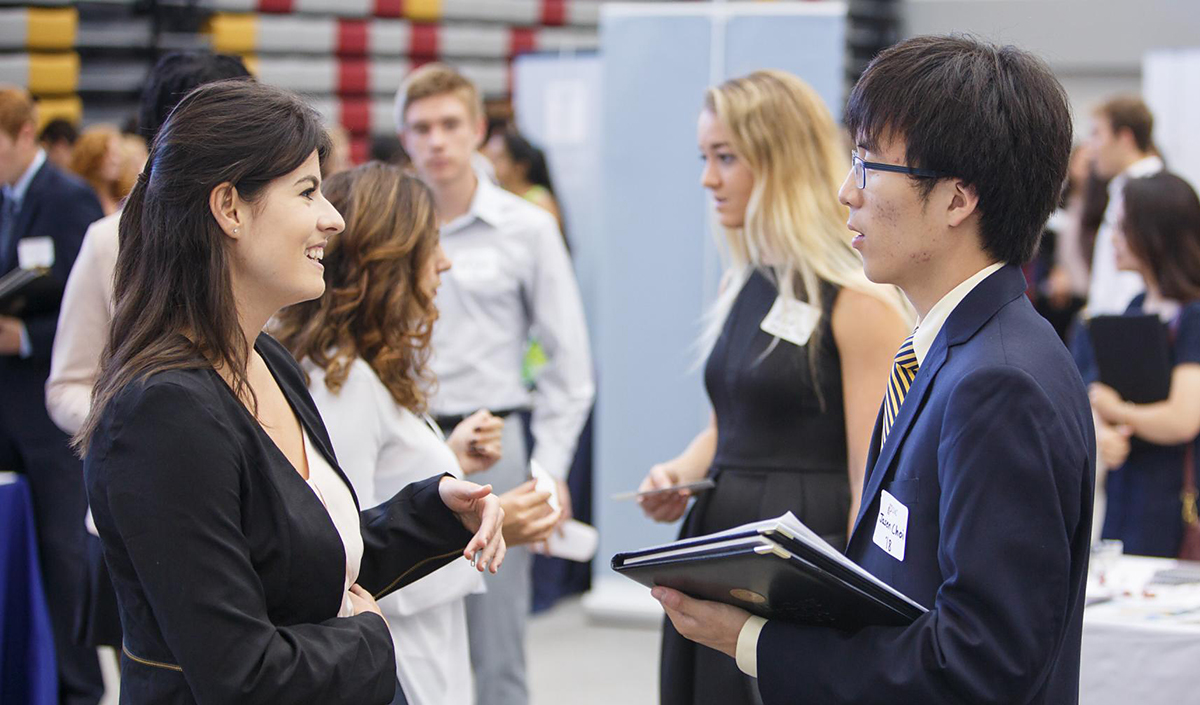 What is a career fair or meet-up?
A Career Fair or Meet-Up (also referred to as a Career Expo) brings a cross section of employers to campus for an interactive introduction to the student population. This is the first contact and exploration opportunity to begin your career process. Remember, first impressions go a long way, so treat any conversations at these events as if it were a formal interview. Adequate preparation helps build confidence and arms you with tools that will help you shine in front of employers.
How do I prepare for career fairs/meet-ups?
Research organizations attending the event (e.g., available positions, corporate culture, desired skill sets, on-campus recruiting activities, etc.).
Identify the organizations you would like to visit while at the event. Develop at least two well thought out questions to ask each representative.
Develop and practice a strong elevator pitch to introduce yourself.
Get a good night's sleep, and eat a healthy meal before the event.
Dress professionally.
Bring several copies of your resume printed on resume paper, a padfolio with paper, and a pen for notes.
Draft a thank you template to be adapted later for each representative you meet.
How should I conduct myself during the event?
Start with organizations that are not your top choices – shake off nerves, practice your introduction, look and listen for feedback, and adjust.
Greet representatives with a firm handshake, smile, look them in the eye, and thank them for taking the time to meet you.
If there is a crowd or the representative is already in a conversation, wait patiently to be acknowledged; network with other students in line (learn about employers they have already visited) or go to the next employer on your list and come back later.
Introduce yourself and continue the conversation by asking at least two questions of each representative.
Pay attention to your non-verbal communication (i.e., arms open and pleasant facial expressions).
Take minimal written notes during the conversation. Instead focus on active listening and showing the representatives that you are engaged.
Pick up the employer's literature and ask for their contact information (a business card if he or she has one) to follow up with additional questions.
Leave a resume if the representative is collecting them. If not, clarify the best way to apply for a position.
Smile, thank the representative, and shake his or her hand again upon exiting.
When at a safe distance, take time to record extensive notes from that conversation on the back of the representative's business card and/or a notebook before moving on to another company's table.
How do I follow-up after the event?
Review your notes from the event and enter contact information/notes in a job search log. Organize any pamphlets collected.
Write an email and handwritten "thank you" to each representative you met within 24 hours, highlighting points from your discussion. If the representative will be returning to campus, express your interest in meeting again at an information session or campus interview.
Complete any other action items, such as sending resumes or completing online applications, within 48 hours.
Approximately two weeks after mailing the thank you notes, call the representative to confirm receipt and to express your continued interest in the organization and desire for an interview.
Be patient. Some organizations may be "long-term" leads. Don't expect an immediate response.
Where do I register for these events?
You can register for all employer on-campus events on Handshake!