What to Expect on Commencement Day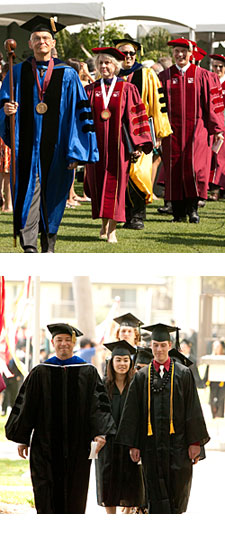 This is an exciting day for the families and friends of our graduates. Below are a few tips to help make the day more enjoyable.
All guests should plan to arrive on campus at least one hour before the start of the Commencement Ceremony. Please click here for directions to campus and parking information.
Please note that the gates to Pritzlaff Field will open at 11 a.m. for early access to the ceremony site.
Tickets are not required for the Commencement Ceremony.
If someone in your party has a disability that requires extra assistance, please notify CMC in advance so that we may accommodate your requests. Click here for disability services and information.
Seating for the Ceremony is on a first-come basis. Seats may not be reserved but may be held if a family member remains with the seats. Commencement Staff will be at the site to provide assistance and answer questions.
During the Ceremony, we ask that you remain in your seat to keep the aisles clear.
The average temperature for May in Southern California can range from warm to hot. Because the Commencement venue is outdoors, it is helpful to dress in light layers. Also, don't forget the sunscreen and sunglasses. Please click for the local weather.
Restroom facilities are available on Pritzlaff Field. Handicap facilities are available at Center Court, just west of Pritzlaff Field.
An Information Tent will be located at the north end of Pritzlaff Field and will be staffed from 11 a.m. - 5 p.m.
Claremont McKenna reserves the right to search any bag brought onto the premises.
The College requests that guests refrain from bringing pets to the outdoor commencement ceremony. Assistive animals are permitted. Thank you for your compliance with this request.
On Saturday 5/18/19 Sherwood Florist will set up a stand by the Bon Appetit Concessions by Bauer Fountain. Customers will pick up their pre-ordered flower leis, and there will be leis available for day-of purchases as well.
Where to Eat on Campus:

Collins Dining Hall Brunch: 9:00 – 11:00 a.m.; $13.75 per person at the door – cash or check only
Hub Store (Emett Student Center): 8:00 a.m. – 2:00 p.m.; Coffee, bagels, breakfast burritos, and limited snacks available.
Hub Snack Stand (Butler Plaza, Bauer Center): 10:30 a.m. – 2:30 p.m.; limited snacks and beverages available. Floral leis are also available for purchase.

The Ceremony will be broadcast into a viewing room for families with small children and other guests who prefer to view the ceremony indoors. Pickford Auditorium will be open from 1:30 – 4:00 p.m. The broadcast will being at 2:00 p.m.
Live streaming of the Ceremony will begin at 2:00 p.m. Please visit the CMC homepage to access the link for the broadcast.