Scenes and photos from our in-person return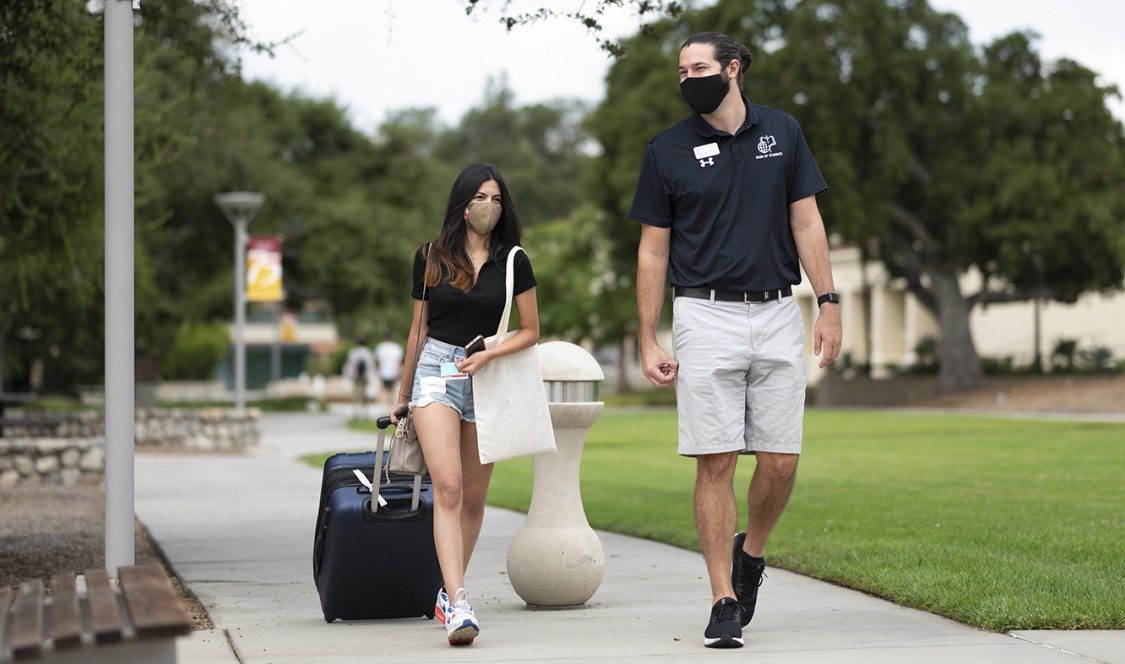 The fountains are sparkling. The grills at Collins fired up. The sounds of clanging helmets and goalposts audible from the fields.
The entire CMC community is reawakening and returning to campus.
And we have a lot to look forward to this academic year. Beloved traditions—such as WOA trips and Ath programming—have been renewed; and new ones will be introduced—such as the food truck named for CMC's favorite labradoodle, Theo. We'll also enjoy a year's worth of special speakers, fun activities, and major announcements in honor of CMC's 75th Anniversary.
After 18 months away from campus classrooms and residential life, we're all excited to resume the immersive in-person experience that makes CMC stand apart.
From Parents Field to Kravis Center, North Quad to the South Towers, here are some scenes from the first few days of an academic year unlike any other. It's great to be back, CMC.
__________________
Returning the favor
Upon entering her darkened dorm room for the first time, Caitlyn Arce '22 waved her arms to activate the light sensors. When the lights came on, she thought, "Students are back! HELLO-O-O-O-O!"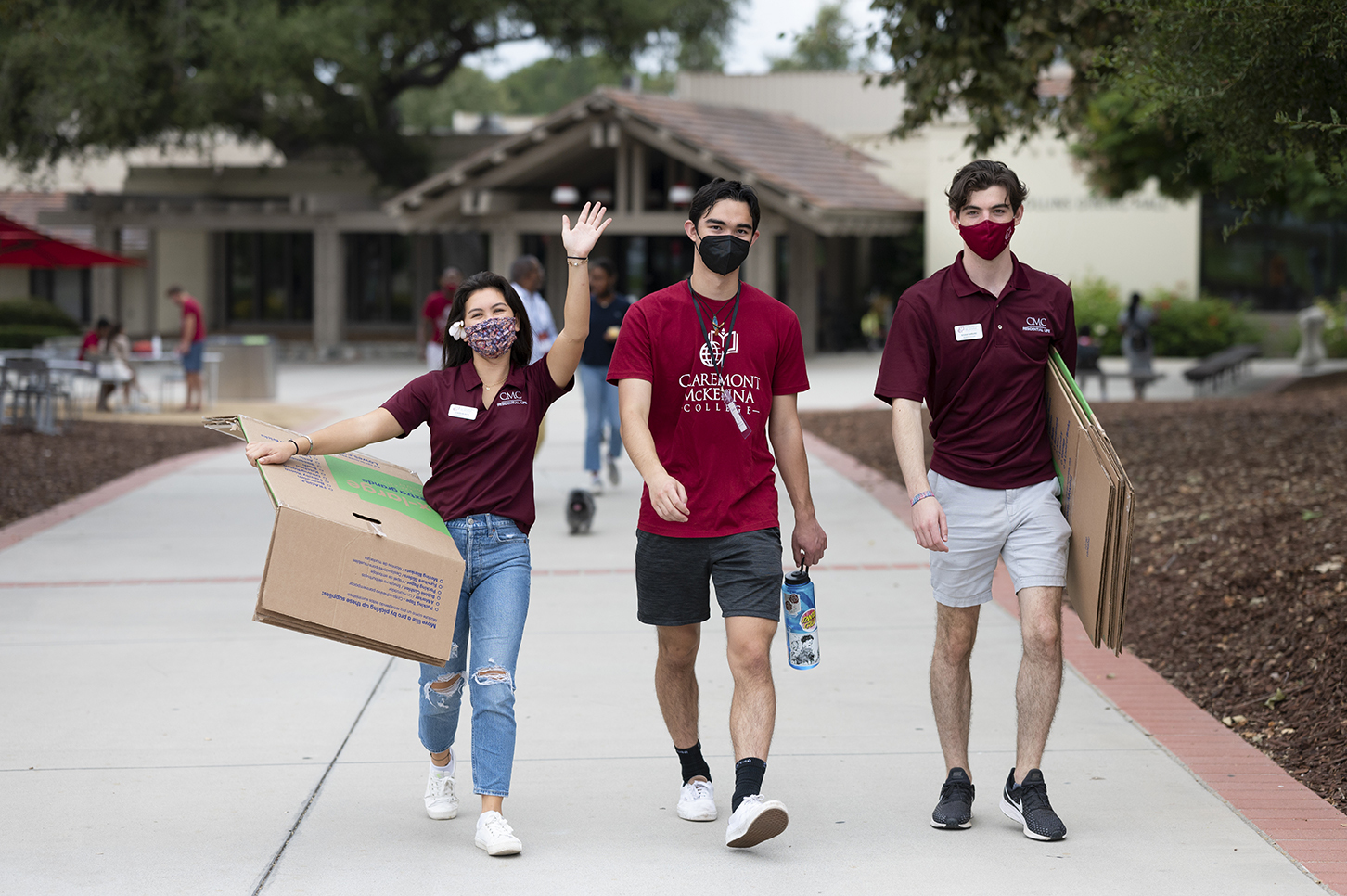 Arriving earlier in August to start her stint as an RA in Berger Hall, Arce said, "This is going to be exciting! We are all ready for campus to be full of life."
She reflected upon her own first few days at CMC, recalling that when she was a homesick first-year student arriving at Marks Hall from Hawaii, she felt a little lost. But her RAs came to her aid, becoming valuable resources who helped her thrive in her new environment. "I could trust and rely upon them," said Arce, one of 28 RAs this year. "It was nice having someone there to just be a support system. Now I want to be that support system for students.
"I decided to become an RA during my senior year as a way for me to give back to CMC."
An international relations major with a focus in environmental studies, Arce credited one of her RAs, Maddie Lee '19, with inspiring her to pursue the major. In addition, she said her RAs encouraged her to engage in campus activities, helping her find a path.
"RAs are critical to the student experience in the residence halls, and serve as mentors and resources to our students," said Jenny Tyniec Guyett, assistant dean of students and director of residential life. "The RAs are excited to be back on campus! And they are looking forward to welcoming everyone and ensuring all students feel safe and supported in our community."
__________________
'It's like a dream'
When Cassandra Hernandez '24 pulled up to CMC with her parents and sisters, she became a bit emotional. "It just doesn't feel real—it's like a dream," said the Dallas native. "I've looked forward to being here for such a long time and there's been so much disappointment along the way."
No high school graduation. No signing day. No prom.
And then, Zooming from Dallas for her entire first year at CMC.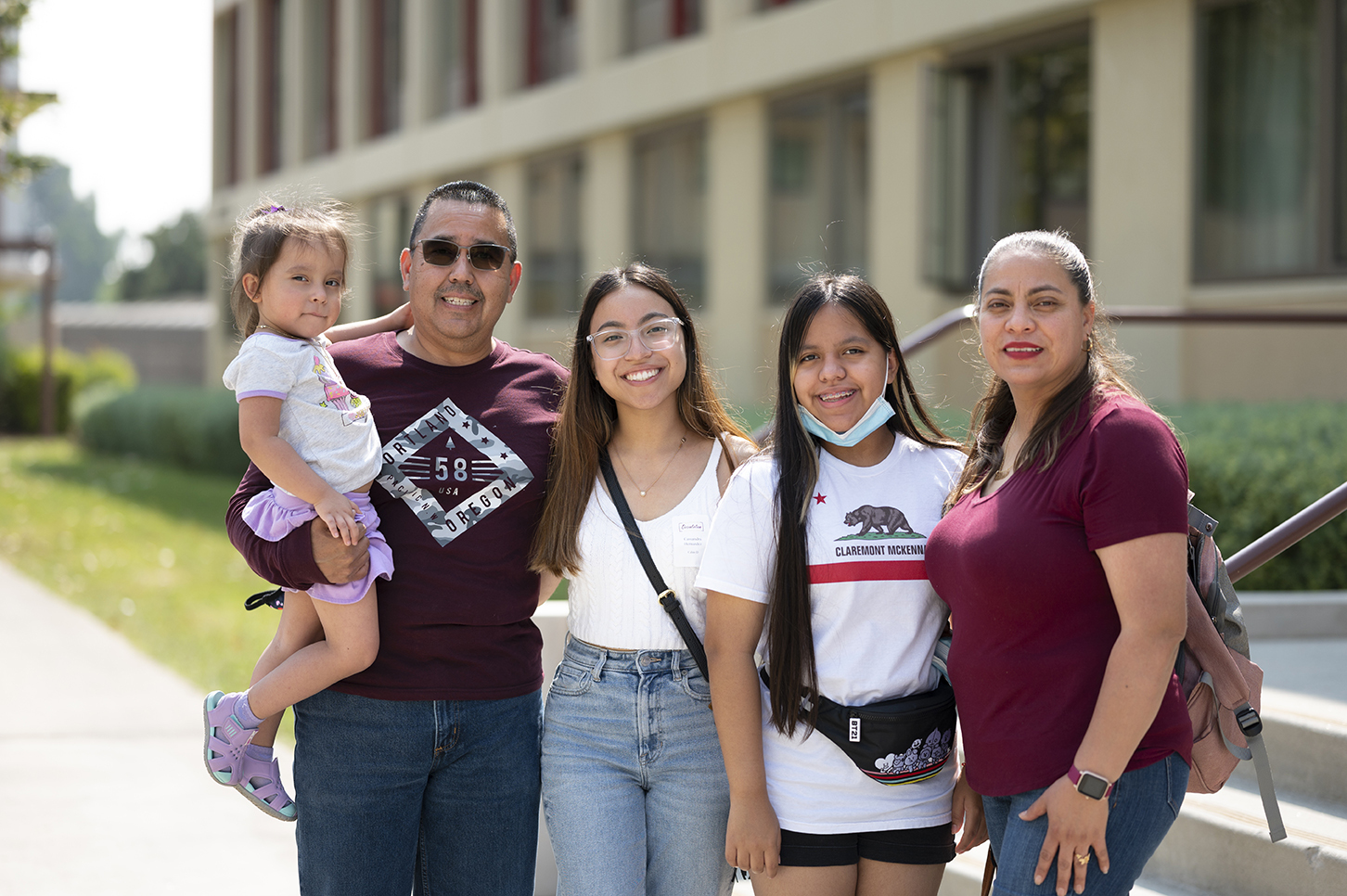 "It felt like the world stopped," Hernandez said. "There was so much loss in high school and my first year of college. But now that I'm here, I'm just so happy. Everything happens for a reason, and I'm really excited about enjoying the full CMC experience."
Cassandra's father, Juan, knew it would be hard on him and his wife, Maria, to be so far from Cassandra when she chose to attend college in California.
"We're very close, but she's worked really hard to get here," he said. "She did really well her first year taking classes remotely. We're so proud of how strong she is. We're going to miss her."
__________________
CMC's personal touch
The desire to attend a school with small class sizes initially drew Gio Pierre '25 to CMC.
But it was a personal touch that helped convince him it was the College worth moving cross-country from Boston to attend.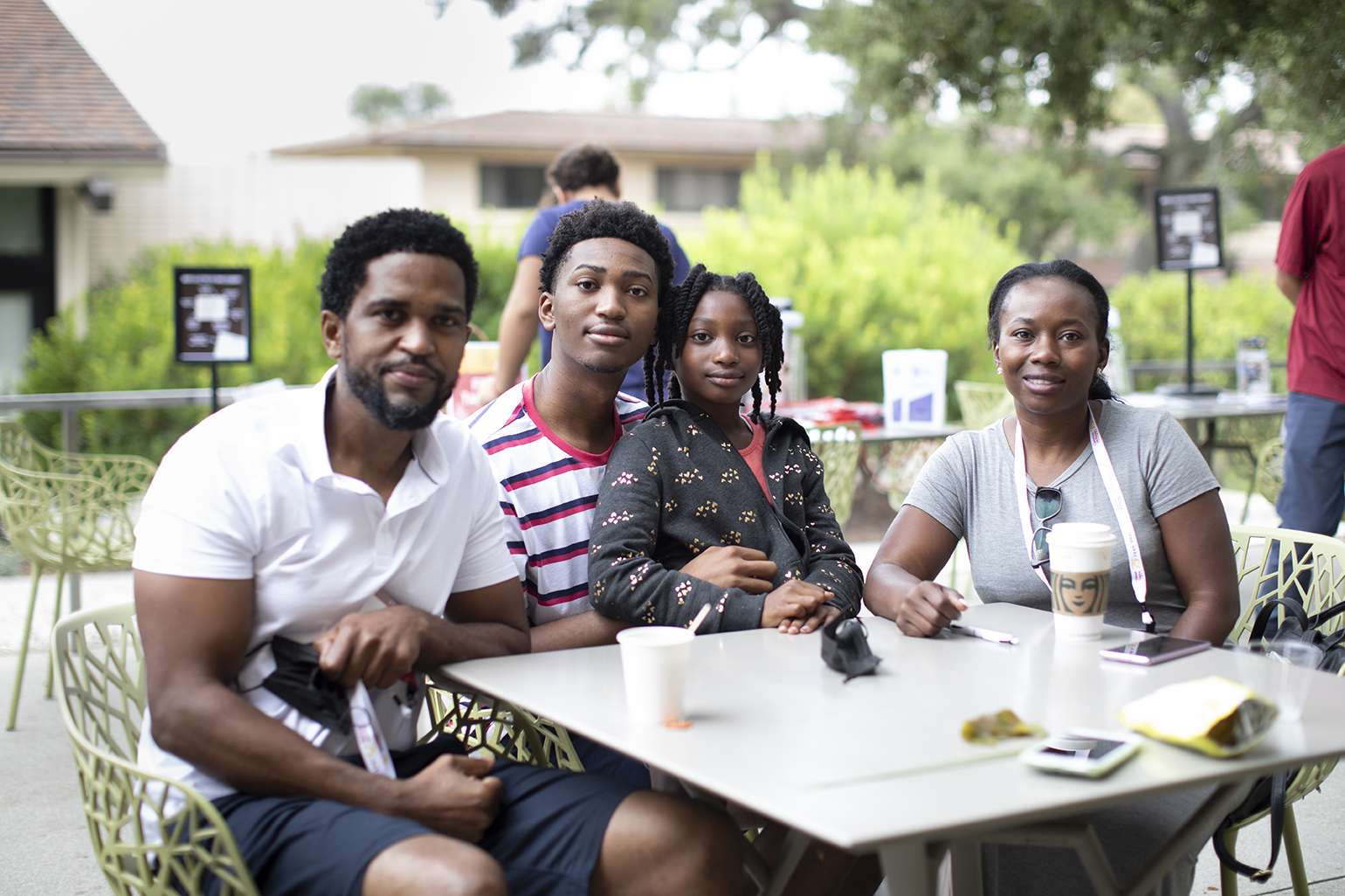 While making random inquiries with college admission offices as a high school student, Pierre said he kept getting referred to websites or generic emails for his questions. It was only Joie Cummings, CMC's senior assistant dean of admission, who offered to schedule a phone call with him. With his questions answered, Pierre realized that CMC was a place that made an extra effort to be "personable and helpful"—qualities he saw affirmed after only a few hours on campus.
"It's surreal," said Pierre, who arrived with his family for first-year move-in and orientation on Sunday. "I applied to CMC early decision without ever seeing campus. So, this is my first time even being here. I'm happy to have finally made it."
As for what's next, Pierre said he has big plans for himself and his interests in history, philosophy, and English. "I'm very ambitious—there's a lot that I want to get done. A lot that I want to try here," Pierre said. "I can't wait to get started."
__________________
Beyond the great outdoors
For a solid school year, Vijay Jain '24 zoomed his CMC classes from his car as he trekked across six states visiting eight National Parks. It's not how he envisioned spending his first year at college, but if he couldn't be on campus, he wanted to be outdoors in nature.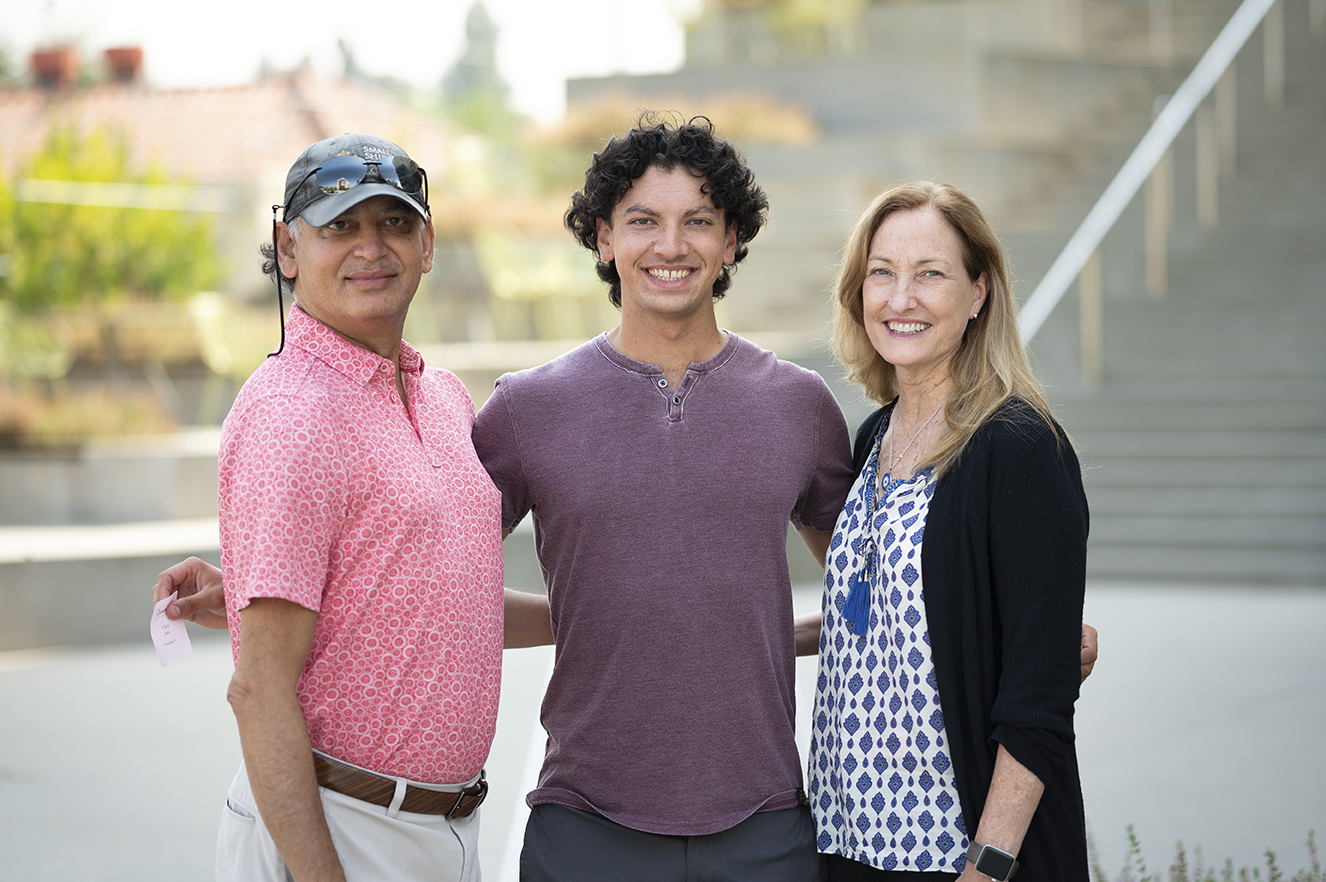 The sophomore is now ready to settle down, live in his dorm, take classes in person, and experience life with others on campus.
"It's really exciting," Jain said. "I've been anticipating this moment for a long time."
Jain, who plans to study physics and geology, is also looking forward to playing on the golf team and skiing at Mt. Baldy. "I chose CMC because it has the full package—a great location, great academics, and great outdoor activities. I'm really looking forward to using the golf facility and going beach camping on the WOA trip. It's just incredible to be here after a crazy year."
__________________
Happy to be back
"I've been waiting a year and a half for this," said Robert Liu '22 as he moved his belongings, including a stack of musical gear, into Green Hall.
A First-Year Guide, Liu arrived early to campus for training, driving up from his hometown of San Diego. One of the first people he encountered as he was moving in was Nancy Lague, a housekeeper he befriended during his first years in the dorms.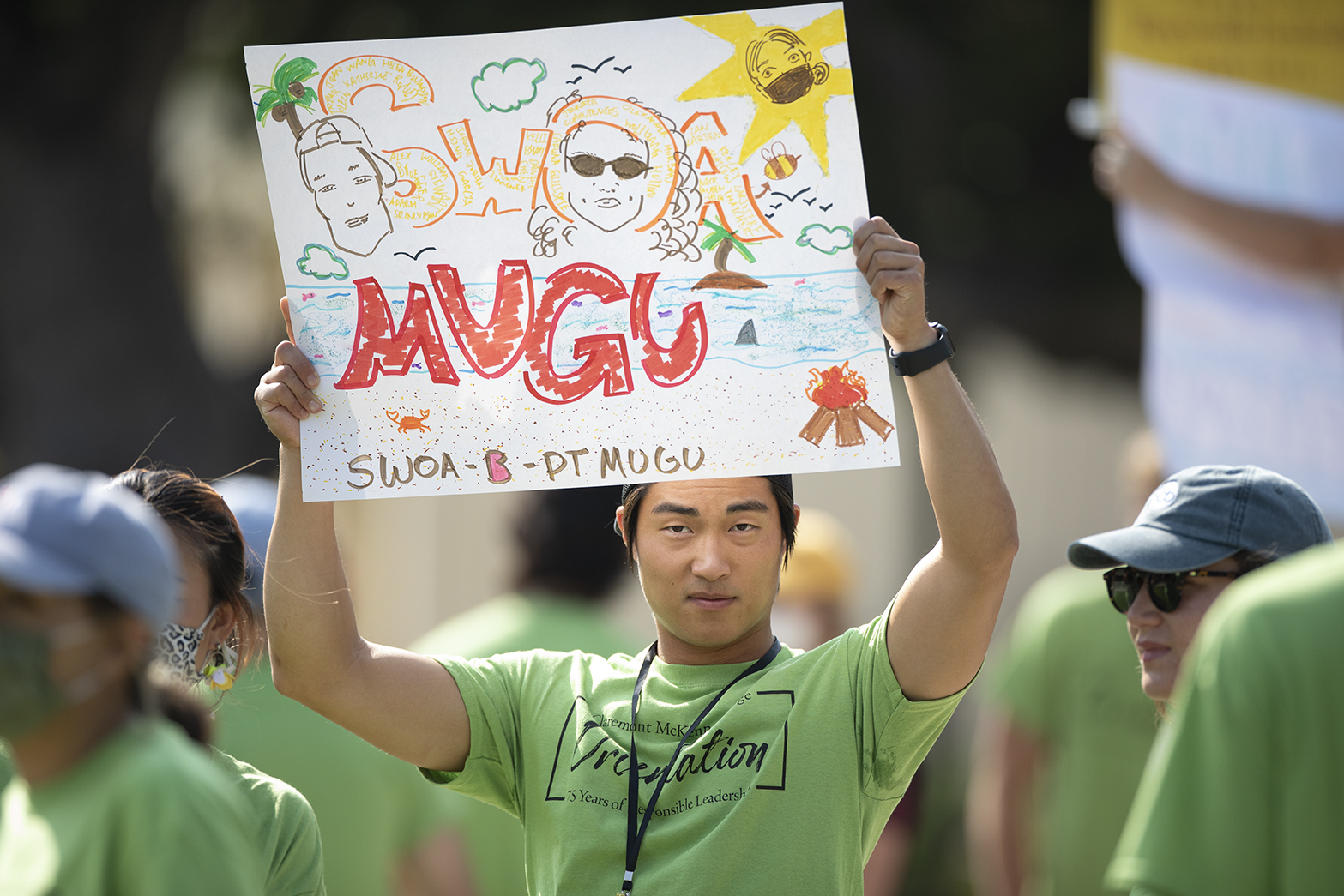 "We used to have conversations all the time, so it was good to see her. She's really awesome," he said. "I'm super excited to connect with staff and my friends again. That's the beauty of going to a small school like ours, you get to know the people who work here."
Liu, who competes for the CMS Tennis team, explained that since he took a gap year, many of his friends have already graduated. Being a FYG, he said, "would be a great way to meet other people and be part of another social group."
In addition to the CMS Tennis team, Liu—an Economics and Psychology double major with a finance sequence— has been involved in the Climbing Club and served as a Randall Lewis Center for Innovation and Entrepreneurship Fellow. "I've been part of a lot of activities and organizations on campus," he said. "I think I can be a really good resource for first-year students who are just coming in. I really want to give back to CMC and everything that it's done for me."
"This is cool," he continued, as he turned to take in the campus view. "I'm just really, really happy to be back."
__________________
Ready to explore
Max Feldman '25 knows that whenever he has any pressing questions, he can turn to the CMC alumna in his own home—mom, Jennifer (Litten) Feldman '88 P'25.
And yet, upon moving Max successfully into his Appleby Hall dorm this weekend, both Jennifer and her husband, David, said they were tremendously proud that his college journey became his own.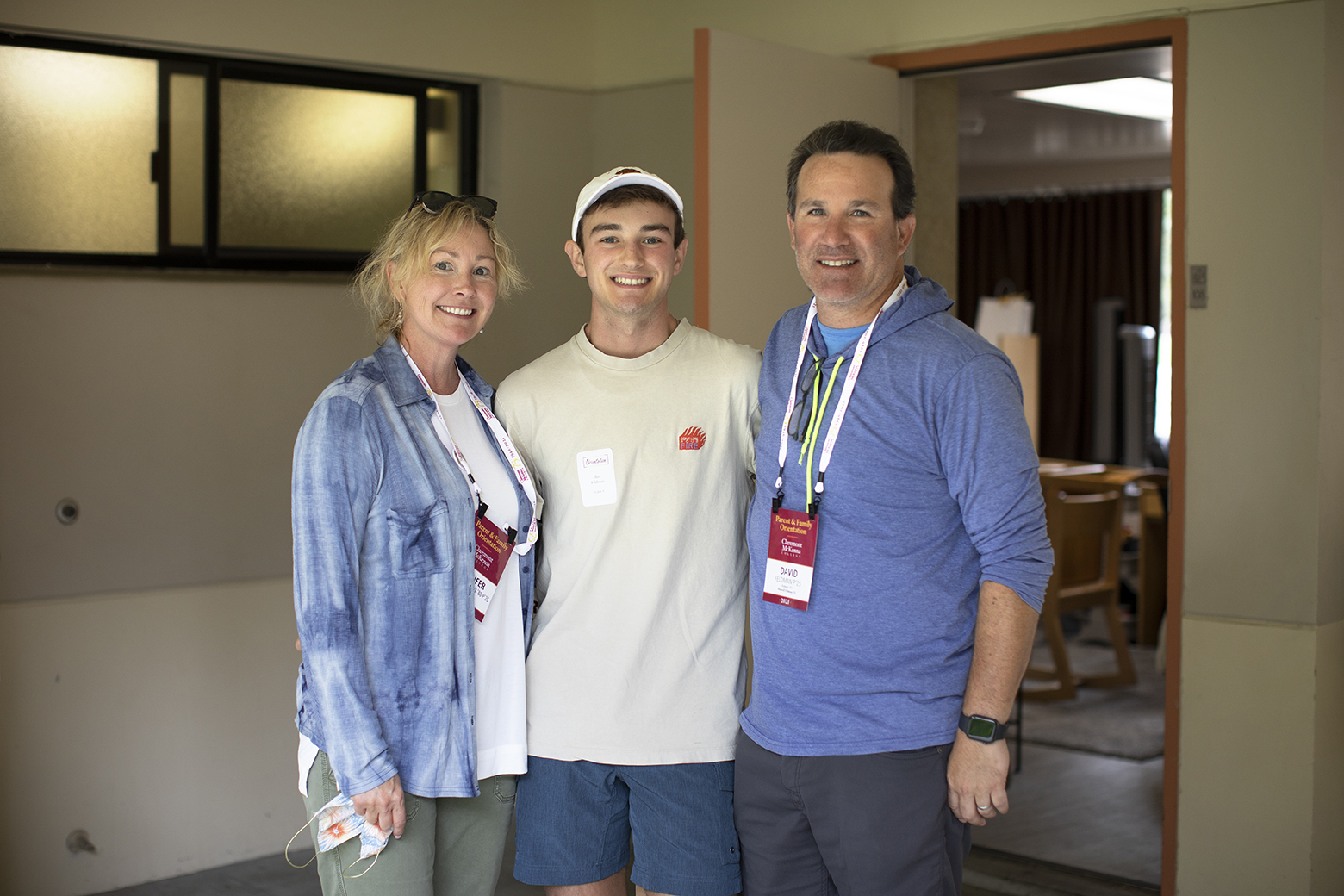 "He chose to come to CMC," Jennifer said. "I wanted him to be open to everything and embrace his own college journey, not to compare it to my experience."
Max admitted that CMC had a bit of an edge because of the good things he'd heard and read about life in Claremont. Now that he's on campus, the Seattle native said he's excited to explore a potential Environment, Economics and Policy major—though he's staying open to anything the liberal arts have to offer.
"The chance to explore a few different academic fields is really exciting to me," Max said. "I also love what I've heard about the alumni network here. It's such a close community, with people going out of their way to help others make connections and learn more about jobs and careers. That definitely stood out."
As for what Jennifer valued most while at CMC, she's excited that Max will discover "new ways of looking at the world," whether on campus, through the Claremont Colleges consortium, or perhaps even in another country.
"I got a really strong education here," she said. "I always appreciated that CMC was small and tight as a community, but whether through study abroad or the five colleges next door, you could take advantage of so much to expand what you wanted to learn and see."
__________________
In good hands
It finally hit Vijay Pamula upon arriving to Claremont with his daughter, Meghna Pamula '25, on the Friday before move-in.
"Wow, my kid is a college student."
Pamula still hadn't processed all of the emotions he was feeling as Meghna moved from San Ramon, Calif. into her new campus home, Crown Hall. He was immediately struck by how helpful everyone on campus was, especially the student volunteers greeting cars and grabbing bins as they arrived.
"I didn't expect this at all," Pamula said of the move-in day assistance. "I thought we were on our own today."
It was further reinforcement of what Pamula said has been his biggest takeaway since Meghna started her college search. He admitted that it took him a little longer to fall in love with CMC, mostly for selfish reasons, as UC-Berkeley is a much closer drive from their home.
But once his daughter began talking about her future as a potential CMC international relations and economics major, Pamula started to do his own homework. From the admission staff to the CARE Center to professors to alumni in the Bay Area, he discovered that the CMC community is not only incredibly responsive to all of his questions; they also have his back.
"It is such a family-oriented school, and that feeling became so clear to me as I started to talk to people more and more. My daughter is here to thrive, and everyone is going to help her do that," Pamula said.
"As a parent, you just want that sense of relief. I know she's in good hands."
Contact
Office of Public Affairs and Communications
400 N. Claremont Blvd.
Claremont, CA 91711
Phone: (909) 621-8099
Email: publicaffairs@cmc.edu

Media inquiries: Gilien Silsby
Phone: (213) 500-8673
Email: gsilsby@cmc.edu