Book edited by Prof. Rosenbaum documents Chinese University in era of upheaval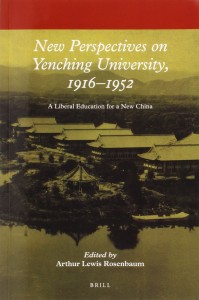 A new book of essays (New Perspectives on Yenching University, 1916-1952: A Liberal Education for a New China) edited by Arthur Lewis Rosenbaum, associate professor of East Asian History at CMC, has just been published by Brill Academic Publishing. The book reevaluates and places into a larger context, in an era marked by war and revolution, the experience of China's preeminent Christian university (1916-1952).
"The questions raised by Yenching's history have contemporary relevance," says Rosenbaum. "What are the limits of American influence and are American ideals universal? Is there a place in China for the ideals expressed by the school motto 'Freedom Through Truth for Service" and a liberal arts education emphasizing developing the total individual?'
Prior to its demise in 1952 during the height of the Korean War, Yenching University's efforts to adapt to its Chinese environment were heralded as the quintessential success story of American internationalism and progressive Christian enterprise. On the other hand, Chinese Communist historians through the Maoist era denounced Yenching as an elitist and imperialist enterprise closely associated with the United States. It cosmopolitan approach alienated Chinese from their own people. American scholarship during those same years saw Yenching as an example of why American inspired models, both secular and religious, failed to offer a viable approach to solving China's real needs."
The essays show that the university fostered transnational exchanges of knowledge, changed the lives of students and faculty and responded to the pressures of nationalism, war and revolution. Topics covered in the book include efforts to make Christianity relevant to China's needs; promotion of professional expertise and new disciplines, gender relationships and coeducation; the liberal arts; Sino-American cultural interactions; and Yenching's ambiguous response to Chinese nationalism, Japanese invasion, and revolution.
Rosenbaum's other publications include edited volumes and articles on modern China, including State and Society in China: the Consequences of Reform (1992).
Contact
Office of Strategic Communications & Marketing
400 N. Claremont Blvd.
Claremont, CA 91711
Phone: (909) 621-8099
Email: communications@cmc.edu

Media inquiries: Gilien Silsby
Phone: (213) 500-8673
Email: gsilsby@cmc.edu