CMC honors Robert Day '65 P'12 for 50 years of service

His name most notably graces the Robert Day Scholars Program and the Robert Day School of Economics and Finance. But the legacy of Robert Day '65 P'12 is woven into the fabric of Claremont McKenna College, the alma mater he has generously supported and advanced over the past 50 years—most prominently as a visionary philanthropist and its longest-serving trustee.
A quick sketch of Day's contributions reveals a passionately dedicated alumnus. A native of Los Angeles, Day made his first donation to the College the year he graduated. In 1970, he joined the College's Board of Trustees as its youngest-elected member. In 1990, at the age of 46, Day became the seventh trustee chairman and the youngest in CMC's history.
With countless other leadership posts and committee appointments to his name through the decades, Day's 50 years of CMC service were recognized by the College and Board of Trustees at a dinner in Los Angeles earlier this month.
"Robert's impact on Claremont McKenna College is incalculable," said President Hiram E. Chodosh. "Through his extraordinary leadership for over a half-century, he has made so many critically important commitments. CMC will enjoy the dividends of these investments for generations to come."
A graduate of the Robert Louis Stevenson School in Pebble Beach, Day said he chose CMC in part because he wanted to stay close to his grandfather, William M. Keck, an oil entrepreneur and philanthropist in Los Angeles. "I also wanted to study at CMC because I already knew I wanted to start a money management firm, and I thought CMC would be a good place to prepare myself for a career in business," Day said in 1991.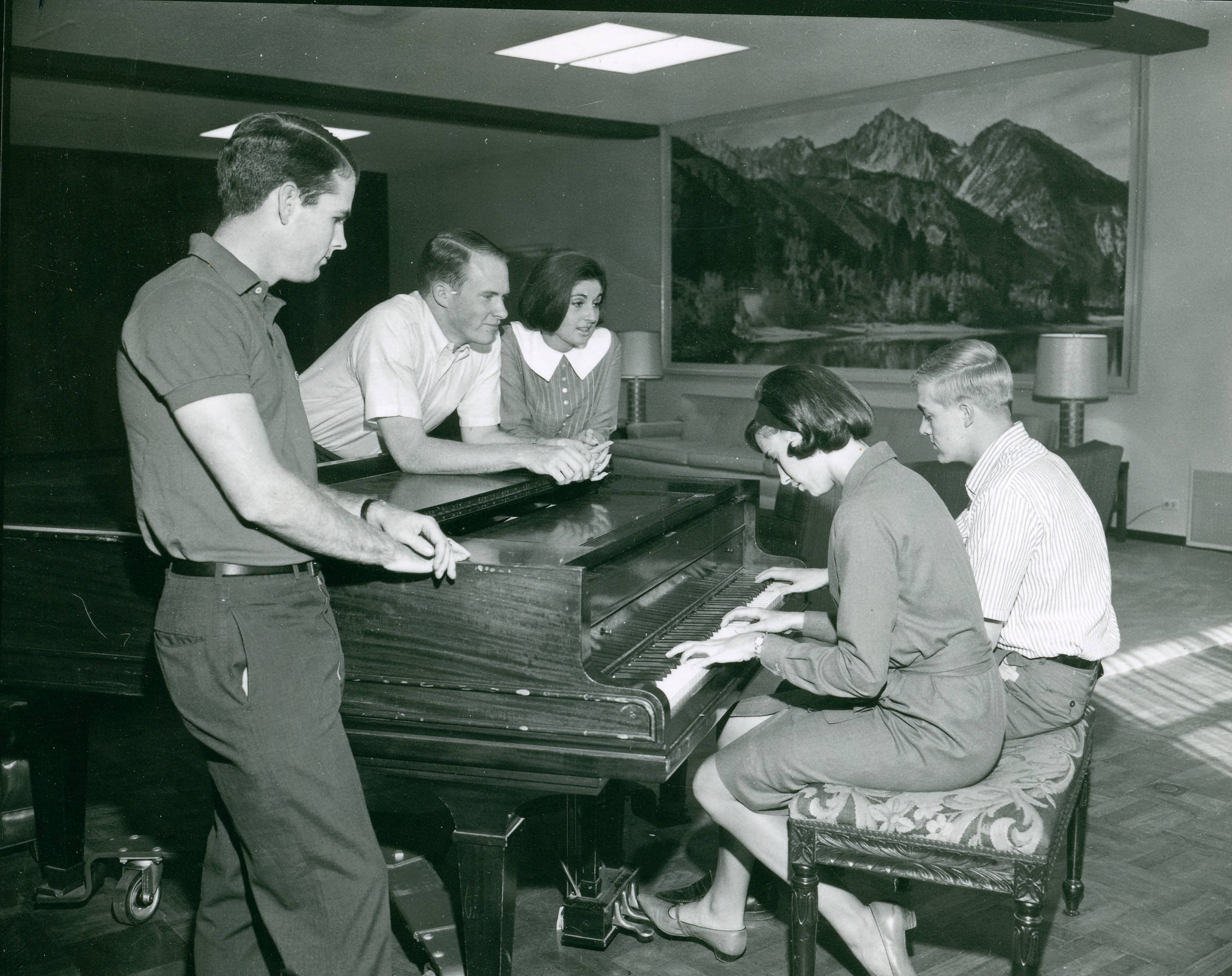 Day started at Claremont Men's College in 1960 and spent five years in pursuit of three majors—economics, international relations, and history—forming relationships with faculty, founding CMC president George C.S. Benson P'61, former CMC President Jack Stark '57 GP'11, Jil Stark '58 GP'11, and others that would continue for decades.
In December 1965, Day submitted his senior thesis, "A Proposal for an Investment Advisory Company." He wrote in the introduction: "This is the basic outline of the company which the author intends to establish." Prof. Procter Thomson offered plenty of constructive feedback throughout, including extended comments at the beginning of the paper. He wrote: "Let me urge you to think this through very, very carefully," specifically commenting on innovation, range of services, and accountability.
Day received a "B- for bravery."
After Day graduated in 1965 with a Bachelor of Arts degree in economics, he went to work for White Weld & Co. in New York as an institutional salesman. In his first year, he became the firm's fourth-largest producer. Four years later, he returned to California and set out to create the business outlined in his senior thesis.
In 1971, the 27-year-old Day founded Trust Company of the West (TCW) in downtown Los Angeles. The fledgling asset management firm started with $2 million in assets under management (AUM) and quickly grew under Day's expert leadership. At the end of its first fiscal year, TCW had $16 million under management.
In 1974, Day brought in two well-known portfolio managers with seven loyal clients and $450 million in assets. By the start of a new decade, TCW's AUM had reached $3.2 billion. Forty years later, it had grown to $248 billion. (In 2001, Day sold 70 percent of the company to French bank Société Générale and remained chairman/CEO until 2014).
A lover of Frank Sinatra, Neil Diamond, and a good cigar, Day has also shared his wealth of personal and professional connections with CMC, most visibly by bringing high-profile speakers to campus and trustee meetings, including former U.S. secretaries of state Henry Kissinger and James A. Baker. In 2002, he served on the President's Foreign Intelligence Advisory Board under George W. Bush, and in 2006, was awarded the Decoration of Officier de la Legion D'Honneur from the Government of France.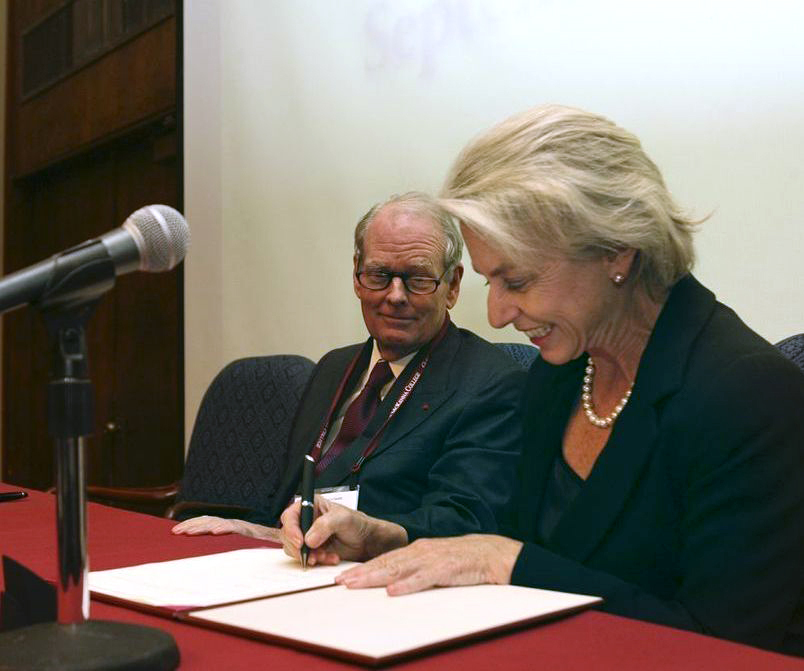 In September 2007, he made the transformative gift that would establish his namesake Robert Day Scholars Program. The donation was unprecedented—at the time, the largest recorded gift to a liberal arts institution and among the top 20 largest gifts ever given to a college or university. In recognition of the extraordinary impact of his gift and his exceptional level of service to the College, CMC renamed the economics department in his honor, establishing the Robert Day School of Economics and Finance that same year.
The gift's magnitude, CMC President Pamela Gann explained in 2008, could be understood only in the context of other major events in the College's history, including its founding in 1946 and transition from a men's college to a coeducational institution in 1976. "This gift is transformative on that level," she said.
Day's gift arose from concerns about the quality of leadership in business, government, and the professions, specifically the complexity and breadth required of an educational experience to meet the needs of "a global landscape changing at unprecedented speed," he said.
"I know from talking with CEOs every day and sitting on boards of $40 billion-plus companies that there is an enormous opportunity for young people who possess leadership skills, financial acumen, and the kind of judgment and perspective that only an undergraduate liberal arts education can provide," Day said in 2008.
Day had also stressed over the importance of good judgment in business leaders and recognized CMC's strengths in developing strong leadership qualities in students, particularly through practical experiences. "We've been making leaders since the founding of the College in 1946," he said in 2008. "To be a success in any profession, a person must have judgment and take risks. You don't win anything by waiting."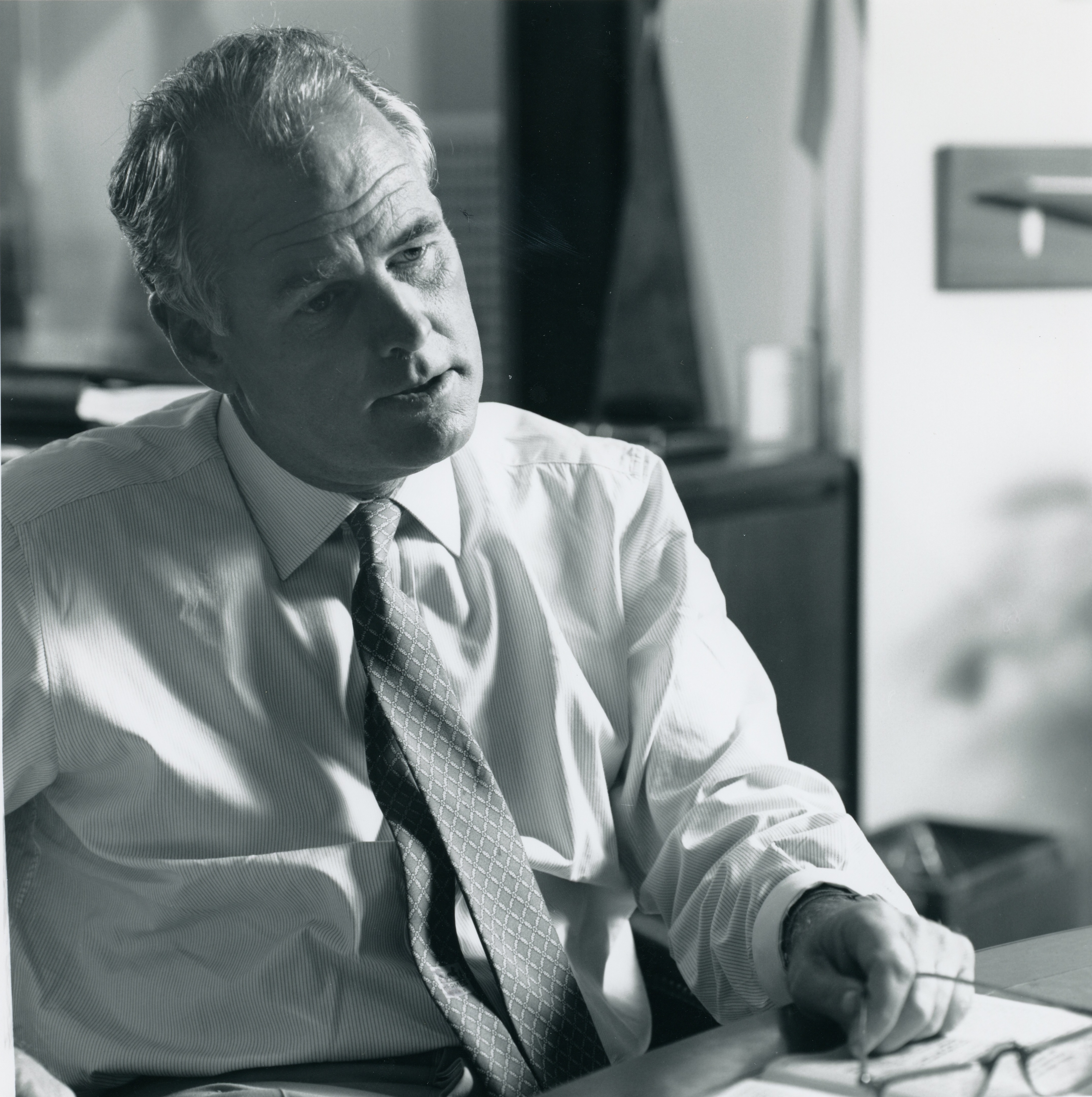 Day's legacy as a philanthropic leader at CMC could have been defined solely by his gift for the Scholars Program, which surpassed 500 alumni in 2020. But he also established the Robert A. Day Distinguished Professorship of Accounting—he is a close friend of Marc Massoud P'89, who currently holds the position—and partnered with Christopher Walker '69, founder of Meridian Pacific Capital Partners, to create the Alumni Fund Challenge that provided $100,000 in matching funds to motivate new and increased gifts.
As chairman and CEO of the W.M. Keck Foundation, one of the nation's largest philanthropic organizations and grant-makers in medical, scientific, and engineering research, Day also helped fund the W.M. Keck Science Center and the Keck Center for International and Strategic Studies at CMC.
Today, he remains active on the CMC Board of Trustees and serves as an honorary chair of the Campaign for CMC: Responsible Leadership in this, the College's 75th Anniversary year.
"I went to work straight out of CMC," Day said in 2008. "The education I received there prepared me to succeed. I believe that I should put something back into the system, because if I don't put something back, the next generation will not have the same benefits I enjoyed."

Contact
Office of Strategic Communications & Marketing
400 N. Claremont Blvd.
Claremont, CA 91711
Phone: (909) 621-8099
Email: communications@cmc.edu

Media inquiries: Gilien Silsby
Phone: (213) 500-8673
Email: gsilsby@cmc.edu