Convocation '22 celebrates CMC's "future history"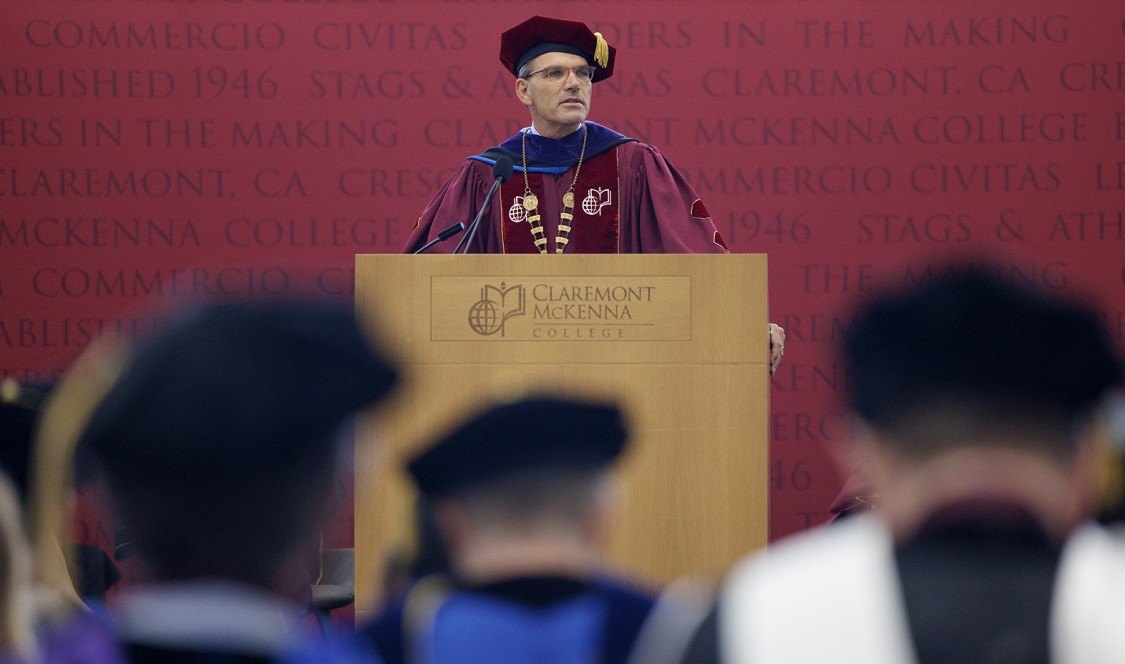 Students, faculty, and staff streamed from all corners of a newly refreshed campus into Roberts Pavilion recently for the 76th Annual Convocation, the official opening of the new academic year and the beginning, as they would learn of, "their future history."
President Hiram E. Chodosh welcomed the CMC community, including 322 new students from 33 states and 21 countries, 12 transfer students, as well as several new faculty members.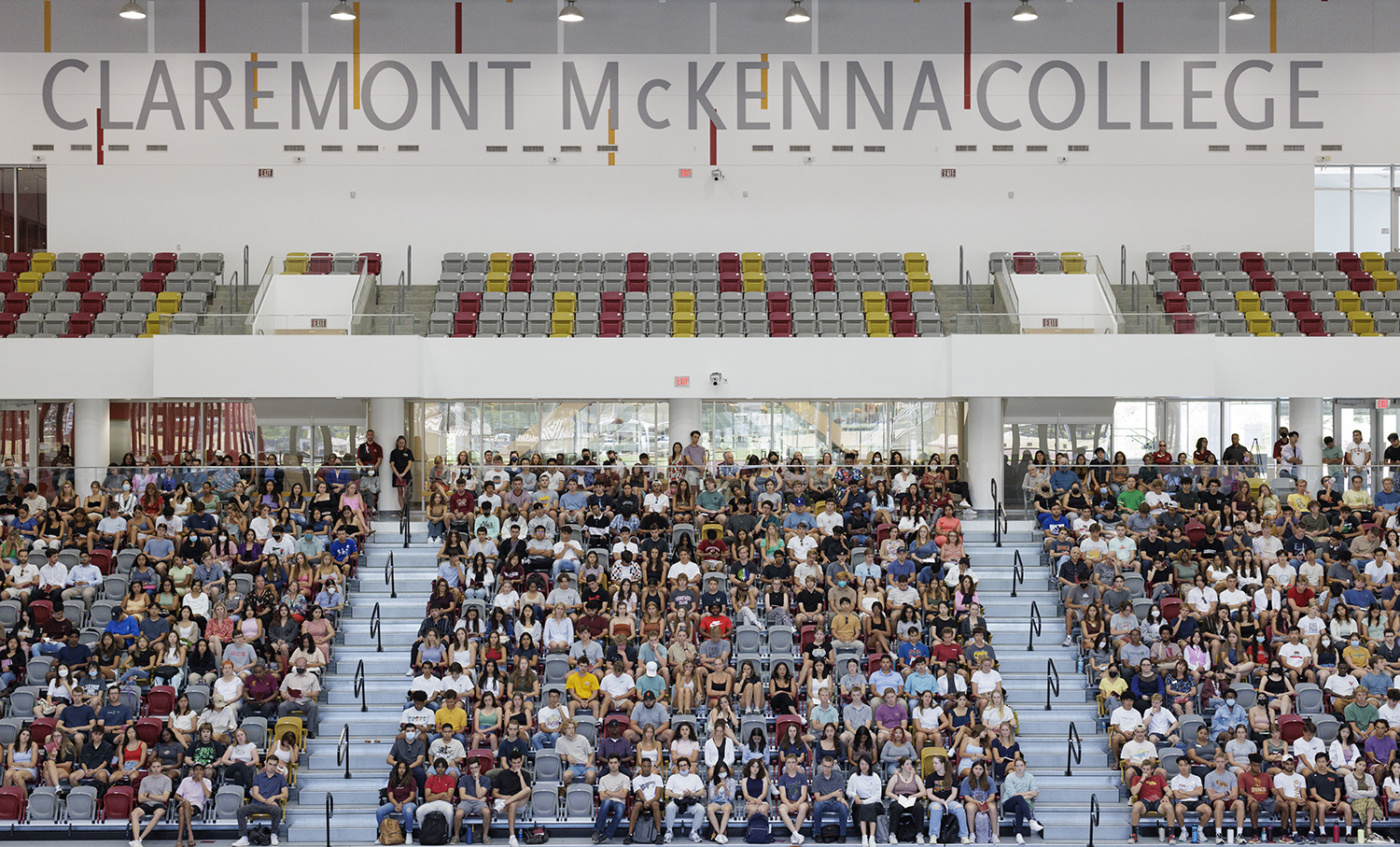 In his opening remarks, Chodosh shared a story from last spring, when he was pulled away from an insightful and timely public dialogue at the Athenaeum about the unfolding conflict in Ukraine to a city of Claremont architectural planning meeting about CMC's visionary new Robert Day Sciences Center, home of the Kravis Department of Integrated Sciences. Excited about the architectural design and the legacy it would bestow, a city commissioner declared, "this our future history," a phrase that Chodosh said encapsulates the opportunities for education and action that arise from this challenging moment for the world.
"What future would we like to create, and how can we learn to make it happen?" Chodosh asked.
Some of that future, Chodosh suggested would be built on recent achievements, including the record-breaking Campaign for CMC: Responsible Leadership, a major campus expansion, and CMC's ever-growing commitment to breaking down barriers that prevent full equal opportunity among students. Further, he re-iterated the College's drive to work at countering "the centrifugal effects of the formidable forces that drive division in our society and the larger civilization."
Chodosh asked for "personal, mutual commitment" from those assembled, as "the big moments in our future history are dependent on the small ones, including our time together here this morning. To pull off the big actions we must not lose sight of the smallest gestures, the moments of goodness, of friendship of love, both of learning and one another."
Heather Ferguson, associate professor of history and faculty co-director of The Open Academy, delivered the keynote address, invoking author and futurist H.G. Wells in her title, "Between Education and Catastrophe."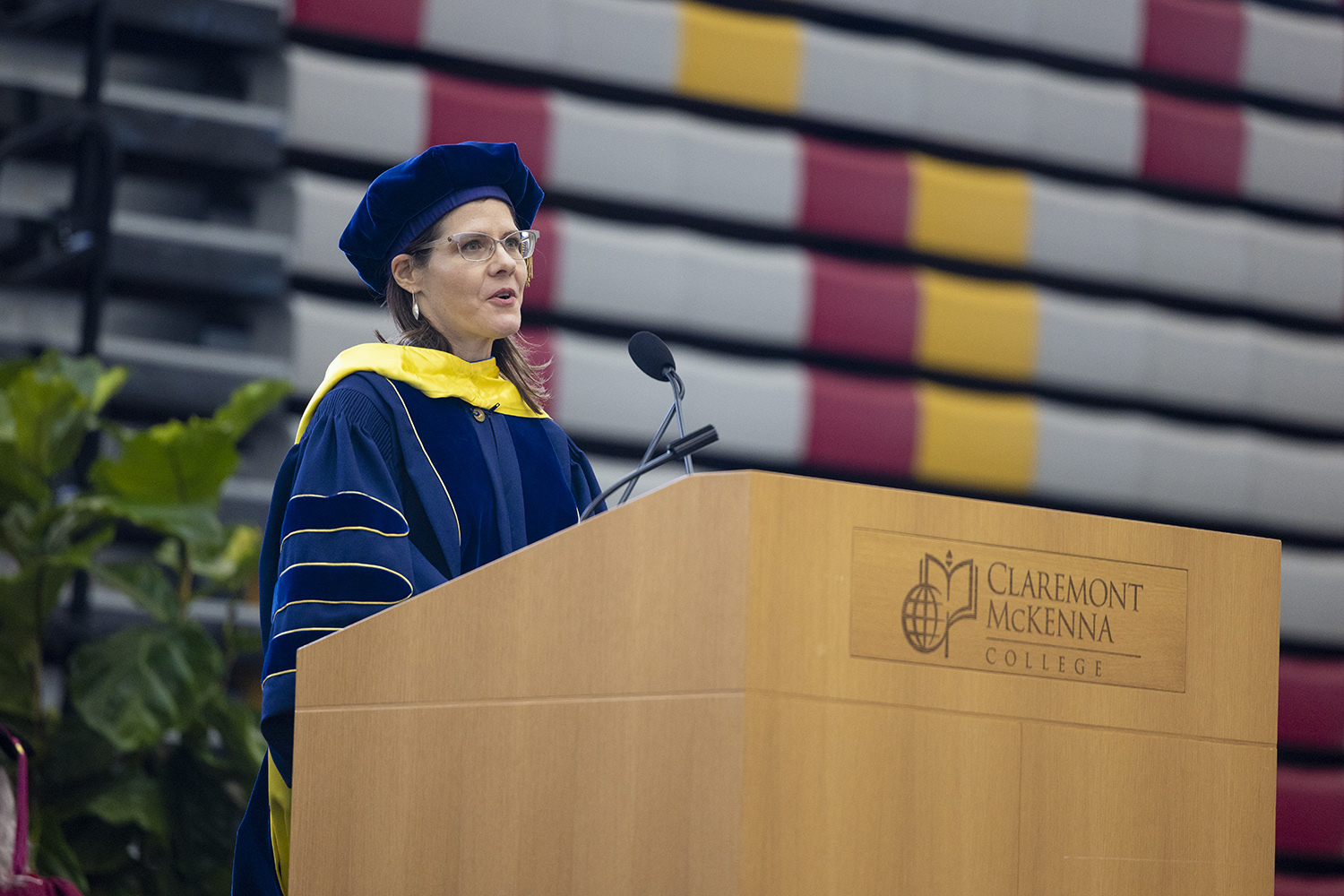 "Human history becomes more and more a race between education and catastrophe," wrote Wells, a century ago. "Let us learn the truth and spread it as far and wide as our circumstances allow…" he continued, and Ferguson observed that CMC students have ample access to that truth when studying the liberal arts, and the ability to use it to engage in imaginative and much-needed "world-building." She spoke of her fascination with science fiction, and its very real applications for problem-solving.
"Today I want to remind you that by selecting CMC you have selected a small liberal arts college that provides each of us with an opportunity to act as sci-fi authors ourselves. Science fiction relies on the imagination, the courage to explore the previously unexplored, the ability to act with creative spontaneity," she said.
In that vein, she urged undergraduates to "study what you hadn't planned to study, take a course that doesn't perfectly fit in to your color-coded map to graduation…Let's lay claim to the power to world-build our future histories together so that when you look back at your time at CMC you can say that we were united in our efforts to investigate problems with creativity, to resolve controversies with openness and honesty, and to face our own limitations with humility."
Ellen Rentz, associate dean of the Faculty for Curriculum, introduced five new faculty members, all of whom will be partners in CMC's future history. They include:
Assistant Professor of Spanish Juliana Fillies, Assistant Professor of History Ahona Panda, Assistant Professor of Neuroscience Sandra Watson, Assistant Professor of Government Jessica Zarkin, and Associate Professor of Psychological Science Rachel Fenning.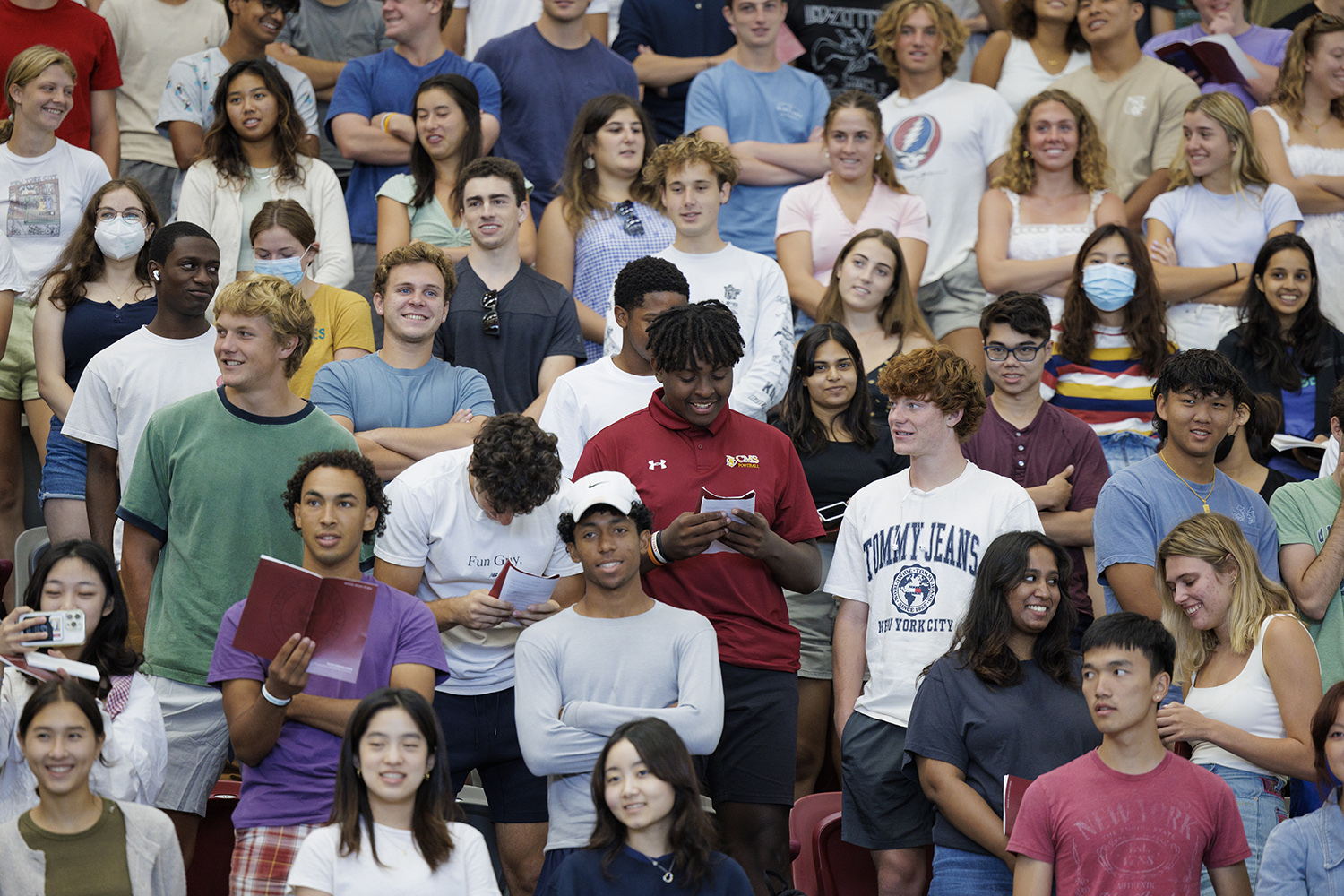 Per tradition, a highlight of the ceremony included the singing of the alma mater, led by Registrar and Associate Vice President for Academic Affairs Elizabeth Morgan. "With friends of our youth, seeking wisdom, seeking truth, we will lead on from Claremont McKenna…" she sang, conducting from the podium as the Class of 2026 joined in for their first time.
Student speaker and Executive Vice President of Associated Students Zane Yamamoto '24 acknowledged the difficult conditions of the past few years and his optimism about a post-COVID future.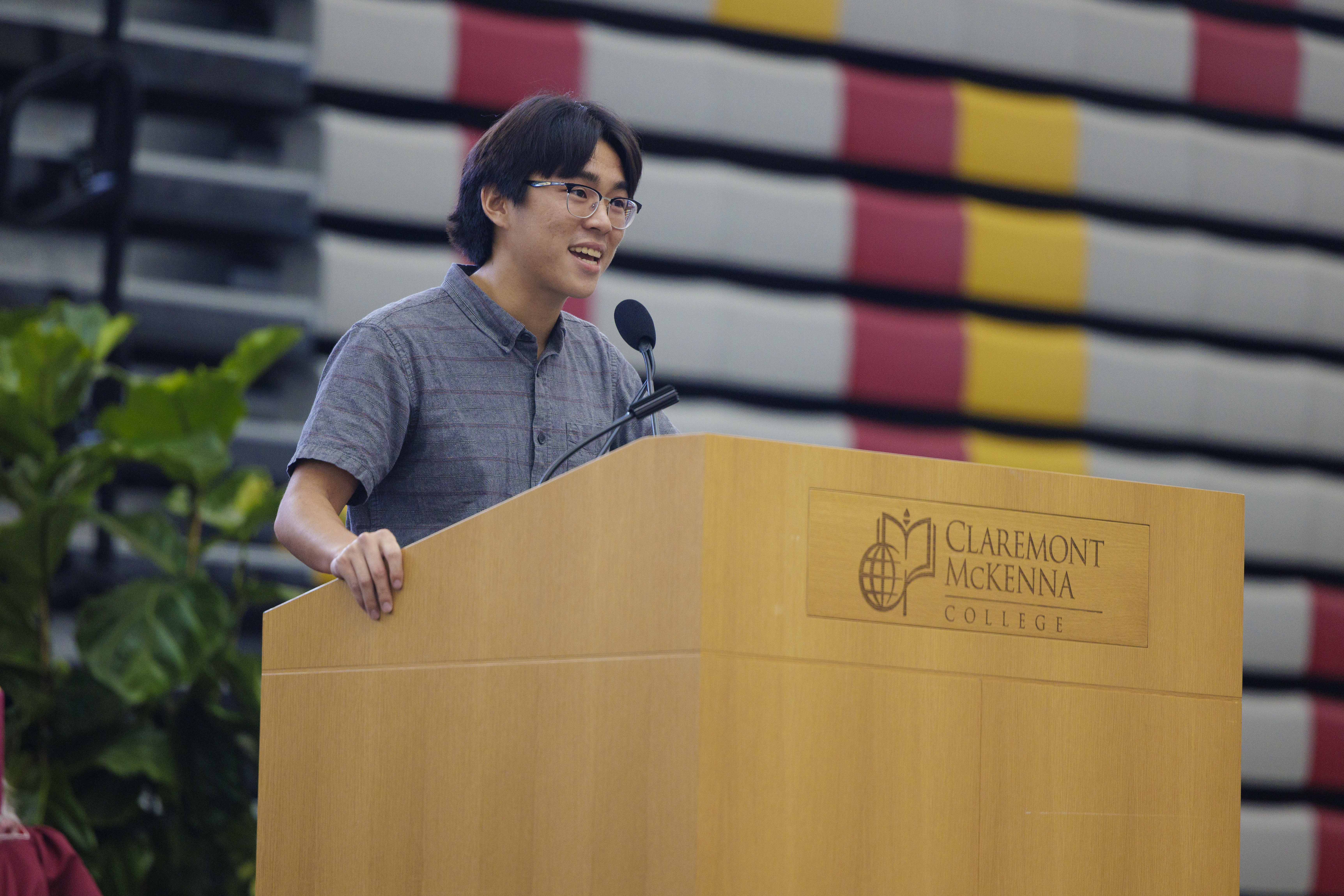 "For the next few years and beyond, we are part of this college community, bound to one another…in a shared journey of learning, living, and yes, even, sometimes loving one another," he said. "We owe it to ourselves and one another to create the basic structure at our college, in our community, and for our countries that allows us all to lead lives that we have reason to value.
After collecting t-shirts emblazoned with "Our Future History" (designed by Jasmine Tan '25) and picking up academic planners, students, both new and returning, headed off to begin authoring their collective futures in the classroom and beyond.
Contact
Office of Strategic Communications & Marketing
400 N. Claremont Blvd.
Claremont, CA 91711
Phone: (909) 621-8099
Email: communications@cmc.edu

Media inquiries: Gilien Silsby
Phone: (213) 500-8673
Email: gsilsby@cmc.edu