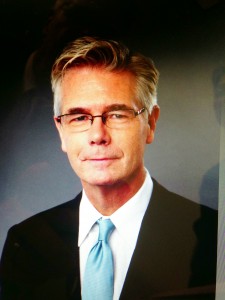 David Doss '75Qatar-based network Al Jazeera recently announced David Doss '75 has been appointed Senior Vice President, Al Jazeera America (AJAM).
Doss, who will be based at Al Jazeera America's New York City headquarters, will oversee news programming and content for the newly established American network for the international news outlet Al Jazeera, set to launch August 20.
Prior to Al Jazeera, Doss was a senior executive producer at CNN's "Anderson Cooper 360," which he created, an executive producer for ABC News's "Primetime with Diane Sawyer" and "NBC Nightly News with Tom Brokaw."
His work has garnered 14 national Emmy Awards, one national sports Emmy, three George Foster Peabody Awards, two Alfred I. dupont Awards, and one George Polk Award.
According to a press release by Al Jazeera, Doss said that Al Jazeera America will provide him with the opportunity that every serious journalist looks for. "It's impossible not to be impressed by the journalistic standards Al Jazeera demands of its reporters and producers," he said. "We will report the news that isn't seen every night elsewhere and will do it with strict adherence to the principles that have won Al Jazeera so many awards from the profession. I joined Al Jazeera America to be part of that culture."
Al Jazeera America plans to hire as many as 800 employees across a network of 12 bureaus throughout the U.S., particularly the key cities of New York, Washington D.C., L.A. and Miami.
Doss joins other notables in the world of journalism who have been hired by the network in recent months, including former ABC News vice president Kate O'Brian as president of the fledgling news channel, CBS executive Marcy McGinnis as vice president of news gathering, and correspondents such as John Seigenthaler from NBC; David Shuster from MSNBC; and Joie Chen, Ali Velshi and Soledad O'Brien from CNN.
Al Jazeera, also known as Aljazeera and JSC (Jazeera Satellite Channel), is a broadcaster owned by the privately held Al Jazeera Media Network and headquartered in Doha, Qatar. Initially launched as an Arabic news and current affairs satellite TV channel, Al Jazeera has since expanded into a network with several outlets, including the Internet and specialty TV channels in multiple languages.
Doss was a literature and political science major at CMC, and later went on to earn a journalism degree from USC. He recently joined CMC Trustees Jeffrey Klein '75, P'08, P'11, P'14 and Michael Lang '87, both senior executives in the news media and motion picture industries, to help new CMC grads Zach Ingrasci '12 and Chris Temple '12 produce a documentary about their experience living on one dollar a day in rural Guatamala. Doss, Klein and Lang were credited as executive producers of the film, detailed in an article in the Winter 2012 issue of CMC magazine (link: http://magazine.cmc.edu/i/104159/13).