Faculty address Presidential Initiative innovative approaches

Five Claremont McKenna professors gathered at the Athenaeum to share what they achieved and learned as Faculty Fellows (2021-22) for the Presidential Initiative on Anti-Racism and the Black Experience in America.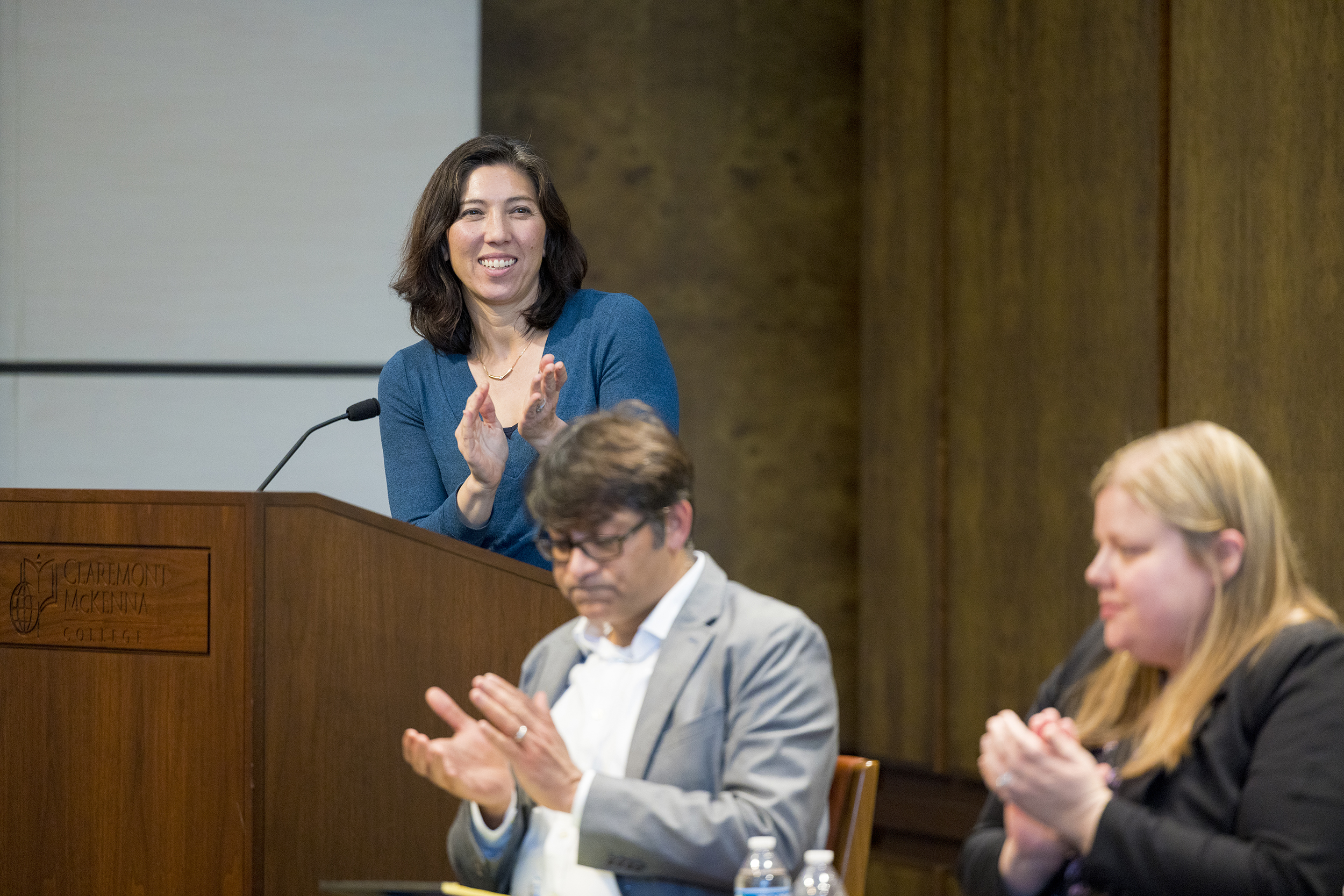 The fellows each earned Teaching Innovations Grants to enhance the capacity of CMC faculty to address issues of race, racism, and the Black experience in America. Professors Andrew Busch Nishant Dass, Megan Davidson, Sharda Umanath, and Jamel Velji presented their work and works-in-progress spanning government, finance, writing, psychology, and religious studies.
The panel discussion was moderated by Prof. Tamara Venit-Shelton, who said, "I feel like each of these projects really brings a multiplicity of voices to our campus conversations among faculty, among students, among staff, and among all of us here together. And I love how in very different ways each one of you is looking to break down barriers."
Here is a brief synopsis of each faculty fellow's presentation:
Andrew Busch, Crown Professor of Government and George R. Roberts Fellow
Prof. Busch evoked The Open Academy commitments to Freedom of Expression, Viewpoint Diversity, and Constructive Dialogue as he detailed how he has organized three different discussions at the Athenaeum on "three important topics relevant to the President's Initiative" for his faculty fellow project. "My thinking was that sometimes in these discussions, there's a tendency for the conversation not to be a conversation, and sometimes these questions are treated as if they only have one possible answer, and that really isn't the case," he said.
The first topic that Busch chose to explore was, "Race and Election Law," which featured John Fund, national affairs columnist for National Review magazine and Gowri Ramachandran, senior counsel in the Brennan Center's Democracy program. Their Fall 2023 conversation centered on their shared goal of accessible, secure, and fair elections, and was facilitated by Zachary Courser, visiting assistant professor of government at CMC and director of the CMC's Policy Lab. (Read more about their discussion, co-sponsored by Presidential Initiative on Anti-Racism and the Black Experience in America, and the Jerome H. Garris Dialogue Series at CMC, with additional support from The Open Academy.)
The second discussion that Busch organized, "1619? 1776? Race and the American Founding," featured a March 1 CMC faculty panel, which Busch moderated with Charles Kesler (government), Dan Livesay (history), and Troy Mills (religious studies). The Ath evening was inspired by the national conversation surrounding the publication of The New York Times' "The 1619 Project," which brought to the foreground issues of race, slavery, and the American Founding and included discussion of "The 1776 Report," produced as a counterpoint by a commission that included Kesler as a member.
The third discussion is planned for the fall 2023 semester and will delve into systemic racism. "How do you define systemic racism?" Busch said of the questions he plans to examine during the future discussion. "What is the status of systemic racism today? What are the strengths and weaknesses of it as a concept?"
Nishant Dass, Charles E. Stone Associate Professor of Finance and director of the Financial Economics Institute (FEI)
Prof. Dass shared insights into his journey exploring racial biases within investment banking and fintech.
This semester, Dass facilitated the Feb. 13 Athenaeum discussion, "In the Color of Money," with UC Irvine law professor and author Mehrsa Baradaran, and co-hosted by the FEI. Dass described their conversation as "exciting," focused on the "economic history of how racism has been embedded in society" and how Black banks were developed to help close the racial wealth gap.
Addressing "the problem of racism" Dass added, leads him next to programs focused on increasing financial literacy. "One thing that we could do as an academic institution is to empower people by telling them how financial markets work and how the world of credit and loans and borrowing all work. We have done a couple of financial literacy programs because I feel like if people don't know how a loan works, and they don't understand how a small fee of say $50 on a payday loan for two weeks can amount to 1000s of percentages in interest rates, then they will never really get out of this economic trap. And therefore, if I can catch them early and educate them, they would probably do better and be more informed consumers of financial products and able to avoid some of these problems that persist forever."
Megan Davidson, interim director, Center for Writing and Public Discourse
"The Initiative on Anti-Racism and the Black Experience gave us an opportunity to develop the collaborative base to build on and continue working towards embodying anti-racism at the Center for Writing and Public Discourse," Prof. Davidson said.
Davidson shared that the CWPD and the Dean of Students Office collaborated on a training curriculum for CMC's student Success Coaches and writing consultants. "We created a four-hour training module on the intersection of cultural capital and perspective-taking and tutoring pedagogy," she said. "Cultural capital moves tutoring from a deficits model, which might sound something like, 'Help me fix my work,' to an assets model, which sounds more like, 'Help me achieve my goal.' The difference here is subtle but incredibly important," she explained.
"The other half of the training focused on the importance of perspective-taking, a cognitive development skill," she explained. "This aspect of training reminds tutors to be open to learning and engaging in perspectives that might differ from, or even clash with, their own. In fact, this skill encourages them to seek out different points of view and to use a challenging viewpoint as an opportunity to engage and learn."
Davidson said the Center will "continue this work to embed these values in our daily practices."
Sharda Umanath, associate professor of psychological sciences and director of the Umanath Memory and Aging Laboratory
Prof. Umanath said her Fellows project was an extension of one that earned her a National Science Foundation grant, which looked at "how to stabilize access to knowledge across the lifespan."
As part of the grant, Umanath proposed multiple "teaching initiatives for taking this research and translating it into teaching, whether that was in the classroom or otherwise," she said. "One of the things I proposed was to take this kind of expertise that I've built up, and develop a pre-orientation program about effective learning strategies for our students, so that before they start here at CMC, they'll have a sense, for instance, of the best way to take notes based on the evidence from memory research."
Umanath continued, detailing some of the ways to further implement her research, from training Success Coaches on "evidence-based, effective learning strategies" to hosting virtual summer sessions about how to prepare incoming first-year students for CMC.
Jamel Velji, associate professor of religious studies
Prof. Velji provided a brief overview of how the Initiative supported his Freshman Humanities Seminar, "Sacred Grounds: Coffee, Power, Religion."
"Throughout this course we talked a lot about the diversity of coffee drinks, coffee rituals, and other traditions surrounding brew, allowing students to see how coffee — like religion —can reflect a staggering diversity," he said. "While there are more specialized courses on aspects of coffee at colleges and universities throughout North America and in the U.K., there's no course like this one — to my knowledge— that showcases the multiplicity of avenues for humanistic inquiry that this course does."
With coffee as a "relatively new avenue for scholarly inquiry," Velji expressed appreciation for funding support from the Presidential Initiative that enabled him to bring scholars and practitioners to class.
"Coffee is truly a global commodity and has a truly global history," he explained. To emphasize its global nature to his students, Velji's class took a video tour of a coffee farm in Colombia, "so students could see in-house see how coffee is grown. We also did a virtual tasting with a major supplier of high-end coffee in Kigali, Rwanda, where we also learned about different varieties of coffee grown there. In addition, Velji "focused on coffee's rich links to religion. Muslims were the first to domesticate and popularize the brew … Coffee is also tethered in really interesting ways to all sorts of religious movements, including the temperance movement in the United States."
Velji led his class through how coffee's value is in part determined through its representation. "The people who grow coffee can be portrayed in certain ways. I had students examine various examples of coffee advertising," he said, and about how coffee is related to inequality. "The vast majority of coffee is grown in the global south and is consumed in the north, with its prices regulated by market forces that have very little to do with the actual price of production. To talk about these issues further. I organized the visits of the head buyers of two major coffee companies to talk about official United States government policy on coffee and international development, which also tethers to conversations about migration integration. I also brought in the people responsible for it, the heads of coffee policy for the United States Agency for International Development."
Contact
Office of Strategic Communications & Marketing
400 N. Claremont Blvd.
Claremont, CA 91711
Phone: (909) 621-8099
Email: communications@cmc.edu

Media inquiries: Gilien Silsby
Phone: (213) 500-8673
Email: gsilsby@cmc.edu