For Zephanii Smith '13, life after CMC includes addressing the United Nations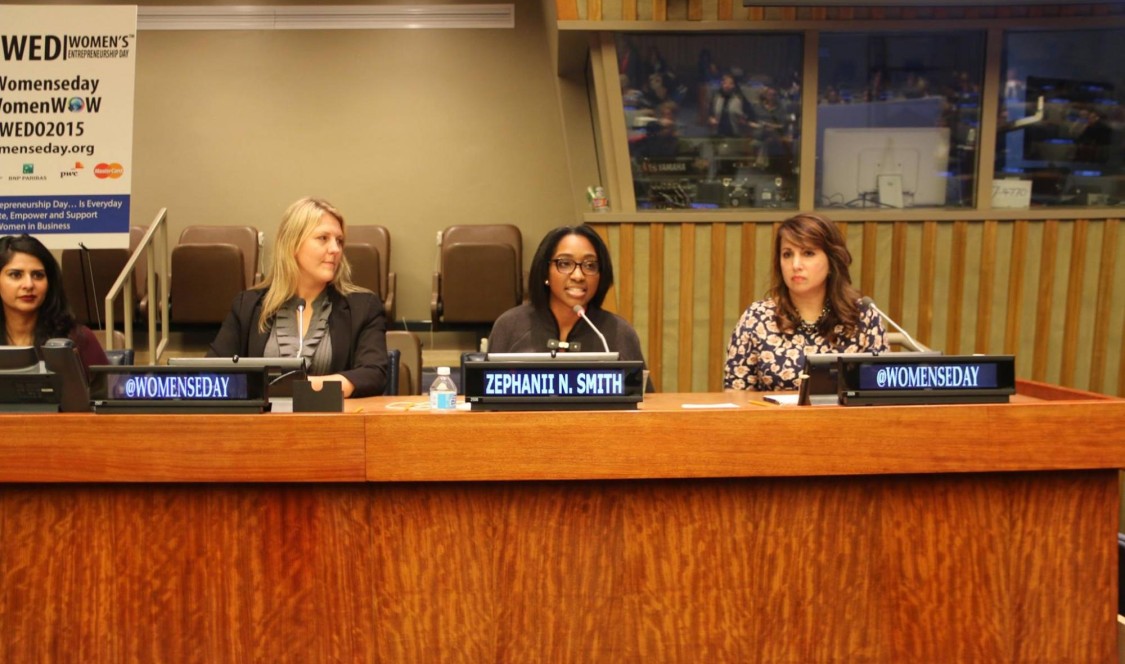 Time and again, surveys have cited public speaking to top the list of human fears – even more than impending death!
So what would it be like to give a speech in as imposing an edifice as the United Nations Headquarters in New York City? For Zephanii Smith '13, who earlier in the month addressed an impressive list of organization heads and some of the world's leading female entrepreneurs there as a 2015 Women's Entrepreneurship Day Fellow, it was something to take in stride and be "thrilled about."
"I was introduced to the world of social entrepreneurship as a college student at CMC, where I worked for the Kravis Leadership Institute," says Smith, who graduated with a B.A. in government with a leadership sequence. "Since then, I have found many ways to continue my passion for civic engagement and create opportunities to work on building my own social enterprise. I looked forward to the opportunity to learn and engage with the world's leading women in their fields."
The U.N. event was held in conjunction with Women's Entrepreneurship Day (WED), which empowers, celebrates and supports women in business. The organization was founded by entrepreneur, publisher animal advocate and Animal Fair Founder Wendy Diamond in 2014 after she learned of the impact empowering women financially can have on men, women and children in global communities.
While enrolled at CMC, Smith studied in Jordan, England and South Korea and spent several semesters working on the campaign trail, interning in Governor Brown's office, and doing a labor organizing internship in Texas while coordinating the NAACP's National Convention in Los Angeles.
"My passion for social entrepreneurship was sparked during my final semesters on campus," Smith says. "I was heavily involved with the Kravis Leadership Institute starting freshmen year and learned about social entrepreneurship at my first Kravis-de Roulet conference. As a senior, I took a class on Leading Entrepreneurial Ventures, was a finalist for the inaugural Innovative Start Up Award Social Track and worked with the Director of Entrepreneurial Initiatives to launch CMC's Changemaker Campus initiative."
Smith says her senior thesis was inspired by the social challenges facing her hometown of Stockton, CA. "I spent many hours in conversation with civic, business, and political leaders as I conducted research," she says. "I decided to return home after graduation to continue my work in the community while pursuing a master's degree at the University of the Pacific."
Smith was selected to participate in WED as someone who brought the perspective of a civil rights advocate and a public servant. She joined the local NAACP as an elementary school student and was among the youngest ever to serve (for two years) on the organization's national board of directors -- elected in 2009 at the age of 19.
As far as the public service requisite is concerned, as a high school student, Smith participated in several leadership programs designed to inspire careers in public service, including serving as a congressional intern.
"I was inspired by U.S. Congress and California politics courses taught by Jack Pitney and Ken Miller," Smith says. "My first jobs after CMC were working for the House of Representatives and now the State Legislature."
At the U.N., Smith issued a call to action for innovators to become intrapreneurs working to transform complex systems from the inside out.
"I asked women who are leaders in business to consider transforming society by create strategic partnerships with government and organizational entities that are often stifled by a lack of innovation," she says. "Connecting their companies not only to causes, but to the constructs that power our national institutions; supporting the public sector in partnerships that allow real time access to the talent, resources and ideas spurred by entrepreneurial thinking leaders."
Smith says that she plans to continue her work with a handful of community-based passion projects, including establishing a community school that offers year round skill-building workshops for all citizens.
"I am also working closely to develop the UNTrepreneurship Initiative, an effort to inspire intrapreneurial leadership within organizations," she says. "I also spent time this summer advising an organization whose mission is to design a sustainable floating community."
In addition to her full plate of activities, Smith has taken on leadership roles in the Gates Millennium Scholars Alumni Association coordinating scholars and alums to participate in a national volunteer initiative in partnership with the American Cancer Society. "I was inspired to pursue this work as a result of my mother's May 2013 diagnosis with breast cancer," she says.
##
Contact
Office of Strategic Communications & Marketing
400 N. Claremont Blvd.
Claremont, CA 91711
Phone: (909) 621-8099
Email: publicaffairs@cmc.edu

Media inquiries: David Eastburn
Phone (O): (909) 607-7377
Phone (C): (808) 312-8554
Email: deastburn@cmc.edu