Hallelujah! Class of 2021 rejoices in graduating and being together again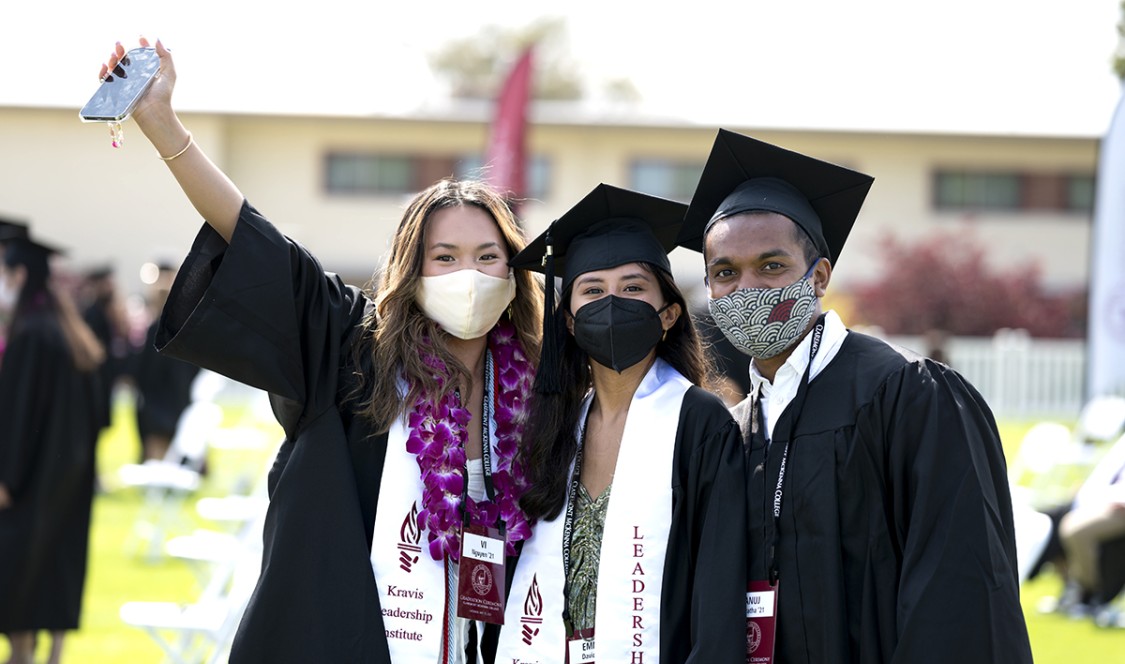 In a ceremony that felt like a reunion as much as a graduation, nearly 250 members of CMC's Class of 2021 gathered on Parents Field—and several more virtually via Zoom—to celebrate their mutual milestone.
Cheering Section
While the modified ceremony was limited to students for in-person attendance, multiple families and friends of Class of 2021 graduates could be heard celebrating, tailgate-style, from Sixth Street with joyful whoops, cheers, and air horn blares as their graduate was named.
The parents of Maxine Baghdadi '21 flew 16 hours from Dubai to gather across the street from campus on the corner of Sixth and Mills Avenue so they could stream the ceremony and feel part of the celebration. "We immediately made a plan to be here, as soon as we heard there was going to be a ceremony," said Tania Baghdadi P'21. "Maxine's our first child to graduate college, so we made the time to come. We are so grateful that we had the opportunity to be here and that Maxine joined the ceremony."
For CMC graduates who were able to attend in-person, the experience was a chance to catch up with classmates they hadn't seen in more than a year.
"It was so good to see everyone again, but also bittersweet to have to say goodbye again so quickly," said Kyrellos Ibrahim '21.
Ibrahim looks forward to seeing his classmates again at the full in-person celebration CMC has planned over the weekend of June 3-5, 2022, for members of the Classes of 2020 and 2021, faculty and staff, families, and friends.
"I am definitely going to be there," Ibrahim said.
—Anne Bergman
Seated in chairs spaced for social distancing or Zooming in from across the globe to interact with the on-campus audience via two large screens flanking the stage, the graduates soaked up the poignant remarks and musical performance from keynote speaker and renowned violinist Vijay Gupta.
This year's speakers amplified perspectives of patience and perseverance that the 2021 graduates have displayed throughout the pandemic and its resulting challenges.
Timothy Wright '77, an alumni trustee of the College, opened the ceremony by delivering the invocation. "We are grateful for the perspectives that this new Class of 2021 brings…perspective that values 'the other,' and values service and engagement and respect for individuals in this world. A world of service, a world of peace, a world of understanding, and a world of prayer," he said.
Dianna "DT" Graves '98, associate vice president and dean of students, acknowledged the fortitude of the Class of 2021. "You have endured much as a class—and yet you have endured," she said. "We sit here today with space between each person and miles of distance separating those at home; yet, you are each tied closely to this place and to one another because you shared a commitment to endure."
As he introduced Gupta, CMC's Chair of the Board of Trustees David Mgrublian '82 P'11 drew upon his own family's history of perseverance to inspire the graduates and their families, from his grandfather fleeing his homeland in 1908 to his father sacrificing his own college education to fight in World War II.
"The pandemic has tested your patience and your perseverance, too. And you have passed with flying colors," he said. "So may you continue to have the patience to accept the things you can't change, the perseverance to change the things that you can and must, and the wisdom to know the difference between the two."
Grace Wang '21, the senior class president, applauded her classmates for utilizing "our unique perspectives to have difficult conversations about race, equity, and mental health that others tend to avoid" during a fully virtual academic year. "Seeing you all here now, I know that we can handle any uncertainty that is thrown at us in the future," she continued. "Today we will leave CMC, anchored by the same spirit we came in with, but also with a new point of view and set of strengths to better serve the world that we live in tomorrow."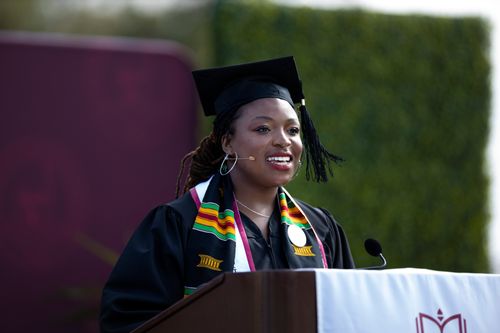 JaDa Johnson '21, the student-elected speaker, acknowledged that while the journeys and perspectives of her classmates "may not have been the same, collectively in this moment, we all have a special opportunity in front of us."
In a speech full of warmth and humor, Johnson, who served as president of the Black Student Association and vice president of the International Relations Society, reminded the graduates of their greater purpose.
"Receiving a degree from CMC is a privilege in its own right, so I hope that we'll all go forth and use this privilege as a means to help others in some shape or form," she said.
On a personal note, Johnson urged each of her classmates to be "kind to yourself and find community and love however you can. That's what helped me make it this far, pandemic or not, and I wish that for each of you. Whatever lies ahead, have faith in yourself and those with whom you've surrounded yourself."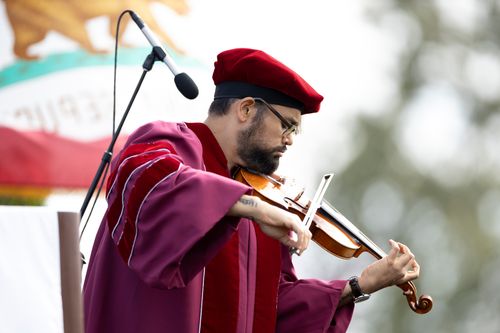 Gupta began his portion of the ceremony without a word, simply playing a reverential "Amazing Grace." The spiritual set the tone, as Gupta gracefully blended words and music—four pieces total, closing with Leonard Cohen's masterful "Hallelujah"— to reflect the themes of the day.
He spoke of the Japanese art of kintsugi, also known as golden joinery. Gupta recounted the tale of a 15th-century shogun whose favorite teacup had shattered. In repairing the precious porcelain vessel, the samurai lord's artisans invented kintsugi, a technique that "instead of hiding the fractures, illuminated them with golden glue."
"From the fragments, they made something new. Out of the memory of a cup, they made a new container," Gupta said. "It is a metaphor for healing. We know that our scars tell the story. We know that bones are strongest at the point of fracture. Kintsugi is also a call to evolution."
"We are all in reentry," he continued. "We are all remaking ourselves. And as we remember the shards of our lives and make a new vessel in relationship to one another, may we also remember that the parts of us which will give us real flight, real imagination, real connection, real change — need time."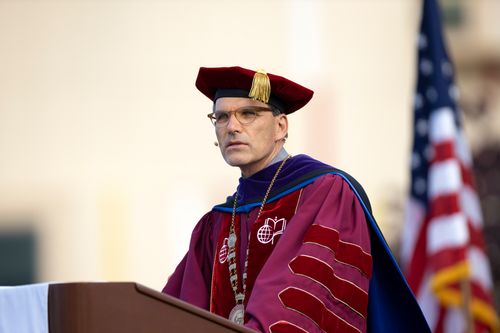 Concluding the ceremony with his charge to graduates, CMC President Hiram E. Chodosh sustained Gupta's kintsugi metaphor.
"You know kintsugi. You do kintsugi," he said. "It is the poetry and prose you have been speaking this entire period of time, perhaps only without knowing it. The golden glue we applied to bring ourselves together."
Chodosh reflected upon how everyone at the College had missed the "dynamic, warm presence" of students these past 14 months. "Theo runs from dorm to dorm, looking for you each early evening that Priya and I walk the campus," he said.
While touching upon all that has happened in the world—from the virus, to George Floyd and the verdict, to the presidential election and its aftermath—since campus emptied in March of last year, Chodosh reminded graduates: "At CMC, we learn through and from these difficult, perplexing, promising moments."
"We draw on the liberal arts to ask questions before we act," he explained. "We draw on our leadership experience to do more than just restore," Chodosh reminded CMC graduates. "We ask why. We frame the question. We search for the upstream cause. We answer the call. We design the elusive cure. We build the business. We negotiate the policy. We do what's right. We solve the problem.
"You know this. You learned to do it here. This is our CMC lesson. Class of 2021, this is your charge. Now all you have to do is take it with you," he concluded, "and then come back next spring, so that we can celebrate, with everyone, here, in person, together."
To view a photo gallery from the 2021 graduation ceremony, click here. More photos will be added in the coming days. You can also watch a replay of the livestream and coverage of the day from ABC7 News.
—Anne Bergman
—Diane Krieger
Contact
Office of Public Affairs and Communications
400 N. Claremont Blvd.
Claremont, CA 91711
Phone: (909) 621-8099
Email: publicaffairs@cmc.edu

Media inquiries: Gilien Silsby
Phone: (213) 500-8673
Email: gsilsby@cmc.edu