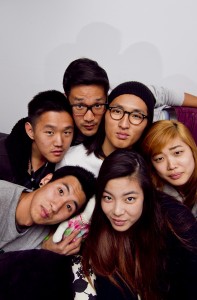 Don't worry, Monsters Calling Home isn't going away.
But their band name is.
The young indie alt-rock band -- whose members include Alex Hwang '08, Daniel Chae, John Chong, Jennifer Rim, Sally Kang and Joe Chun -- has enjoyed an amazing year.
After recording songs in a Honda (the acoustics were great, and it was much cheaper than renting studio time) and posting video of the music on the web, the band caught the eye of Honda Motor Company. That led to a surprise performance by the band on ABC's "Jimmy Kimmel Live!" in September. Earlier this month, the band capped off an exciting 2012 with yet another highlight: a sold-out December 4 performance at the legendary venue, The Troubadour, in Hollywood.
"Some of us were dreaming of playing there long before Monsters ever started," Hwang says of The Troubadour, where music legends Elton John and James Taylor enjoyed early success. "Getting the show was the result of a combination of things: our booking agent, our managers, and the Honda-Kimmel experience."
Another result of this success? A change of name.
Monsters Calling Home is changing their name to Run River North.
"We're growing as a band," explains Hwang, "and I think we've grown beyond being 'Monsters Calling Home,' which was the name of a song before it was our band's name."
He also points to the inspiration of a 1986 letter written to Nicholas Hughes, the 24-year-old son of poets Sylvia Plath and Ted Hughes.
"It's a quick read, and well worth it, in our opinion," says Hwang, who majored in media studies at CMC.
In the letter, Hughes Sr. urged his son to embrace life and seek adventures, ending with the following advice (that may contain the seed of the band's new name): "...that's how we measure out our real respect for people -- by the degree of feeling they can register, the voltage of life they can carry and tolerate -- and enjoy. End of sermon. As Buddha says: live like a mighty river...."
Though their name is changing, the band can still be found at their Monsters Calling Home website, where you will find more information on future performances, recordings and other news.