In Memoriam: Trustee Thomas B. Neff '76 P'21
Thomas B. Neff '76 P'21, a voracious learner and unorthodox thinker who long intended to improve the world through scientific discovery, has died.
Neff, a member of the Board of Trustees, was 65. His Aug. 25 unexpected death came a year after the global biopharmaceutical company he founded received approval for its breakthrough anemia treatment in China. Neff was chairman and chief executive officer of FibroGen, based in San Francisco. He founded the company in 1993, and was a named inventor on more than 130 U.S. patents and patent applications, and foreign counterparts.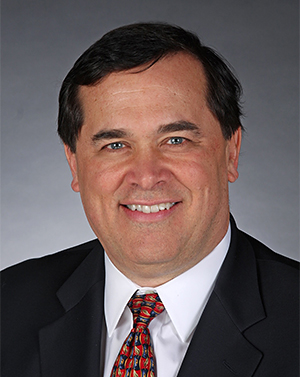 Bringing the drug Roxadustat to market in China without waiting for the longer and more expensive F.D.A. regulatory process to conclude was typical of a man who powered through life with fierce drive and intellect, said Ward E.V. Elliott, Burnet C. Wohlford Professor of American Political Institutions, emeritus, who was one of Neff's thesis advisors.
"Tom lived long enough to see his miracle drug approved in China and delivered to patients there, an immense milestone, but not long enough to count up the thousands of lives it might save in the future," Elliot said.
That Neff saw the world through his own wide and highly-calibrated lens was fully evident during his days at CMC. A biology and political science student from Anaheim, Neff stayed an extra year on campus to take more classes – including Brain & Biology, Origins of the 14th Amendment, Modern Dance, and Piano. Along the way he audited classes at other colleges and universities that sparked his interest, said Elliott, who advised Neff on his thesis on strict scrutiny and constitutional law. Neff's second thesis focused on protein modeling.
"He just wanted to learn everything — and he came remarkably close to doing so. Tom took huge course overloads and in class always seemed to know exactly where the professor was going," said Elliott. "He was always outside-the-box. He never did anything the conventional way."
Then there was his post-graduate project: "Studies in Parapsychology." As a Fellow of the Thomas J. Watson Foundation, Neff traveled to Denmark, Bulgaria and the United Kingdom to work with researchers in those countries, including Bulgarian psychotherapist Georgi Lozanov, known for suggestology, his theory of accelerated learning, Elliot said.
Despite the range of courses on his transcript, Neff knew he wanted to make his mark as a scientist. "While the rest of us were taking the standard economics and political science classes, Tom was focused on science," said Trustee Cary Davidson '75, who knew Neff in their student days. "And clearly, he had a creative brain that enabled him to be incredibly successful. He continued to think in ways quite different from most of us—contributing his talents for the betterment of all."
Neff somehow found time between classes to excel in water polo. Mike Sutton '76, Director of Athletic Advancement, was Neff's teammate—Neff was an all-conference player for four years — and his roommate in the summer when they worked as lifeguards at San Clemente beach. "Tom was scary smart and scary good," Sutton said.
Water polo teammate David Kavrell '77 said Neff, undisputedly the toughest player, was the team enforcer. After an upset victory at Long Beach State, a Long Beach player provoked coach Tom Grall. Neff promptly threw the opponent in the pool, Kavrell said.
"It took you a while to realize he wasn't a caveman," Kavrell said. "I didn't see him in classes, then I found out he was taking courses at the graduate school and Harvey Mudd."
Neff's boundless curiosity, however, sometimes meant quick course changes. While in Bulgaria, then behind the Iron Curtain, Neff also helped the daughter of someone he'd met emigrate, said Elliott. "He was a great negotiator, always meeting people and finding opportunities other people didn't see," said Elliott, who, with his wife, Myrna, are godparents to two of Neff's children.
Model Trustee
Neff was named a CMC Trustee in 2002—and became an "ideal" one and the "living embodiment of CMC's mission in the sciences," said Board Chair David G. Mgrublian '82 P'11. "Tom saw CMC for what it was, and loved the College. But more importantly, Tom saw what CMC could be, and did everything in his power to help the College realize this potential. He knew how critical scientific knowledge was to leadership in business, government and the professions, and rightfully led the Board science strategy."
Neff served on the Advancement, Academic Affairs, Budget and Audit, Finance, and Executive committees, and was chair of the Audit and Compliance Committee since 2005. In addition to his support of science and technology, he was a leading voice and advocate in support of enterprise risk management and ethics and compliance. Neff spearheaded efforts to focus board attention on challenges such as sexual assault and mental health issues, which led to the expansion of Dean of Students' resources to address those concerns.
CMC President Hiram E. Chodosh said Neff played "an invaluable, irreplaceable role on the board, contributing the key intellectual guidance for our commitment to integrated sciences," and his leadership in other areas brought "important achievements in Title IX, public safety, and so many other vital areas." On a personal level, President Chodosh remarked, "his unwavering loyalty to the College and personal support meant the world to me, to all of us."
Previously, Neff was an investment banker with Paine Webber from 1981 to 1988 and Lazard Freres & Co. through 1992. He was among 40 people named future financial industry leaders in a poll by Institutional Investor. Neff founded Pharmaceutical Partners I and II, pioneering entities investing in drug royalties and that later became Royalty Pharma. He also served as director of FibroGen China Anemia Holdings and general manager of FibroGen Medical Technology Development Co. based in Beijing.
Neff completed graduate studies in Economics and Finance at the University of Chicago Graduate School of Business. He received an MD honoris causa from Oulu University, Oulu, Finland, in 2009.
Neff is survived by his wife, Donna Wengert-Neff, who serves on the Berger Institute Advisory Board and is a Scripps College trustee; children: Maddy Neff SC '21, Elena Neff '21, Dylan Wengert, and Ally Wengert-Pierce; and sister, Laura Alison Neff. His brother, David Neff '81, died in 2011.
–Susan Price
Contact
Office of Public Affairs and Communications
400 N. Claremont Blvd.
Claremont, CA 91711
Phone: (909) 621-8099
Email: publicaffairs@cmc.edu

Media inquiries: Gilien Silsby
Phone: (213) 500-8673
Email: gsilsby@cmc.edu