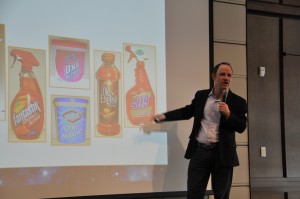 There's something slightly cinematic—in the Horatio Alger vein—in the story of Joel Appel's '87 rise to success with the cleaning products Orange Glo, Kaboom and OxiClean.
Travel in a time machine to the early 1970s, and you're liable to find Joel and his father, Max, sitting in a booth at the Arizona state fair, peddling "all kinds of crazy products that my father was convinced he could sell," recalled Appel, who addressed a lunchtime crowd last week at the Athenaeum.
Appel's talk was part of the "Lunch with a Leader" series, made possible by the Robert Day School of Economics and Finance and the Center for Innovation and Entrepreneurship.
In 2006, the Appels sold the family business, Orange Glo International—which found its way into households nationwide thanks to the late Billy Mays, who was the infomercial pitchman par excellence—for $325 million to Church & Dwight.
That phenomenal success has enabled Appel to move into other exciting areas of product development and marketing with his new company, LaunchPad, founded in 2007.
"I love finding cool new products and working on bringing them to markets," he told an audience of students, faculty and staff in the Athenaeum's main room.
But none of it would have been possible without the lessons he learned as a child from his father.
"He taught me that there will always be great products to sell," he said, "you just have to find them."
With a laid-back, friendly manner, Appel made the audience laugh as he recalled his early days hawking products that his father found in sales publications—including a shammy for cars ("I guess we didn't sell it quite right, but somebody else did") and a non-electric carpet sweeper (he sold a couple dozen of these to CMC, he proudly noted, which gave him pocket money for campus parties).
A year before Appel graduated from CMC, his father struck gold in the family garage when he developed a wood-cleaning product from the oil of orange peels. Orange Glo Wood Cleaner was born, and so was a great entrepreneurial story.
Appel took the audience through the highlights—and the lowpoints—of his family's story, including their discovery of an industrial cleaner known as sodium percarbonate, which they repackaged and rechristened as the clothing stain remover, OxiClean.
"It had been used in detergents for 60-70 years at the industrial level," he explained, "but it was amazing: no one had tried to develop it for household use."
At state fairs, OxiClean "took off…we couldn't keep it in stock," and the family business exploded to a greater level when Billy Mays started selling it on TV on the Home Shopping Network and QVC, which, Appel pointed out, are "like state fairs on TV."
He offered listeners a candid insight into how effective marketing and brand management works. The ultimate goal of HSN or QVC or infomercials wasn't sales—though sales are always welcome, of course—but to establish product familiarity with viewers that would lead to success at large retailers including Costco, WalMart and Target.
"The strategy of the infomercials," he pointed out, "is to familiarize people with the brand. Then, when they see it on the shelf in the store, they'll be more willing to try it."
As the success of Orange Glo and OxiClean grew, larger competitors fought back against the Appels with cleaning products of their own that hurt the company's sales. Refocusing priorities and fighting complacency ("when you start making money," Appel said, " you can get lazy, and that happened to us") led to the company's resurgence and sale during an excellent period for mergers and acquisitons in 2005-2006.
A year after that sale, Appel started LaunchPad, which seeks out interesting products -- "definitely NOT in the cleaning industry," he emphasized -- to help develop and market. Some of his current products include FullBar -- a nutrition bar that helps control hunger -- and the Tortle, a special cap worn by infants to protect their soft skulls from flat spots as they sleep.
Appel's especially passionate about his involvement with two non-profits, First Descents (outdoor adventures for young adults with cancer) and the Hoffman Institute (a Napa-based organization focusing on spirituality and self-understanding).
He's also passionate about something else -- his undergraduate experience at CMC ... and a deep, abiding love for Benson Hall (afterall, once a Bensonite, always a Bensonite).
"I was intimidated by all the smart people on campus, but it forced me to get serious," he said, smiling. "The experience you get at CMC is incredible. It definitely makes you want to up your game."