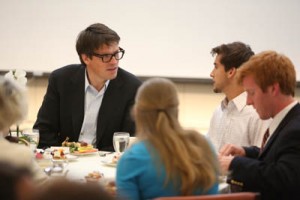 Koss with CMC students, including Stags soccer captain Harrison Doyle (navy jacket).
The transformative power of play is at the root of this year's Henry R. Kravis Prize in Leadership.
Johann Olav Koss, the winner of the Kravis Prize, a four-time Olympic speed-skating gold medalist in Lillehammer, says that it's a simple idea that seemed forgotten when he founded his Right To Play International humanitarian organization in 2000. Right To Play uses sport and play programs to improve health, develop life skills and foster peace for children and communities in some of the most disadvantaged areas of the world.
"I had this incredible surprise when I got the phone call [about receiving the prize] from Marie-Josée and Henry [Kravis]," said Koss. "I am honored and humbled."
The Kravis Prize is a philanthropic award for leaders in the nonprofit sector and recognizes those who have demonstrated "bold leadership" in the nonprofit sector and have shared their best practices with others. Established in 2006 by Marie-Josée and Henry R. Kravis '67, a selection committee picks an annual recipient following a rigorous due diligence and selection process.
Koss is the ninth winner in the eighth year that the Kravis Prize has been awarded which comes with a cash prize of $250,000.
For Koss, it was a full day that also included a luncheon presentation at the Marian Miner Cook Athenaeum followed by cocktail receptions and an award ceremony and dinner also at the Athenaeum. Present at the luncheon were past Kravis Award winners including: The 2006 inaugural Kravis prize winner Roy Prostermann (Landesa), Madhav Chavan (Pratham), Robin Smalley (Mothers2Mothers), Oley Dibba-Wadda (FAWE), and Vicky Colbert (Escuela Nueva).
"I only see opportunities," Koss told a rapt luncheon audience. "I only see incredible ways to find solutions to problems in the society today. The fundamental motivation I have is to try to create opportunities in everything I do to help children and youth to grow … to harness their talents to make them leaders in their communities; to make them the change agents."
"I want to help them build a civil society that is a value-based society," he added. "To create respect for one another, reward hard work and foster honesty. Play is a self-motivating instinct of children. It's a universal benefit that bridges linguistic and cultural barriers."
To date, Koss's Right To Play organization which has chapters all over the world has involved an estimated one million children in its activities. And, as Koss told it, everything started with his own transformative moment when, as a youngster, he confided to his beloved grandmother his hopes and dreams for the future.
"I told her I wanted to be a speed-skater (like his idol the American Olympian Eric Heiden), a doctor like my parents and help children in Africa," he said. "At that moment my grandmother looked at me exactly like grandmothers look – and in that instant her whole body language emphasized that I could do it. That it was possible."
If Koss's moment with his grandmother assured him that anything was possible if he worked hard and focused, his future life's work crystallized in an epiphanic moment in the impoverished African country of Eritrea.
"It was there that I talked to a little kid who had made a soccer ball out of his long-sleeved shirt because the children there didn't have a real ball. I couldn't believe it. I had had balls and coaches coming out of my ears at that age," Koss said.
Not long after, in the early years after Right To Play had just gotten on its feet, Koss made a trip to Africa toting hundreds of soccer balls to give to children – an act that he was roundly criticized for because of its seeming naïveté. People thought soccer balls were the last things that starving children needed.
But, as Henry Kravis said during his closing remarks after presentation of the Kravis Prize, Koss was a visionary and his good deed was soon validated by the president of Eritrea who he quoted as saying: "This is the most beautiful gift we have ever received. Finally we are being seen as human beings. We are more than mouths to feed. We, too, have dreams for a better future."
According to Claremont McKenna College President Pamela Gann, the Kravis Prize is about excellence, and Koss epitomizes that aspiration. In her remarks, Marie-Josée Kravis also underscored that notion by saying that although the field of Kravis Prize candidates was uniformly of extremely high caliber, she couldn't think of a better candidate this year than Koss and Right To Play.
"He's a four-time Olympic gold medalist, a physician and has an MBA," she said. "You can see he's a little bit of an underachiever! What's more, he truly believed that the way things are isn't the way things have to be, that things could change for the better. That he could take his discipline, commitment and focus on play and bring it to young people and help in health, hygiene and disease prevention."
Koss wasn't the only Olympian present during the evening award ceremony. Michael Evans, vice chairman and global head of growth markets at Goldman Sachs and chair of Right To Play USA, the organization's American operation, was a member of the Canadian men's eights team that won the gold medal at the 1984 Summer Olympics in Los Angeles. He introduced Koss and explained why he, Evans, got involved with the organization.
"There are two very simple explanations," Evans said. "The first is that the Right To Play mission statement made immediate sense to my wife and I. The first time I heard it, it rang crystal clear. And the second reason was Johann himself."
According to Evans, kids love to play and they learn as they play. "Right to Play puts this universal truth to work in the service of children in some of the most difficult regions of the world. If you have an ounce of sympathy in your heart for kids and the plight that they face and the lack of control that they have over their futures, getting behind this organization and getting involved in it is easy."
Let the last word be Koss': "I am extremely excited to be connected to Claremont McKenna College, because I see only opportunities… for solutions to the problems (of inequalities among children.)"
He continues: "Anywhere I go in the world, I find leaders. I find hope. I find changemakers."
He can number himself as one of them.
RELATED:
Getting practical with past Kravis Prize recipients
What are past Kravis Prize recipients doing today? Read updates at the Kravis Prize blog