Larry Mantle P'23, an influential voice heard at the Ath

The tables were turned when veteran talk radio host Larry Mantle P'23 appeared at the Athenaeum.
In a conversation that felt like an extension of "AirTalk with Larry Mantle," the lively public radio show that Mantle has led for 37 years on KPCC, Mantle answered in-depth questions about his career journey, the evolution of talk radio, and how he strives to strike a balance between being informative and entertaining on-air.
Terril Jones, who teaches international journalism at CMC, moderated the Nov. 16 conversation, which was co-sponsored by the Dreier Roundtable, whose mission is to inspire public service.
Mantle shared that he'd been looking forward to the opportunity to take part in an Athenaeum evening, as his son attends CMC, and he's made note of the Athenaeum programming. Mantle described the Ath as "a wonderful place," citing "its devotion to free speech" and hosting of "speakers from such a wide range of different perspectives."
Mantle has crafted a career by hosting a wide range of perspectives, and delving into an extensive list of topics. In one episode, Mantle can cover vote tallying in California, the challenges faced by teachers returning to the classroom, and the history of the state's burro population.
Mantle also taps into Angeleno culture, hosting "FilmWeek," where movie critics review the latest cinematic fare, and engaging listeners to call in with their memories, such as of their favorite old-time Los Angeles restaurants.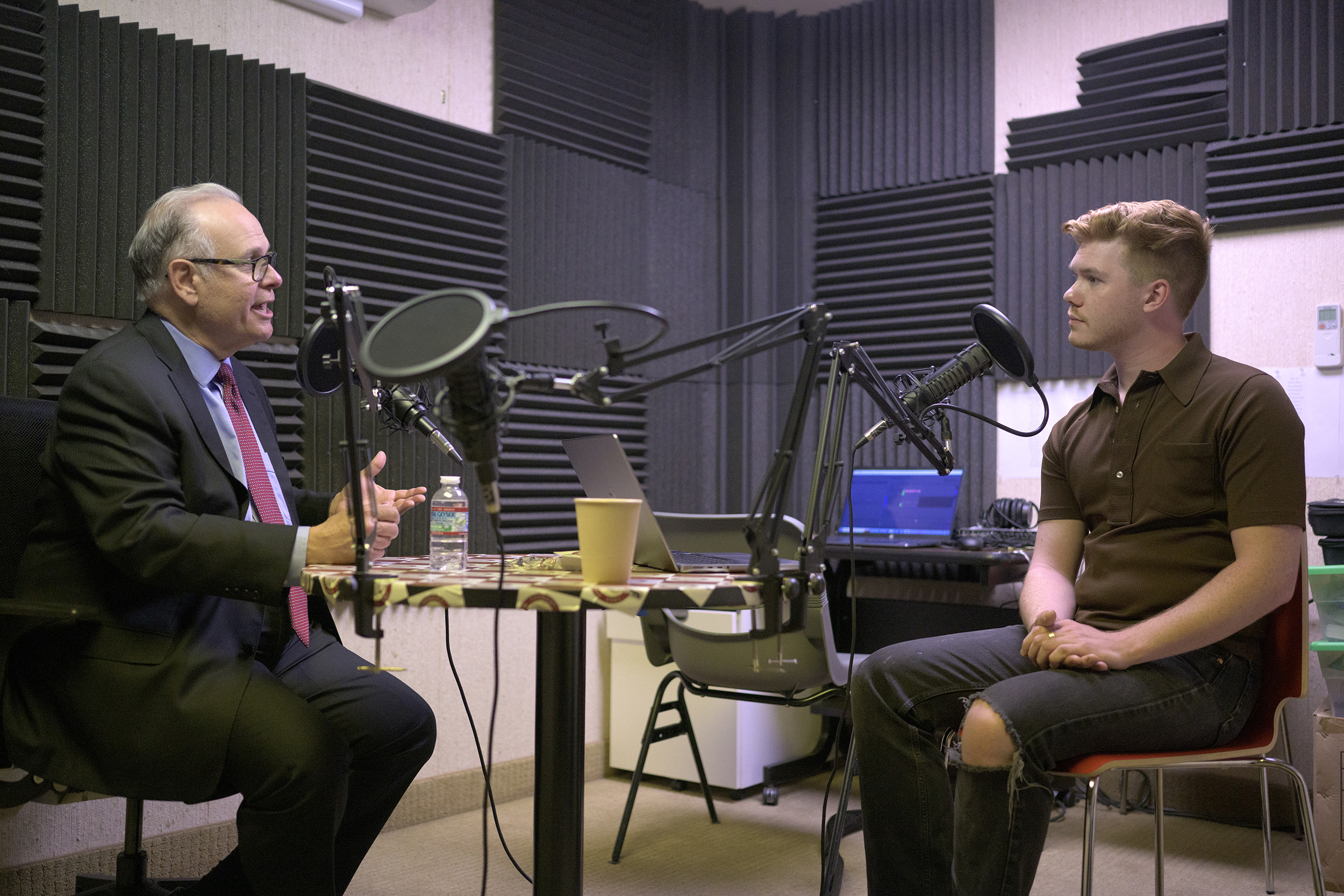 Over the years, Mantle said the show, which airs weekdays, has built an audience that he describes as "lifelong learners," who are college-educated or have the equivalent life experience and curiosity. "I know that for any segment I do, there's a subsection of the audience who knows far more about it than I do," he said. "I can't be the expert, but I have to find that sweet spot of how much to assume the audience already knows."
Now the longest continuously running daily talk program in the Los Angeles radio market, AirTalk is the flagship program of KPCC, a public radio station that has evolved from a nearly all-music format (big band jazz) to a news programming powerhouse and an NPR affiliate that's partnered with news site, LAist. And, since 1985, when he joined the station, Mantle has been along for the journey.
"I'm typically talking to 40,000 people at a time," said Mantle who has won numerous awards, including the Society of Professional Journalists Radio Journalist of the Year award and the Associated Press' prestigious Mark Twain award.
"It's the biggest conversation in Southern California just because of the numbers. There's no other place that large in Southern California besides the Crypto.com arena," he said with a laugh.
"I could never dream that the little station that I started with would now have a large editorial staff —editors, producers, reporters— of about 100 people. So, it's just changed dramatically," he said.
Having overseen such dramatic growth, Mantle is well-positioned to weigh in on the future of his talk radio format. "I think with the growth of podcasting and the ability to do limited series…it opens up a whole other wonderful world of audio. And there's always going to be a place for a live stream of news and public affairs programs, whether you're listening on your smart speaker or some other way. I think there's always going to be a place for it."
Mantle said he considers himself a "civic voice," offering nonpartisan, straightforward programming, and his role as eliciting conversation that includes differing perspectives.
The producers who assist Mantle in assembling "AirTalk," he said, "work hard to serve countless Southern Californians, helping them with their voting decisions, how to raise their families, and what their priorities are going to be when they think about public policy. That's our mission. To help people with these topics."
When it came time to take questions from CMC students, Mantle fielded questions about the reintroduction of the Fairness Doctrine to encourage broadcasters to offer a balance of viewpoints. "That ship has sailed," Mantle replied, due to the wide range of media sources and "because things are so polarized and complicated."
Mantle was also asked about what it was like to share major life experiences on-air, such as the birth of his child, and the death of longtime colleague and friend, Steve Julian.
"I will carry those experiences forever," he said. "It helps when listeners hear people on the radio going through these life events and experiences, the joyous occasions and losses and all those things. It's incredibly rewarding to build a relationship with an audience, go through these experiences, and be able to share them."
Contact
Office of Public Affairs and Communications
400 N. Claremont Blvd.
Claremont, CA 91711
Phone: (909) 621-8099
Email: publicaffairs@cmc.edu

Media inquiries: Gilien Silsby
Phone: (213) 500-8673
Email: gsilsby@cmc.edu