Meet the Podlich Fellow-in-Residence: Award-winning author, critic and translator Daniel Mendelsohn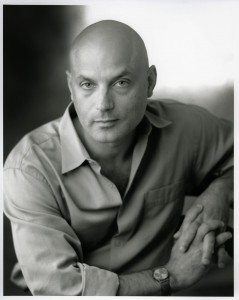 Daniel Mendelsohn is CMC's Podlich Fellow-in-Residence
Daniel Mendelsohn is already enjoying his second trip to Claremont McKenna College–– including the favorable climate, even if the week so far has suffered some gray winter gloom. His return to The Claremonts was coordinated by fellow writer and Holocaust scholar Wendy Lower, the John K. Roth Professor of History and George R. Roberts Fellow. Mendelsohn flew out from New York last April, to talk with Lower's students about his international bestseller, The Lost: A Search for Six of Six Million, a book whose honors are too numerous to recollect here, but included the National Book Critics Circle Award.
"We are thrilled to have Daniel Mendelsohn back at CMC for an extended stay as a Podlich fellow," Lower said. "As envisioned by the fellowship, he is reaching out to many faculty and students across disciplines speaking on wide ranging, pressing issues of our day that have deep, in some cases, ancient roots. He is enriching intellectual life at The Colleges."
Mendelsohn was gracious enough to agree to a videotaped interview, which is forthcoming. In the meantime, we asked the best selling writer if he could pause for just a few questions upfront, which are shared below. Beneath his answers you'll find a schedule of events that are open to students, faculty, and staff during his three-week stay at CMC.
Have you had a good time engaging with students thus far? Mendelsohn: I've only been here since yesterday, on campus, so I haven't yet had a chance to engage with CMC students much. But I'm going to be leading a discussion in Ben Keim's (Pomona College) Greek history class in a few hours, and I'm really looking forward to that. I have been at CMC before, to talk to Wendy Lower's class last year about my Holocaust book, The Lost, and was really impressed by the sharpness and depth of the students' questions. So I'm eager to talk this week both to Ben's class, and to Bob Faggen's Sophocles seminar class on Thursday. I am, after all, a Greek tragedy guy… And yes: SO NICE to have escaped the New York weather!
We are sure you're asked repeatedly for advice on being a writer. But what's the best advice someone's ever given you about writing? Mendelsohn: The best advice I ever had as a would-be writer was from my epistolary friend Mary Renault, a renowned author of historical fiction set in ancient Greece, with whom I corresponded when I was a teenager and in my early 20s, until she died. I wrote a long essay about it for The New Yorker, alas it's subscribers only. She told me just to "keep writing," not to care whether it was great or even good, but just to keep doing what interested me, and not worry about what the current fashions were, what people were "doing" in the literary world.
I've done precisely that, and it's served me really well, as I've done so many kinds of work in my own career, combining memoir and literary criticism, translation and cultural essay, and it's been a blast.
So happy to have you here. How did your return visit to CMC happen? Mendelsohn: I came in April of 2013 to lecture about The Lost and basically fell in love with the place; and I think that we all had a great time and started plotting immediately about how to get me back for a longer visit. So now I'm here as the Podlich Fellow. I'll be doing various events about various aspects of my work: a Holocaust class, two Classics classes, some faculty events about criticism and my current New Yorker essay about the Parthenon as a cultural icon. And I couldn't be more thrilled!
****
The following events with Daniel Mendelsohn are open to all students and faculty:
Tuesday, February 4 4-5:30 p.m. Criticism in the Internet Era. This discussion explores questions of authority, modes of discourse and the intellectual implications of the expansion of critical discourse as the platform once occupied by professional critics only expands to include the public–at-large. The Gould Center for Humanistic Studies, Claremont McKenna College.
Tuesday, February 11 1:15-2:30 p.m. The Lost. As part of Professor Lower's course, Mendelsohn will discuss issues of memory, narrative and historiography in connection with his 2006 family Holocaust memoir, The Lost. Location: Kravis 100, Claremont McKenna College.
6:00 p.m. Informal Dinner Discussion with Mendelsohn about his upcoming New Yorker piece, "The Parthenon as a Cultural Icon," RSVP by Feb. 9: Professor Wendy Lower, wlower@cmc.edu, (909) 607-4688
Tuesday, February 18 5:30-8:30 p.m. Dinner and Lecture, An Odyssey: A Father, a Son, and an Epic Marian Miner Cook Athenaeum, Claremont McKenna College 385 E. Eighth Street. RSVP: (909) 621-8244, athenaeum@cmc.edu
--------------------------------------------------------------------------------
Daniel Mendelsohn, an award-winning writer, critic, and author of the international bestseller The Lost: A Search for Six of Six Million, received his BA in Classics from the University of Virginia and his PhD in Classics from Princeton University. His essays and reviews have appeared in many publications, most frequently in The New Yorker and The New York Review of Books. He is a columnist for The New York Times Book Review, and is presently a Contributing Editor at Travel + Leisure.
The Lost (2006) won the National Books Critics Circle Award and the National Jewish Book Award in the United States, the Prix Médicis in France, among many other honors, and has been published in over fifteen languages. His memoir, The Elusive Embrace (1999) was a New York Times Notable Book of the year and a Los Angeles Times Best Book of the Year. His acclaimed two-volume translation of the poetry of C. P. Cavafy (2009), with Introduction and Commentary, was also a Publishers Weekly Best Book of the Year. His essays and reviews have been collected in two volumes, How Beautiful It Is and How Easily It Can Be Broken (2008), a Publishers Weekly Best Book of the Year, and Waiting for the Barbarians: Essays from the Classics to Pop Culture (2012), a finalist for both the National Book Critics Circle Award and the PEN Art of the Essay Award.
Mendelsohn's honors include a Guggenheim Fellowship, the National Book Critics Circle Citation for Excellence in Book Reviewing, and the George Jean Nathan Prize for Drama Criticism. In 2008 he was named by The Economist as one of the best critics writing in the English language. Daniel Mendelsohn teaches literature at Bard College.
The Podlich Distinguished Fellows Program was founded by Claremont McKenna College alumnus and trustee William F. Podlich in 1998 to enrich the College intellectually by bringing preeminent figures in scholarship, business, and public affairs to campus for extended visits.
Contact
Office of Public Affairs and Communications
400 N. Claremont Blvd.
Claremont, CA 91711
Phone: (909) 621-8099
Email: publicaffairs@cmc.edu

Media inquiries: Gilien Silsby
Phone: (213) 500-8673
Email: gsilsby@cmc.edu