Nyree Gray, CMC's Chief Civil Rights Officer, will take on an expanded role and additional title as Assistant Vice President for Diversity and Inclusion, President Hiram Chodosh announced Wednesday. Gray will assist efforts across all offices at the College to support a diverse and inclusive student body, faculty, and staff.
"This appointment represents a significant step in the evolution of Nyree Gray's role at Claremont McKenna," Chodosh said. "Since joining CMC in 2014, as the Chief Civil Rights Officer, she has effectively supported diversity and inclusion at the College, in addition to her role as Title IX Coordinator. Her expanded position as Assistant Vice President will help provide essential strategic leadership to realize our vision for CMC."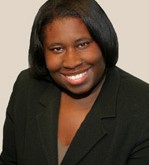 ​Gray will also join the Dean of the Faculty's leadership team, where she will work to strengthen the College's strategies to recruit, retain, and develop an excellent and diverse faculty. "In addition to her work at CMC, Nyree's past experience as both a dean of diversity affairs and an associate professor of law at Southwestern Law School will provide important expertise to support the Dean of the Faculty's Office," said Peter Uvin, Vice President for Academic Affairs and Dean of the Faculty.
"In my time here, I have quickly come to understand and value Claremont McKenna's mission to develop responsible leaders," Gray said. "The commitment to inclusive excellence is deeply rooted within the framework of that mission. I therefore take this appointment as a tremendous honor and unique opportunity to help position CMC as a leading model for critical thinking across diverse experiences and perspectives."
In addition to her appointment as Assistant Vice President for Diversity and Inclusion, Gray will retain her status as the College's Chief Civil Rights Officer. The College is in the process of finalizing the appointment of an interim Title IX Coordinator, who will report to Gray and will assume responsibility for administering the College's Civil Rights Grievance Process.