"I start everyday with the knowledge that helping people and fighting for justice is my duty and that nothing worthwhile comes without sacrifice, self discipline, and courage. I am a lawyer, but you don't have to be one to help win change."
Gloria Allred, attorney, founding partner, Allred, Markoko, & Goldberg; co-author, Fight Back and Win: My Thirty Year Fight Against Injustice and How You Can Win Your Own Battles (2006); from her talk "Women's Rights and Women's Wrongs – Sexual Harassment in the Workplace and Sexual Assault on College Campuses"
See video of Gloria Allred's talk

"Here's a dirty little secret, the biggest fan of Mexican food in the world is not Mexicans, it's Americans."
Gustavo Arellano, editor, OC Weekly; author, Taco USA: How Mexican Food Conquered America (2013), from his talk "Ask a Mexican!"
See video of Gustavo Arellano's talk

"Arab Spring proved to us that dictators can be replaced easily."
Shirin Ebadi, Nobel Peace Prize laureate (2003); founder, Defenders of Human Rights Center, Iran (2001); author, The Golden Cage: Three Brothers, Three Choices, One Destiny(2011) and Refugee Rights in Iran (2008); from her talk "Human Rights and the Role of Faith in World Peace."
See video of Shirin Ebadi's talk
"So many men can be too defensive in the face of honesty, so they shutdown and we lose an important conversation."
Jackson Katz, co-founder, Mentors in Violence Prevention (MVP)(1993); film creator, "Tough Guise: Violence, Media, and the Crisis in Masculinity" (2000); author, Leading Men: Presidential Campaigns and the Politics of Manhood (2012) and The Macho Paradox: Why Some Men Hurt Women and How All Men Can Help (2006); from his talk "More Than a Few Good Men: American Manhood and Violence Against Women."

"When things are outlawed, people don't stop selling them. People don't stop buying them. They just stop being regulated. "
James Fadiman, psychologist; co-founder, Sofia University (1975); author, The Psychedelic Explorer's Guide: Safe, Therapeutic, and Sacred Journeys (2011) and The Other Side of Haight: A Novel (2004); from his talk "The Psychedelic Renaissance: Promise and Pitfalls."
See video of James Fadiman's talk
"Most of our foundational international law was made after World War II, most of our national security law after Vietnam and Watergate. They are anywhere from 40 to 60 years old. They are not adapted to current problems."
Harold Koh, Department and Sterling Professor of International Law, Yale University; Legal Advisor to the State Department (2009-2013), Assistant Secretary of State for Democracy, Human Rights, and Labor (1998-2001); co-author, Transnational Business Problems (2008) and author Transnational Litigation in United States Courts (2008); from his talk "Is There An Obama-Clinton Doctrine?"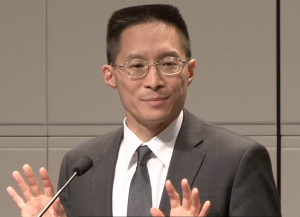 "As you enter these idyllic years of learning without constraints and limitations, you happen to be coming of age at a time of constraints, of limitations. At a time when a great recession and its aftermath and a recovery that is only felt by a few, has so many Americans feeling uncertain about the promise of America, about the viability of the American dream…"
Eric Liu, White House speechwriter and Deputy Domestic Policy Adviser for President Bill Clinton (1997-2001); columnist for TIME.com and The Atlantic.com; co-author, The Gardens of Democracy: A New American Story of Citizenship, the Economy, and the Role of Government (2011) and author, Guiding Lights: How to Mentor- and Find Life's Purpose (2006); speaking to students from his talk "Democracy is for Amateurs."
Fell only minutes, maybe seconds short
Of wrenching the plane from its downward course
That tore its way
Through the lush countryside
Of south central Pennsylvania
By rural route 219
On that ordinary Fall morning
When all the elements were fresh and clean.

Ricardo Quinones P'89, Josephine Olp Weeks Chair emeritus and professor emeritus of literature, CMC; author, A Sorting of the Ways: New and Selected Poems (2011) and Through the Years (2010); quoting from his poem "Shanksville" about United Airlines Flight 93, which crashed in rural Pennsylvania on 9/11, from his talk "The Way We Used to Be: Dreams of Americana in Verse."
Read more about Ricardo Quinones P'89 See video of Ricardo Quinones P'89's talk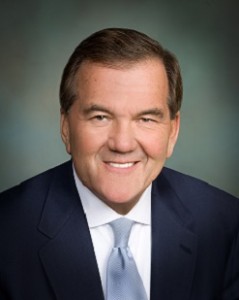 "I am a very proud Republican but I am able to reach across the aisle. The 1980s was a better environment because the leaders were from the World War II generation and did not think like Republicans or Democrats but thought like Americans."
Tom Ridge, U.S. Secretary of Homeland Security (2003-2005); Governor of Pennsylvania (1995-2001); Pennsylvania Congressman (R-21st District) (1983-1995); speaking on the current political climate in the U.S. Congress, from his talk: "Boston and Beyond: Homeland Security and the Hometown."
"All of us can become like Christ, or like the Buddha. We must bring out the potential that is in all of us."
Swami Sarvadevananda, minister, spiritual leader, Vedanta Society of Southern California; monk. Ramakrishna Order, India; from his talk "Vedanta, Vivekananda, and Human Excellence: Living a Balanced Life of Doing and Being."
See video of Swami Sarvadevananda's talk
"Reduce the noise… Instead of being distracted by all the outliers here and there, the question is 'what's the central tendency.'"
Nate Silver, statistician; sabermetrician, psephologist; founder and editor-in-chief, FiveThirtyEight.com blog, ESPN; author, The Signal and the Noise: Why So Many Predictions Fail- But Some Don't (2012)

"I am a sentimental humanist. I believe art is here to help us."
Zadie Smith, professor of creative writing, New York University; author, NW: A Novel(2012) and White Teeth: A Novel (2000); from her talk "Man Versus Corpse."
"How did we get to this place where comedy is more reliable than the news?... Comedians lay out hypocrisy in a way that the news media doesn't. The news media relies on getting guests. Therefore, the soft ball questions occur. The comedians rely on speaking truth to power and so therefore, you get a better perspective. And since all news is perspective... I think comedians are your safest bet."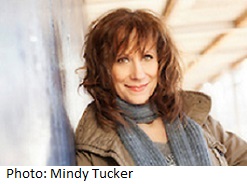 Lizz Winstead, political satirist; co-creator, head writer, The Daily Show with Jon Stewart; co-founder, Air America Radio; co-host, Unfiltered; author, Lizz Free or Die (2012)

"The standards of plagiarism are not articulated clearly at all, that is the problem."
Julie Zauzmer, managing editor, The Harvard Crimson (2012); author, Conning Harvard: Adam Wheeler, the Con Artist Who Faked His Way into the Ivy League (2012)