Passings: Richard Grantham, 1927-2016
From clearing rocks to establishing scholarships, Grantham epitomized alumni dedication to the College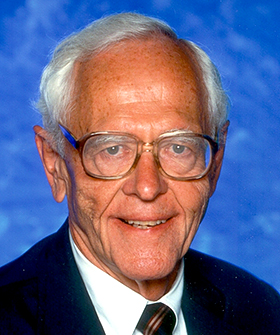 The CMC community mourns the loss of one of its Pacesetters, Richard Grantham, who passed away this month. A member of the Class of 1950 and a Life Trustee, Grantham was 88.
Known as the Pacesetters, the earliest classes of CMCers were the earliest builders of the College -- Grantham and his classmates literally cleared away the countless rocks and large stones on the young campus in a project known as "Operation Rockpile."
That early commitment to building CMC was reflected in Grantham's many subsequent roles at the College, including his service as a member of the Board of Trustees from 1974-2000 and as a Life Trustee starting in 2001. The years of Grantham's trustee stewardship also marked a time of significant change at the College, in particular the transformation of CMC into a coeducational institution in the latter part of the 1970s.
Born July 25, 1927, Grantham attended the newly-opened Claremont Men's College, where he served as student body president and graduated magna cum laude with a B.A. in business and public administration. During his professional career, Grantham held executive positions with the Trust Company of the West and Cyprus Mines.
Along with his Board service, Grantham and his wife, Charlotte, continued to support CMC's Pacesetters Memorial Fund, the Alumni Fund, and CMC Magazine, and they established the Richard and Charlotte Grantham Scholarship to ensure assistance for deserving students of limited means.
In recognition of his support of his alma mater, Grantham was honored with the Jack L. Stark '57 Distinguished Service Award in 1979, the Robert A. Day '65 Board of Trustees Service Award in 2010, and the Eugene L. Wolver, Jr. '51 Lifetime Service Award in 2014.
Grantham is survived by his wife, Charlotte; and by their children Robert, Susan, and Ann; and was preceded in death by his son, Scott.
Those at the College who knew Grantham described him as a very kind, calm person with a firm yet unassuming air. These qualities were important to Grantham himself, who selected the following quote, from the Roman historian Tacitus, to run with his yearbook portrait in the 1950 Ayer: "Reason and calm judgment, the qualities especially becoming a leader."
A memorial service for Richard Grantham will be held:
Saturday, June 25
11 a.m.
The Church of our Saviour
535 W. Roses Road
San Gabriel, California 91775
Grantham's children have indicated that donations in memory of their father may be made to the Richard and Charlotte Grantham Scholarship at CMC.
Contact
Office of Public Affairs and Communications
400 N. Claremont Blvd.
Claremont, CA 91711
Phone: (909) 621-8099
Email: publicaffairs@cmc.edu

Media inquiries: Gilien Silsby
Phone: (213) 500-8673
Email: gsilsby@cmc.edu