Professor Robert Faggen's appreciation for the late Nobel Laureate Seamus Heaney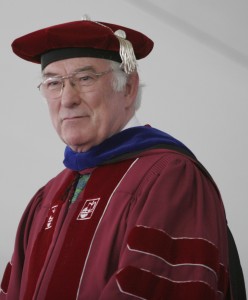 The Nobel laureate, in his CMC regalia, at Commencement 2006
In his expressive, stirring tribute to the late Irish poet Seamus Heaney for yesterday's Los Angeles Times, scholar of literature Robert Faggen calls Heaney a "rare thing, an unofficial international poet laureate who had become an ambassador for the entire institution of poetry."
Faggen, the Barton Evans and H. Andrea Neves Professor of Literature at Claremont McKenna College, would know. Not only because of the cherished lens through which he recalls some of his interactions with Heaney, but because of a friendship between the men that led to Heaney's numerous campus visits and gracious interactions with students. In 2006, for instance, Heaney served as Commencement speaker, ending his elegant address that day with his touching poem, St. Kevin and the Blackbird.
For the Times, Faggen recalls first meeting Heaney, who died at the age of 74 last Friday:
Thirty years ago, I became a graduate teaching fellow in a popular undergraduate course at Harvard University called Modern Anglo-Irish Poetry. What made it popular? The subject matter was certainly rich. But the professor, Seamus Heaney, was the special attraction.
"He was already a major figure in the poetic landscape; we watched him artfully mapping its peculiar geography," Faggen writes. "Few poets— even of visionary sensibility— could imbue lines with such a visceral, indelible sense of both diction and cadence."
Read the full piece: An Appreciation: Seamus Heaney, Animator of Words.
Contact
Office of Public Affairs and Communications
400 N. Claremont Blvd.
Claremont, CA 91711
Phone: (909) 621-8099
Email: publicaffairs@cmc.edu

Media inquiries: Gilien Silsby
Phone: (213) 500-8673
Email: gsilsby@cmc.edu