Professors Sinha and Shelton added to PPE program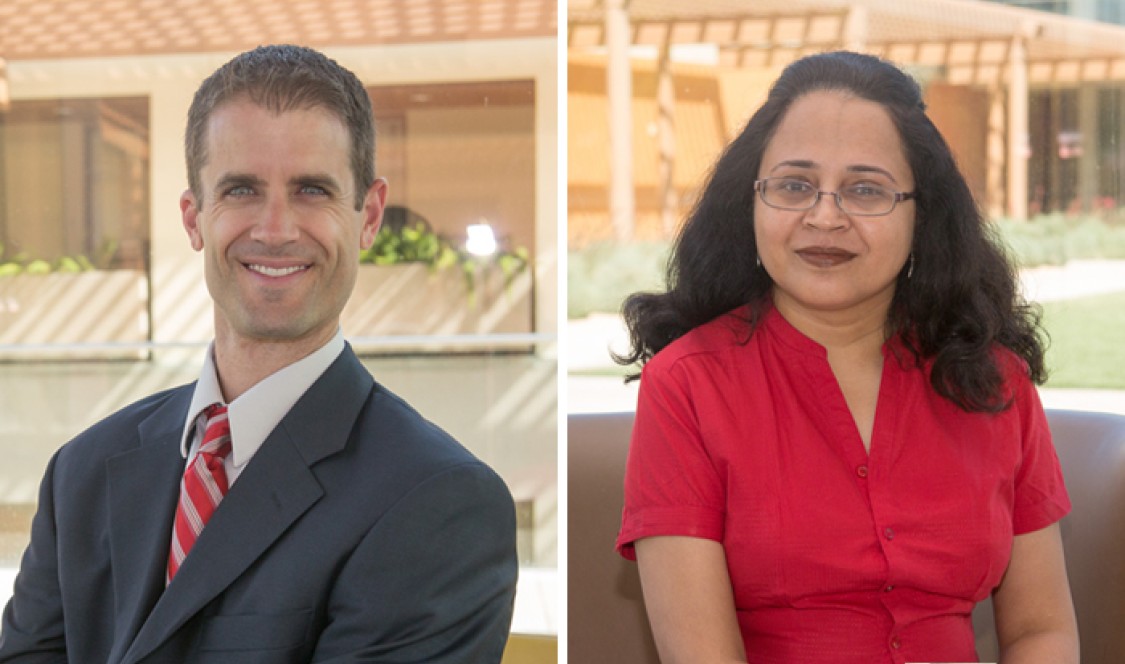 Claremont McKenna College announces that two new professors have been added to the faculty of the Philosophy, Politics and Economics (PPE) Program.
Prof. Shelton is Associate Professor of Economics at the Robert Day School of Economics and Finance at CMC and Prof. Sinha is the Wagener Chair of South Asian Politics and George R. Roberts Fellow at CMC.
The PPE program at CMC is rigorously interdisciplinary, and its success at the College has led to an ongoing expansion, which began last year with changes in the Philosophy track, followed this year by improvements in the Government track, with changes in the Economics track slated to occur in 2016. The addition of professors Shelton and Sinha are reflective of those changes.
Prof. Shelton graduated Phi Beta Kappa from Stanford University with a B.S. in Physics and a B.A. in Economics. He received his Ph.D. in Political Economy from the Stanford Graduate School of Business in 2005. His first teaching experience was as a postdoctoral fellow instructing master's degree students at the Freeman Spogli Institute for International Studies of Stanford University. Prof. Shelton then taught for two years at Wesleyan University before coming to CMC in 2008.
At CMC he has taught mostly macroeconomics at the intermediate and advanced levels, but elsewhere he has taught courses in economic growth, game theory, social choice and public economics.
"In applying textbook economics," Prof. Shelton says, "one must have an understanding of moral philosophy when weighing competing interests, as well as an understanding of how economic policy is responsive to the current distribution of political power. Studying economics within the PPE program is an opportunity to consider the lessons of economic analysis within these broader contexts, as applied to the topics of today and, in so doing, become a more sophisticated citizen."
Prof. Shelton continues, "Teaching within the program offers a rare opportunity, in a world of specialization, to be more broadly intellectual. As my own work and interests have always lain at the intersection of these fields, I am approaching the course with a great deal of excitement."
Before coming to CMC, Prof. Sinha was an associate professor at the University of Wisconsin-Madison and a Fellow at the Woodrow Wilson Center in Washington, D.C.
She received her B.A. from Lady Shri Ram College, where she participated in a tutorial program based on the Oxford/Cambridge model. Prof. Sinha received her M.A. and M.Phil. from Jawaharlal Nehru University (New Delhi, India) and a M.A. and Ph.D. from Cornell University.
Her research interests relate to political economy of India, India-China comparisons, international organizations, and the rise of India as an emerging power. Prof. Sinha is the author of The Regional Roots of Developmental Politics in India; (2005); her second book, Globalizing India: How Global Rules and Markets are Shaping India's Rise to Power, will be published by Cambridge University Press next year.
"I am thrilled to be part of the expansion of the PPE program," Prof. Sinha says. "My own research is at the intersection of economics and politics, but I have always been interested in political philosophy as my M.Phil. was in political theory. Political Science (or Politics) helps us think deeply about what it means to be a good and effective citizen, and to explore the political possibilities of economic constraints and philosophical ideals. It is, therefore, indispensable to a PPE program. I explore the philosophical basis of different concepts in all my classes, and am excited to work with students who may be interested in all three disciplines and perspectives."
Prof. Sinha says she is drawn to the CMC's PPE program because of its rigor, strong core of writing and deep engagement with the readings. "I look forward to working with PPE students and faculty to expand the PPE program at CMC."
Contact
Office of Public Affairs and Communications
400 N. Claremont Blvd.
Claremont, CA 91711
Phone: (909) 621-8099
Email: publicaffairs@cmc.edu

Media inquiries: Gilien Silsby
Phone: (213) 500-8673
Email: gsilsby@cmc.edu