Purvis-Roberts receives Henry Dreyfus Teacher-Scholar Award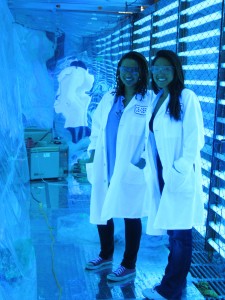 Pictured in the smog chamber where the study will be done: Kopano Ramsay (SCR '14) and CMC's Alexandra Fox '14. "It's so important to me to incorporate students into independent research projects and enable them to present their findings at chemistry conferences," says Purvis-Roberts. "It gives them an understanding of what it's like to be a scientist. It really is a hands-on endeavor. Teaching isn't only in the classroom."
W.M. Keck Science Department Associate Professor of Chemistry Katie Purvis-Roberts is one of seven outstanding undergraduate chemistry professors from across the country to receive the prestigious Henry Dreyfus Teacher-Scholar Award. The award includes an unrestricted research grant of $60,000 to fund Purvis-Roberts' research into air pollution's chemical composition and the formation of particulate matter.
The W.M. Keck Science Department is the interdisciplinary home to all biology, chemistry, and physics faculty for Pitzer, Claremont McKenna, and Scripps colleges.
"The air pollution research that I do focuses on how gas-phase chemicals transform into particulate matter pollution in the atmosphere," Purvis-Roberts says. "The gases I am most interested in are a class of organic molecules called alkyl amines. They can be used to react with carbon dioxide to remove it from the waste stream of power plants, to limit greenhouse gas emissions from these technologies.
"The problem is that alkyl amines could also evaporate into the atmosphere before they react with the carbon dioxide, interact with other chemicals, and form particulate matter," she continues. "Not much is known about this chemical mechanism, so that's what I want to understand."
And from a chemistry standpoint, the work could yield some important insights, according to Purvis-Roberts, who in July also took on the role of associate dean of the faculty at Pitzer College.
"Atmospheric scientists do not understand in detail how various alkyl amines react to form particles," she says. "Sources of amines are being identified in the atmosphere, but no one is quite sure how they are going to chemically react or where they will end up. From an environmental perspective, new technologies are being developed to try to limit greenhouse gas emissions into the atmosphere, and that is very important as we look at the impacts of climate change. We need to understand how the entire process is going to impact the environment though, which is the purpose of this research."
Funded by the Camille & Henry Dreyfus Foundation, the Henry Dreyfus Teacher-Scholar Awards Program supports the research and teaching careers of talented young faculty in the chemical sciences at undergraduate institutions. Professors are selected for their commitment to teaching and the quality of the research that they conduct with undergraduate students.
"The Dreyfus Teacher-Scholar Award is one of the most prestigious awards made to chemistry faculty and recognizes the outstanding contributions made by Dr. Purvis-Roberts, as a teacher-scholar," said Pitzer College Dean of Faculty Muriel E. Poston, a plant biologist and environmental analysis professor.
"The award is a validation of the work that has been so important to me," adds Purvis-Roberts.
Purvis-Roberts recently co-authored an article on secondary aerosol formation in the journal Atmospheric Environment, which was based on research conducted with Keck Science students. Purvis-Roberts frequently invites students to join her at scientific meetings so they can present their original research and experience the world of academia in action.
"I'm most proud that this award recognizes the collaborative work that I have done with undergraduates in the research laboratory," Purvis-Roberts said. "It's so important to me to incorporate students into independent research projects and enable them to present their findings at chemistry conferences. It gives them an understanding of what it's like to be a scientist; it really is a hands-on endeavor. Teaching isn't only in the classroom."
About the W.M. Keck Science Department The W.M. Keck Science Department is the interdisciplinary home to all biology, chemistry, and physics faculty for Pitzer, Claremont McKenna and Scripps colleges. The department is administered cooperatively and is housed within an 81,000-square-foot center located at the intersection of the three colleges. The department offers 13 discrete degree options, including dual-degree programs in partnership with schools of engineering and majors in conjunction with disciplines outside the sciences. The W.M. Keck Science Department provides comprehensive, interdisciplinary instruction in small class settings and numerous opportunities for students to conduct research.
Contact
Office of Public Affairs and Communications
400 N. Claremont Blvd.
Claremont, CA 91711
Phone: (909) 621-8099
Email: publicaffairs@cmc.edu

Media inquiries: Gilien Silsby
Phone: (213) 500-8673
Email: gsilsby@cmc.edu