Robert Cain '21 focuses his camera on Black beauty, humanity, and truth

Even amid a pandemic—with physical distancing and virtual learning the norm—Robert Cain '21 knew he could count on one creative and social outlet. Shooting photos with his camera.
And the truth is, he had to. As a media studies major, Cain still needed to get out and capture life as it was (or wasn't) happening for classes and his senior thesis.
Inspired by a summer of Black Lives Matter protests, the Little Rock, Arkansas native began exploring a photo series in the fall where Black people—specifically, Black women—are illustrated by their beauty and humanity. "I wanted them to feel powerful. To be heard on their own terms, to share truth, and inspire," Cain said.
Titled "When a Black Woman Speaks, You Listen," Cain photographed seven CMC students during the semester: Danielle Payne '22, Courtney Reed '22, Toluwani Roberts '22, Mia Almond '23, Aishat Jimoh '23, Lateisha Peters '23, and Cristi Cruz '24. All were living in off-campus apartments in Claremont, so Cain made the best of his limited environment by adjusting to COVID-19 protocols and using the complex as a backdrop for most of the photos. Some of the students he already knew; some he met while living in the apartments and serving as a resident assistant. As he had hoped, the camera allowed the project to feel authentic and personal.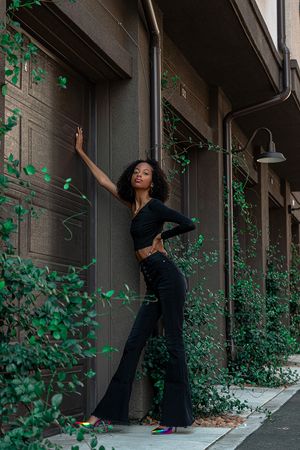 "That's the beautiful thing about photography. It's both a medium for presenting images as an artform, but it's also a connection builder," Cain said. "It's super important that you, as the photographer, develop trust and showcase the best parts of the people you are working with. They might not even know what can come out of them, but when trust is there, there are always hidden elements to be revealed."
Cain paired audio interviews and short biographies with the photos as a part of a digital gallery exhibition, which will further develop into a final paper and his senior thesis. Guided by T. Kim-Tran Trang, a Scripps College professor and department of media studies chair, Cain said he was able to more deeply refine how portraiture can help Black women "reclaim elements of their existence and even create a new framework for how they are seen."
Cruz, for instance, expressed her love for neuroscience and modeling. She wants to be an ambassador for Black women in both fields and said, "as long as I put in the work and stay motivated, who is stopping me?"
"Black women are at the bottom of our social stratification system and, even in the business world, a Black woman's power is constantly questioned," Cruz said. "To me, the title of this project means that we are more powerful than what society portrays us to be, that we have so much more to offer if we are just given the chance to do so."
During her shoot, Roberts shared how she speaks as a young Black woman through poetry and creative writing. She participated in Cain's project so more people could be inspired to listen and ask questions—not just poke holes and invalidate experiences—since what Black women "say, share, and live is real. And we are real, too."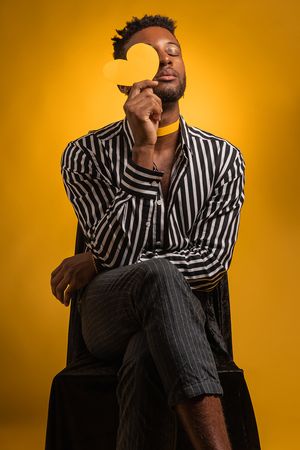 "I also wanted the experience of a photoshoot, which I'd never had before," Roberts said. "Representation and publicity, though, are only surface level. I think the title of the project gets a little closer to the root and importance of Black Lives Matter, #SayHerName, and uplifting one of the most oppressed groups in the world."
For Cain, the project is the culmination of his CMC experience, one that has challenged him to grow and learn about himself over four years. He didn't take up photography as a serious pursuit until late 2018, just before a study abroad trip to Greece. In fact, Cain is a media studies and mathematics major—a rare combination at CMC, he acknowledges, but one that speaks to his appreciation for liberal arts and the sense of discovery one can find on a college campus.
"I always wanted to pave my own path, whether it was through math, science, art, you name it. I like to push myself, I don't want to say 'no' and put up limits," Cain said. "And I think that's what it means to be a liberal arts student, especially at CMC. To me, math and media studies both speak to a love of ideas and concepts. It gives me an interesting perspective."
Cain said he is especially appreciative that his creative side was allowed to flourish during the pandemic—or as he put in, in spite of restrictions and a campus closure, that "the show must go on—and I could be part of the show." In the months ahead to graduation, he's hoping to find a way to study overseas and continue advancing his photography skills. No matter where he ends up though, he vowed that his latest project is just getting started.
"I will continue to photograph Black people and Black women for the rest of my life. It is far too important to me," Cain said. "I'm proud to be part of the band of Black photographers that is working to uplift our community."
—Thomas Rozwadowski
Contact
Office of Public Affairs and Communications
400 N. Claremont Blvd.
Claremont, CA 91711
Phone: (909) 621-8099
Email: publicaffairs@cmc.edu

Media inquiries: Gilien Silsby
Phone: (213) 500-8673
Email: gsilsby@cmc.edu