Diligence and hard work don't go unnoticed at CMC. At the Robert Day School of Economics and Finance, the School recognizes students selected into the Robert Day Scholars Program by hosting an annual dinner to celebrate their accomplishments – the latest held at the California Club in Los Angeles on April 16.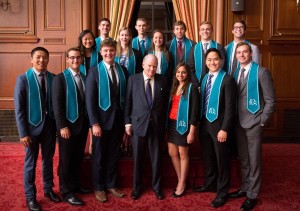 Class of 2015 Robert Day Scholars enjoy a photograph with Robert Day.
During the Scholars Recognition Dinner, the classes of 2016 and 2017 Robert Day Scholars were recognized as a group; the class of 2015 Robert Day Scholars (both undergraduates and students enrolled in the Master's Program in Finance) were recognized individually and each received a stole from the school's namesake, CMC Trustee Robert Day '65, P'12, to be worn at commencement.
"The dinner is a welcome to the class of 2017, a celebration of continuation for the class of 2016 and the graduation dinner for the class of 2015 undergraduate and Master's students," said Michelle Goodwin '16. "The event is meant to be an evening for celebration of our achievements as Scholars and to help connect us with professionals that have either graduated from the Robert Day School or have graduated from CMC."
In 2007, Robert Day pledged a $200 million personal gift to CMC to create the Robert Day Scholars Program and the Master's Program in Finance. In recognition of such a transformational gift, CMC renamed the department of economics in his honor. RDS emphasizes coursework that blends theory and practice in finance, accounting, and organizational leadership.
For Goodwin, the dinner was worthwhile and fun. "I have seen my mentor from Silicon Valley, met Robert Day and enjoyed seeing my RDS class make it through another year of seminars, classes and trips," she said. "The dinner is a nice icing on the cake of another year. Next year, seeing as I am class of 2016, I will enjoy the last event of my RDS career and to celebrate not only the end of RDS but of college."
According to David Leathers '15, being recognized as a Robert Day Scholar is an important and significant way to help finish his undergraduate career.
"After two years of RDS events, courses, workshops and mentorship, this event helps all attendees appreciate the work of not only the Scholars, but the dedication of the entire RDS community in supporting Scholars as they prepare to enter the 'real world.' It feels great to have these efforts recognized in front of such a distinguished crowd."
The program included remarks by Robert Day '65, P'12, CMC Trustee and Founder, Trust Company of the West; CMC President Hiram Chodosh; Dean of RDS S. Brock Blomberg P'13, P'16, Peter K. Barker '70, P'01 Professor of Economics and George R. Roberts Fellow; Manfred Keil, RDS Associate Professor; and Kevin Arnold P'10, RDS Director of Admission.
Goodwin said that her RDS experience has changed the course of her time at college for the better. "I have received advice from counselors that have helped me get internships, create my network and expand my horizons," she said. "In addition, RDS has flown Scholars to fantastic cities for networking trips to not only learn about numerous companies, but, more importantly, to be spokespersons for the college overall."
Leathers credits RDS for making what he came to CMC seeking – a liberal arts education – a practicable and applicable reality.
"My recognition as a Scholar marks an important milestone in my undergraduate goals," he said. "I have been able to hone my skill in the 'language' of business through coursework in accounting, finance and leadership, while also learning about new industries and work opportunities through various events."
In summing up, Brian Dennis, Director of Administration and Programs at RDS, believes the event was valuable to Robert Day Scholars for two main reasons.
"To begin, they had the opportunity to network with over 50 alumni Robert Day Scholars who attended the event," he said. "These alumni joined us from throughout the country – one scholar alumnus even flew from Poland to attend the event. In addition, the evening enabled students to directly thank Robert Day for the positive impact that his gift has had on their collegiate experience. It also gave Mr. Day an opportunity, personally, to recognize the graduating students by providing them with that RDS stole that will serve as a reminder of their accomplishments as Robert Day Scholars."
##