Professor Mark Blitz will address the Washington, D.C. chapter of CMCAA on April 11. Blitz, the Fletcher Jones Professor of Political Philosophy, is chair of CMC's government department, and director of research.

The Henry Salvatori Center at Claremont McKenna College will bring together a nationally prominent panel to analyze the historic first year of the Bush administration in a conference titled Bush's First Year: A Changing Administration in a Changing World, April 5th on the CMC campus. Experts will explore the impact of September 11th and other world-changing events on the new administration.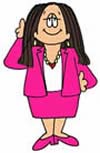 In 1976 Cathy Guisewite became the first woman to break the "paper ceiling" of the comic pages with her comic strip Cathy, the first widely syndicated humor strip by a female cartoonist. Millions of fans read Cathy each day in one of 1,500 newspapers. Topics have evolved since 1976 from issues like the right to work, to the difficulties of having a career and a family, but broader themes remain the same.

Pulitzer Prize-winning journalist Hedrick Smith will speak on the topic Walking the Tightrope: The Tensions Between Work and Family in America Today at 6:45 p.m. on Monday, April 1, at the Marian Miner Cook Athenaeum.
CMC Trustee Peter Barker '70 has been elected Chair of the CMC Board of Trustees, effective July 1, 2002. Chair-elect Barker will succeed Robert J. Lowe '62, whose term as Chair of the Board of Trustees ends on June 30, 2002. Mr. Lowe, Chairman and Chief Executive Officer of Lowe Enterprises, Inc., joined the College's board in 1981 and will remain a Trustee with his election to an additional three-year term.
U.S. Representative Xavier Becerra will speak in commemoration of Cesar Chavez at 6:45 p.m. on Wednesday, March 27 at the Marian Miner Cook Athenaeum. The lecture is free and open to the public on a first-come basis.
When asked what he would change if he were "king for a day," Los Angeles Superior Court Judge Daniel Lopez '74 said he would alter attitudes about juvenile law. Although regarded as the "Siberia of the legal community" for lawyers and especially judges, Lopez said, juvenile court plays an important role in the nation's future, focusing on nothing less than "saving lives and preventing future crimes."
CMS swimmer Suzy Nicoletti ended her college swim career with a dream-come-true win on Saturday, during the NCAA Division III Swimming and Diving Championships in Oxford, Ohio. Nicoletti, who had just missed winning the 100-yard breaststroke (her strongest event) during Friday's finals, went on the next day to win the 200-yard breaststroke with a CMS and SCIAC record time of 2:21.17.
Pages