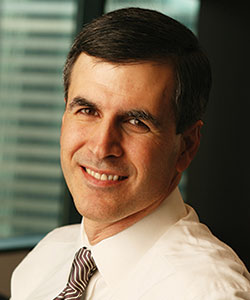 David G. Mgrublian '82 P'11
David G. Mgrublian '82 P'11 has assumed the role as chair of the Board of Trustees of Claremont McKenna College (CMC), one of the nation's top 10 liberal arts colleges. His term began July 1. He succeeds Harry T. McMahon '75 P'08 P'09 who led the Board for eight years.
Mgrublian, a 1982 Claremont McKenna graduate with a double major in economics and political science, has remained actively engaged in the CMC community since his undergraduate years. His appointment by fellow Trustees followed a natural progression for the Board's leadership.
"I see one of the focuses of my new role as acting as a resource and sounding board for the College's exceptional president, Hiram Chodosh, and supporting him and the College's outstanding senior leadership and faculty in any way I can," Mgrublian says.
He is chief executive officer of Los Angeles-based IDS Real Estate Group, a national commercial real estate firm. Mgrublian joined the company in 1992 and oversees its real estate services, corporate services, and advisor divisions. In addition to his CMC degree, Mgrublian holds an MBA from Harvard Business School.
During his 11 years as a Claremont McKenna trustee, he has held a variety of key leadership positions, including seven years as chair of the Board's Building and Grounds Committee, for which he oversaw the campus's strategic transformation and worked with a wide range of College stakeholders.
In that role, he has leveraged his real estate experience to shepherd dramatic improvements to the College's physical facilities including devising its Master Plan, building of the award-winning Kravis Center, significant renovations to the campus's main North Mall, Emmet Student Center, McKenna Auditorium, and Crocker Reading Room, as well as the restoration of Parents Field, and campus-wide exterior lighting and signage upgrades. He also worked closely with trustees Steve Eggert '82 P'15 on renovating the Marian Miner Cook Athenaeum and with Ken Valach '82 and Ken Novack '67 on the renovation of the Mid Quad residence halls and development of the Roberts Pavilion fitness, athletics and event center, respectively.
Mgrublian also led the Presidential Search Committee that brought Hiram Chodosh to Claremont McKenna last July. He also served on the Board Affairs, Academic Affairs, Research Institutes, Capital Campaign, and Executive committees of the Board. Mgrublian worked with emeritus Chair Trustees Robert J. Lowe '62, Robert A. Day '65 P'14, and Peter K. Barker '70 P01, and is the first Board chair to have also served as president of the College's alumni association and student body.
Raised in South Pasadena, California, Mgrublian is the first Armenian-American to lead Claremont McKenna's Board. Early on, he felt it important to give back to the College.
"Thanks in part to the Geoffrey Draper Memorial Scholarship, which helped make it possible for me to attend Claremont McKenna, and the College's inspiring faculty, I will be forever grateful," said Mgrublian.
He and his wife, Margaret, annually fund several student scholarships at CMC and have formed an endowment at the College's Center for Human Rights Leadership. They also financially support summer programs and college scholarships for Pasadena area public school students. Mgrublian's other nonprofit leadership roles include: past board chair of Saint Mark's School in Altadena and Westridge School in Pasadena; and former director of the Western Diocese Armenian Church Summer Camp. He and his wife have two daughters, Kathryn '11 and Madlyn.