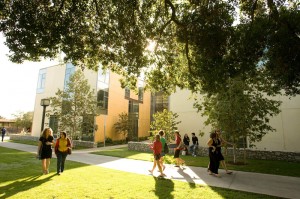 Claremont McKenna College announced today a $7.5-million unrestricted gift from Trustee A. Steve Crown '74, and his wife, Nancy. The Crown Family is behind the Crown Challenge, which is an innovative approach to re-engaging alumni that has helped increase alumni participation from 38 percent to 48 percent in three years. Their new gift helps propel the Campaign for Claremont McKenna past the $610-million mark.
The Board of Trustees will designate Claremont Hall, an award-winning Silver LEED-certified student residence hall located along Amherst Avenue, as Crown Hall in recognition of the gift from Crown and his family.
"I am so pleased to be a member of the Claremont McKenna College community and to be able to help make a difference," said Crown. "Nancy and I are thrilled that our gift is continuing to support the academic excellence that the College is known for and that the Board has seen fit to name this magnificent hall in our honor."
Architectural judges were captivated by Claremont Hall's combination of living and sustainable design features, and the hall was selected as the recipient of the 2009 Residential Architect Design Award (RADA), which was presented as part of a highly-acclaimed annual residential design competition that draws applicants from around the country.
"Steve Crown's generosity is as big and broad as his philanthropic vision," said Board Chairman Harry T. McMahon '75 P'08 P'09. "The Crown Challenge has been one of the most impressive gifts ever to CMC and now Steve and Nancy have given the College another notable contribution and we are very grateful."
Designed by CO Architects, Claremont Hall is a representative of sustainable architecture and design that enhances the experience of social living. Since its opening, the residence hall has been praised by students for its modern feel, high ceilings, lighting and wide corridors, its generous interior and exterior spaces, as well as an ambiance that encourages productive work and study as well as social interaction.
"When one of our students heard about this new gift he said that it was great that alumni are giving for the improvement of students' experiences at the College," said Claremont McKenna College President Pamela B. Gann. "Steve and Nancy Crown understand the importance of terrific residence halls at our College, where at least 95 percent of our students live on campus all four years."
The Crown gift provides another significant highlight in a late-year series of momentous developments for the College.
Earlier this month, President Gann announced that the Campaign for Claremont McKenna, months ahead of schedule, had surged past its $600-million goal with the announcement of a significant gift from alumnus and trustee George R. Roberts '66 P'93.
CMC's achievement not only marks the largest campaign in the College's history, Gann emphasized, but also the largest in the history of liberal arts colleges.
Claremont McKenna College (CMC) is a private liberal arts college with a curricular emphasis on economics, government, and public affairs. Established in 1946, CMC is a member of The Claremont Colleges in Claremont, California.