CMC honors Ambassador C. Steven McGann '73
In a dignified, inspiring memorial ceremony infused with warmth, the CMC community came together to reflect upon the leadership legacy of retired U.S. Ambassador C. Steven McGann '73, who was a member of Claremont McKenna College's Board of Trustees.
The memorial for McGann, who passed away on May 24, 2023, was held in McKenna Auditorium on Sept. 28, with members of his family, fellow CMC trustees, as well as faculty, alumni, students, and staff in attendance. The ceremony was also live-streamed so that members of the CMC community could tune in from around the globe.
A distinguished diplomat whose public service career spanned decades, McGann played a key role in forging humanitarian policies that increased global peace and security, while advocating for gender equality.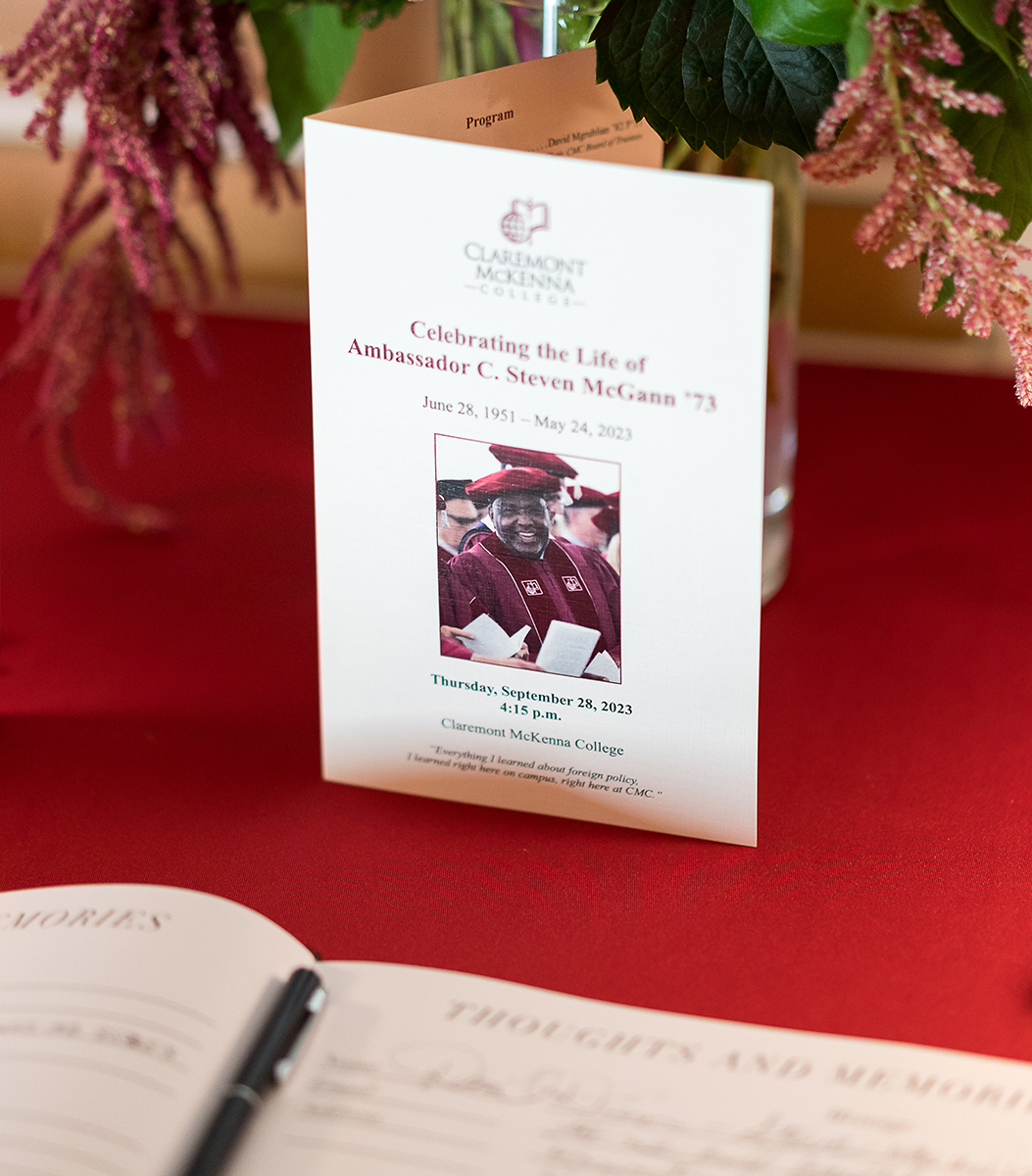 McGann worked for six presidential administrations in an array of diplomatic assignments, serving as the United States Ambassador to Fiji, Kiribati, Nauru, Tonga, and Tuvalu under President George W. Bush and President Barack Obama. He was also responsible for drafting and negotiating the Security Council resolution that imposed sanctions against the Taliban for harboring Osama bin Laden and Al Qaeda.
He was devoted to Claremont McKenna College, and served with distinction in a variety of leadership roles at CMC, as a member of the Board of Trustees since 2020, an alumnus trustee from 2015-18, a member of the Academic Affairs and Student Affairs Committees, and a tireless champion of the CMC Washington program.
In her tribute, McGann's wife Bertra McGann recalled that her husband was looking forward to attending his 50th Class Reunion at CMC just before he passed away, unaware that he was to receive the George C. S. Benson Distinguished Achievement Award, the highest honor bestowed by the CMC's Alumni Association for outstanding professional and public service. (The award was posthumously presented to McGann, and his memory celebrated by his classmates at the reunion.)
Bertra highlighted her husband's personal qualities, describing him as "brilliant," fluent in Mandarin and French, "decisive," and a "visionary." After the ceremony, she said that she felt her husband's calling was as a teacher, as he "was such a natural," and that she was grateful that he had the opportunity to mentor CMC students through the Washington program.
In her remarks, Sue Matteson King '85 P'18, a member of CMC's Board of Trustees, recounted how she had invited McGann to re-engage with CMC at the trustee level in 2014 upon his retirement from the foreign service. Describing their three-hour dinner conversation, King recalled how McGann shared "incredible ideas" with her on how he could "contribute to Claremont to the students and the alumni. He said, 'I can counsel students who are interested in foreign affairs, international relations policy, and careers in D.C. And I can assist faculty and align with professors looking for guest lecturers or subject matter experts. And I can get to know the D.C. program and find ways to lend a hand.'"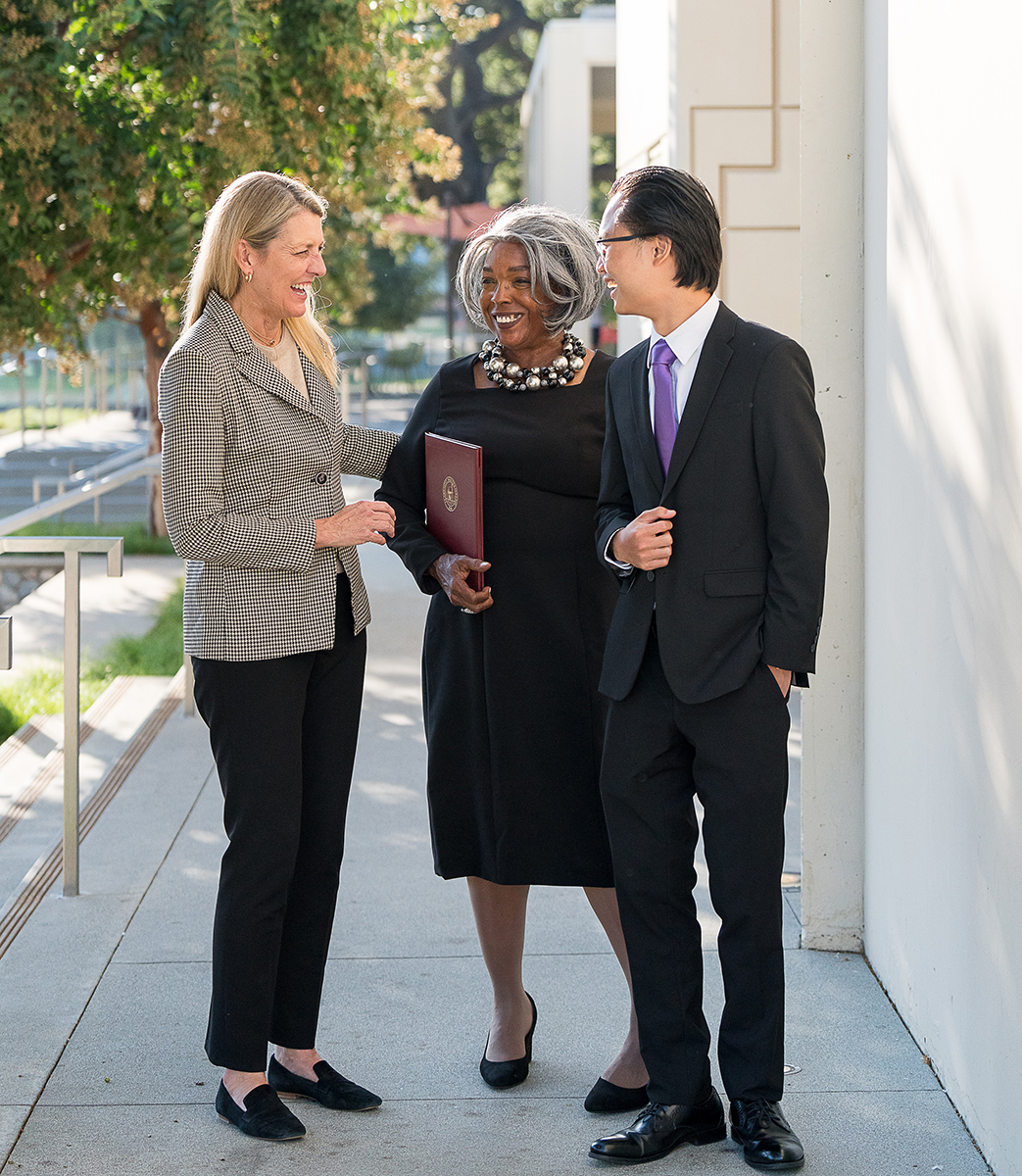 King also read remarks written by CMC President Hiram Chodosh, who is currently on sabbatical.
Chodosh wrote: "Steve McGann is a CMC hero. A lifetime of service, to improve the human condition. A true educator who believed in the power of simulation. A diplomat who understood the capabilities we need to lead through conflict. A dear friend who believed in the powerful role of this next generation. His passing is a profound loss. His example, our eternal gain."
Joseph Zhong '25 was one of the CMC Washington program students whom McGann mentored. In his remarks, he shared McGann's impact on him and his classmates. "From our very first conversation about U.S. foreign relations, to what would be our last conversation, unbeknownst to us, about the future of the CMC Washington Program, he would always impart upon each of us a sense of duty, a duty to give voice to those without it and to create an environment where everyone has the opportunity to succeed and thrive," Zhong recalled. "Ambassador McGann truly embodied responsible leadership always using his stature, his humor, his wisdom, and his charm to create a better, more equitable world."
In his remarks, David Mgrublian '82 P'11, Chair of the Claremont McKenna College Board of Trustees, described McGann as "a learned man, a wise man, who was constantly learning something new," he said. He also noted McGann's leadership, saying, "He was a leader. He was a leader here at the College. He was a leader in his professional life, and he was a leader globally."
David Hetz '80 P'10, Vice Chair of the CMC Board of Trustees, presented a resolution on behalf of CMC's Board of Trustees to McGann's family in memory of the former ambassador. "We are here to remember, honor, and celebrate the life of our brother and fellow trustee," Hetz said. "Steve was the embodiment of the mission of Claremont McKenna College. No one lived more the notion of a thoughtful and productive life and responsible leadership in business government and the professions."
Darrell Smith '74 P'00, a member of CMC's Board of Trustees, offered the closing remarks.
Smith noted that he and McGann were on campus at the same time, and described McGann as a "purpose-driven" man "who lived large, and lived complete."
"Steve was a bright light….Thank you, Steve, for allowing your light to shine. Your body of work will continue to transform many lives towards the better good," he said.
Contact
Office of Strategic Communications & Marketing
400 N. Claremont Blvd.
Claremont, CA 91711
Phone: (909) 621-8099
Email: communications@cmc.edu

Media inquiries: David Eastburn
Phone (O): (909) 607-7377
Phone (C): (808) 312-8554
Email: deastburn@cmc.edu