Innovative senior thesis fulfills real-world aspirations
Anya Zimmerman-Smith '21 is forging new territory with her senior thesis. Even better, it is already having real-world impact.
The challenge she tackled, "Caring for Caregivers: Exploring Neuro-oncology Relationships and Spreading Collaborative Grief Support Using Human-Centered Design," is helping medical professionals across the country to emotionally process their grief when a patient dies in their care.
"It was important to me that my thesis would be something that could actually land somewhere and be helpful. I wanted it to live on," Zimmerman-Smith said.
The idea for her thesis emerged from the UCSF Department of Neuro-Oncology. Members of the care team requested help to scale up and share their successful workplace program, The Honor Project, which provides medical professionals with resources to help address loss and grief. 
As the first Human-Centered Design (HCD) major at CMC, Zimmerman-Smith baked innovation into her thesis content and presentation. Illustrated with graphic elements, such as navigation models, empathy mapping, and a breakdown of the project's conception and development, Zimmerman-Smith also included the storyboards employed for the production of an engaging animated video.
"Human-Centered Design is a creative problem-solving methodology," Zimmerman-Smith explained, which is deployed to design products, services, and experiences that can "catalyze empathy into change." Now, top Neuro-Oncology departments, including the National Institutes of Health, Dana-Farber Cancer Institute at Harvard, and Duke Cancer Center have either adopted, or are in the process of adopting, her work through The Honor Project.
"My major allowed me to develop skills that I could use in any environment or situation. It really aligned well with CMC's focus on experiential learning and real-world impact, which was one of the reasons I wanted to come to CMC," Zimmerman-Smith said.
CMC Prof. Albert L. Park, one of Zimmerman-Smith's thesis advisors, enthused that her research demonstrated CMC as a "unique institution in higher education. Anya's work highlights CMC's motto of connecting theory to practice, and our College's drive to help students become innovative creators of change." 
"Anya's thesis is the first design thesis at CMC," added Park, who is co-principal investigator of EnviroLab Asia at The Claremont Colleges. "Her thesis looks very different from any other thesis, in a fantastic way."
Empathy and problem solving
Zimmerman-Smith's thesis grew out of an advanced independent study HCD course at The Hive (the Center for Collaborative Creativity) that she took in fall 2020, where she collaborated with students from across the 5Cs to assist patients, nurses, and social workers associated with The Brain Tumor Network (BTN). 
Fred Leichter, a professor of engineering at Harvey Mudd and founding director of The Hive, led the course. When Zimmerman-Smith said that she wanted to extend her work with the BTN through her thesis, Leichter encouraged her to collaborate with Kaitlyn Paulsen HMC '22, who had also worked on the BTN project. Leichter—who was already Zimmerman-Smith's major sponsor and mentor—thought Paulsen's engineering skills were a good fit with Zimmerman-Smith's design skills. He also became one of her thesis advisors.
"Healthcare is a ripe space for Human-Centered Design because of its similarity to the design process," Zimmerman-Smith said. "Diagnosing takes empathy and problem solving, treatment takes ideation and prototyping. But sometimes the medical space is so competent at the technical, that it misses the feeling and human connection aspect, which is where Human-Centered Design can help."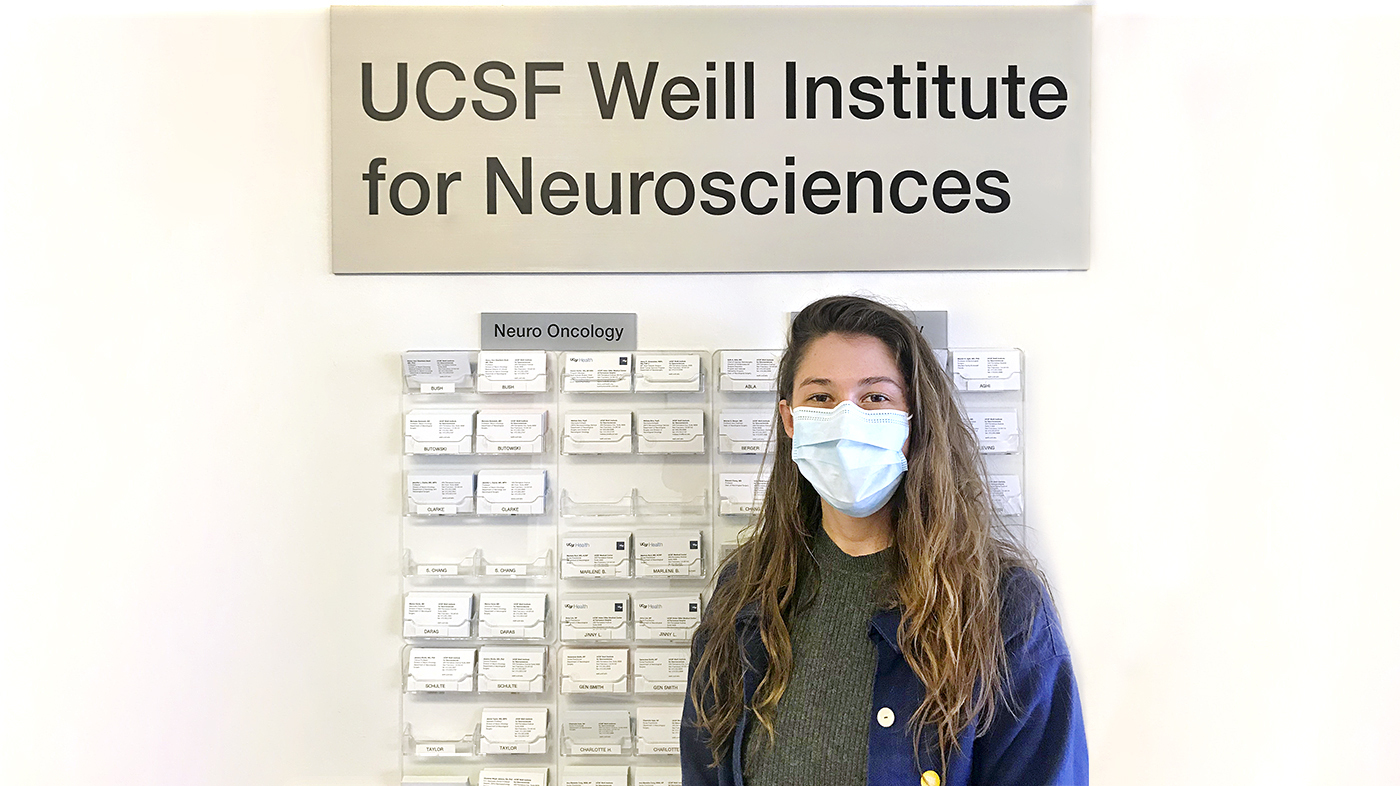 After discovering at BTN the need for medical staff to receive grief support, the two were compelled to use the HCD process to create tools to serve this need. However, Zimmerman-Smith said it was a "happy surprise" when they discovered that one of the social workers they interviewed, Rosemary Rossi, had created The Honor Project with Dr. Susan Chang for their colleagues at the UCSF Brain Tumor Center. Their program fulfilled many of the needs Zimmerman-Smith and Paulsen had identified, but was not yet known much beyond UCSF and hadn't been widely adopted by other caregiving teams. 
The Honor Project's concept is simple to implement: When notified of a death, team members are invited to pause and write the name of the person on a card and place it on a decorative shelf mounted in a staff-only area. Once a month, at a protected time during the workday, the entire team gathers to read aloud the names of deceased patients, sharing stories, reflections, chocolate, and a moment of silence for each person they came to know. In addition, families are notified that their loved ones have been acknowledged.
After intensive research using the HCD process, Zimmerman-Smith and Paulson created a video, website and how-to narrative that depicted The Honor Project story, its importance, and impact on building interdisciplinary compassion and cohesion, while allowing staff a means to grieve. Recognizing that the project would have the best chance of being implemented by healthcare teams beyond UCSF if a respected community member shared them, Dr. Chang eagerly distributed The Honor Project materials designed by the pair to the top 20 neuro-oncology departments in the U.S.
The strategy worked. Currently MD Anderson, National Institutes of Health, Miami Cancer Institute, Duke Cancer Center, City of Hope, and the Brain Tumor Network have expressed interest in or have implemented The Honor Project, using the materials by Zimmerman-Smith and Paulsen, which also include a survey to track the program's impact. 
Immediate impact
Meanwhile, Zimmerman-Smith's strong collaboration with UCSF continues. UCSF doctors, nurses, and caregivers attended her senior thesis presentation, and Zimmerman-Smith and Paulsen remain active with their team, currently working on a publication for medical journals, to highlight both The Honor Project and the impact of HCD in healthcare. 
In addition, Zimmerman-Smith and Paulsen recently hosted a video presentation to the UCSF Brain Tumor Center staff, as well as some caregivers of patients who had passed away, and administrators from the Dana-Farber Cancer Institute. 
"When I began my association with Anya and Kaitlyn, I was running on empty," Rossi told her colleagues during the video session. "But every time I spoke to them, I was drawn back to my passion for doing what I do, and my excitement for the future. Working with them was a wonderful experience."
Leichter doesn't hold back his praise. "It's not often that you see a senior thesis that makes an impact on the world so immediately," he said. "I am very proud."
Read Anya Zimmerman-Smith's senior thesis.
Access The Honor Project's resources.
Contact
Office of Strategic Communications & Marketing
400 N. Claremont Blvd.
Claremont, CA 91711
Phone: (909) 621-8099
Email: communications@cmc.edu

Media inquiries: David Eastburn
Phone (O): (909) 607-7377
Phone (C): (808) 312-8554
Email: deastburn@cmc.edu