Aaron Leconte, assistant professor of chemistry at the W.M. Keck Science Department, a collaboration between Claremont McKenna, Pitzer, and Scripps Colleges, has been awarded a three-year early career grant from the Research Corporation for Scientific Advancement. The $100,000 Cottrell Award will support Leconte's research on the protein luciferase, a luminescent material produced by the North American firefly that can be used to track and record biological events and processes to better understand cancer, bacterial infections, and more.


CMC was well-represented by tech-savvy students in the latest 5C Hackathon that took place in late November at Pomona College.
Lindsay Claiborn '05 has launched a new science-focused podcast called Beyond the (Micro)scope at scopepodcast.com, @scopepodcast and facebook.com/scopepodcast. The podcast discusses science, technology, innovation, current events, business topics and STEM careers through the lens of women involved in the fields. The next episode airing May 19 features an interview with fellow alum Dana Weiser '05.
The National Science Foundation (NSF) has awarded the W.M. Keck Science Department a number of competitive research grants, putting the department among the top in the nation in federal funding, speaking to the excellence of the faculty, students and research.
According to Dr. Bidushi Bhattacharya, Director of Sponsored Research and Science Liaison at the W.M. Keck Science Department, federal research faculty grants from the department are enjoying a 50 percent success rate and are well above the national average, which hovers between 10-15 percent.
Hollywood typically drives the conversations around the water cooler, and if any of the current conversations are about planetary exploration and Earth's future, it's likely they were stimulated by the new Christopher Nolan movie "Interstellar."
But Harvey Wichman (pictured below), who retired from CMC's Psychology Department in 2000, has long been contributing to our understanding and experience of space travel as it might be actually experienced—not as Hollywood depicts it.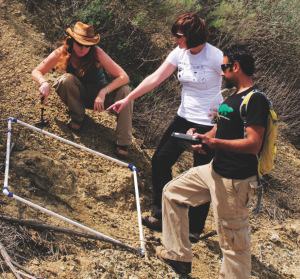 From right: Carlos Pelaez '04, Lauren Harrell '09 and Jess Pelaez in the field.
To The Claremont Colleges Community:
CMC President Hiram E. Chodosh and Pitzer President Laura Skandera Trombley join me in announcing the appointment of Marion Preest, professor of biology, as the Interim Weinberg Family Dean of the W.M. Keck Science Department of Claremont McKenna, Pitzer, and Scripps Colleges.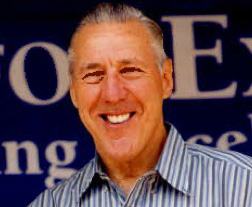 Allan Klumpp '53
Many children have dreams of becoming firefighters, ballerinas, doctors, or teachers, but when Allan Klumpp '53 was a boy, he wanted to become a mechanical engineer. That boyhood fantasy turned into a career that helped propel the dream of a nation.
Pages