New public art dedicated in a campus ceremony bursting with imagination
Wishful Messages
After the dedication ceremony, Jeppe Hein led a sensory and interactive lunch at the Ath to further demonstrate how art can enhance our lives.
As part of the interaction, Hein distributed balloons to everyone in attendance, asking each individual to inflate their balloon, mark it with a short wish for themselves —"whatever you want in your life right now"— and then bounce the wish-balloon across the room as "a present to someone else," Hein said.
"Now I want you to think about this moment," he continued. "Everyone was right here, right now. And, one of the most important things in life is to not be in the future or the past, but to be right here, right now."
Here is a sample of the wishes attendees wrote on their balloons:
Good poetry
Hope
Hope in Humanity
You Are Enough
Pride in my team
Love Strengthens
Peace and Quiet
Calm
More critical thinking
Good Health for my Family and Kids
Take time to smell the roses
More empathy and love in this world
Deep Breaths
Joy
Civility
Kindness
Sporting a "Right Here, Right Now" button on his jacket lapel, world-renowned Danish artist Jeppe Hein took a deep breath in front of his installation, "Modified Social Benches Claremont," adjacent to Adams Hall.
The colorful and whimsical installation — the newest addition to CMC's Public Art Program — has captured the imaginations of CMCers, much to Hein's delight.
"I love that the benches inspire so many young people, and that they create happiness and togetherness," he said just before the installation's dedication ceremony on a recent December morning.
Gifted by Denise and Benjamin Kraus '11, "Modified Social Benches Claremont" was officially dedicated on Dec. 5, with Kraus' parents Jill and Peter P'11 joining the ceremony, which featured remarks from CMC Trustee Christopher Walker '69, Kraus, Hein, and President Hiram E. Chodosh.
In gifting "Modified Social Benches Claremont" to his alma mater, Kraus noted that even after graduating CMC, he remains inspired by the College's unwavering "spirit of entrepreneurship, focus, and creativity."
"When Chris (Walker) and President Chodosh presented this opportunity, it was a no-brainer," added Kraus. "And, as Jeppe pushes boundaries of modern society and creativity, I hope that's something CMCers will appreciate."
Kraus feels a deep personal connection to Hein and his art. The two met after Kraus interacted with Hein's "Modified Social Benches" installation in Brooklyn Bridge Park. His experience with Hein's public space work led to Hein creating work for Kraus' own home — silver balloons similar to Hein's "Wishful Balloons" installation in LaGuardia Airport.  "Now my four-month-old stares at them in her nursery. What an amazing gift to have Jeppe's creativity on display in our personal space," he said.
His parents, Jill and Peter, are prominent contemporary art collectors, consistently named to the annual ARTnews "Top 200 Collectors" list and involved in many public and private site-specific commissions.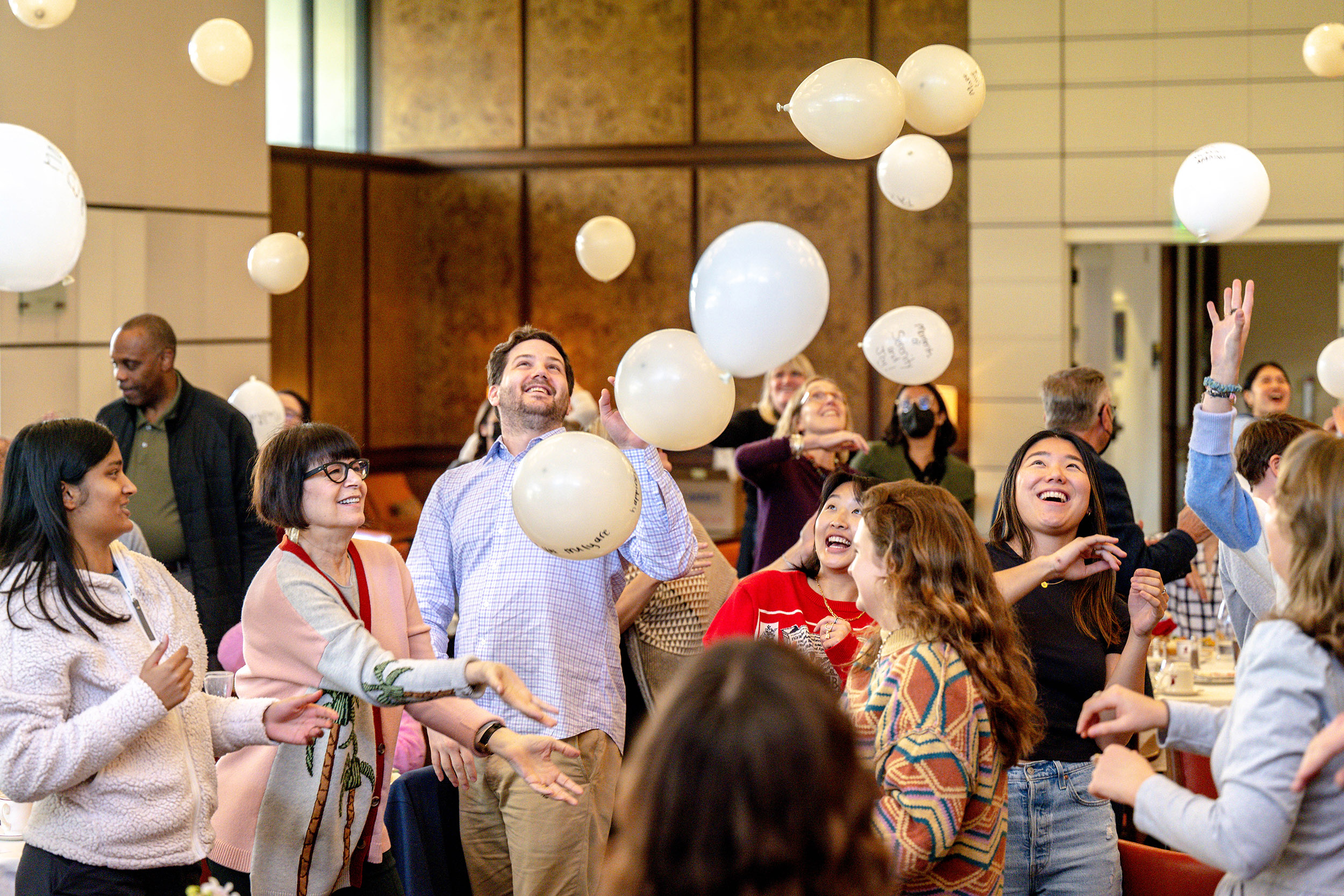 In his remarks, Chodosh paid tribute to the family's public art legacy, thanking "Ben and Denise, for their leadership and support in powerful reflection and alignment with Jill and Peter's values."
Chodosh then described how Hein's work transforms our perception of benches as mundane, linear objects with negative connotations, such as being "benched," or sidelined. 
"Here, on our campus, Jeppe turns benches into something else," Chodosh said. "He creates a better experience, rooted in purpose of community and play. Instead of demarking a sideline or a confined place on the margins of the major state of play, Jeppe's benches become center court, the apex of the game. Jeppe's benches become a place to go, a destination. Instead of a monolithic rectangular shape and single line, where we can see others but not ourselves. On Jeppe's benches, we can face one another and look simultaneously within and beyond."
Walker, who chairs CMC's Public Art Committee, said he's proud of what CMC has achieved in installing significant pieces of public art on campus, saying the College "punches into a higher weight class" with an on-campus collection that also includes works by leading contemporary artists, Carol Bove, Chris Burden, Ellsworth Kelly, Mary Weatherford, and Pae White."
Hein said that he hopes his work" inspires students to experience something new in their lives" and "to be in the moment." He also thanked the members of CMC's facilities team "who take care of the benches" on a regular basis.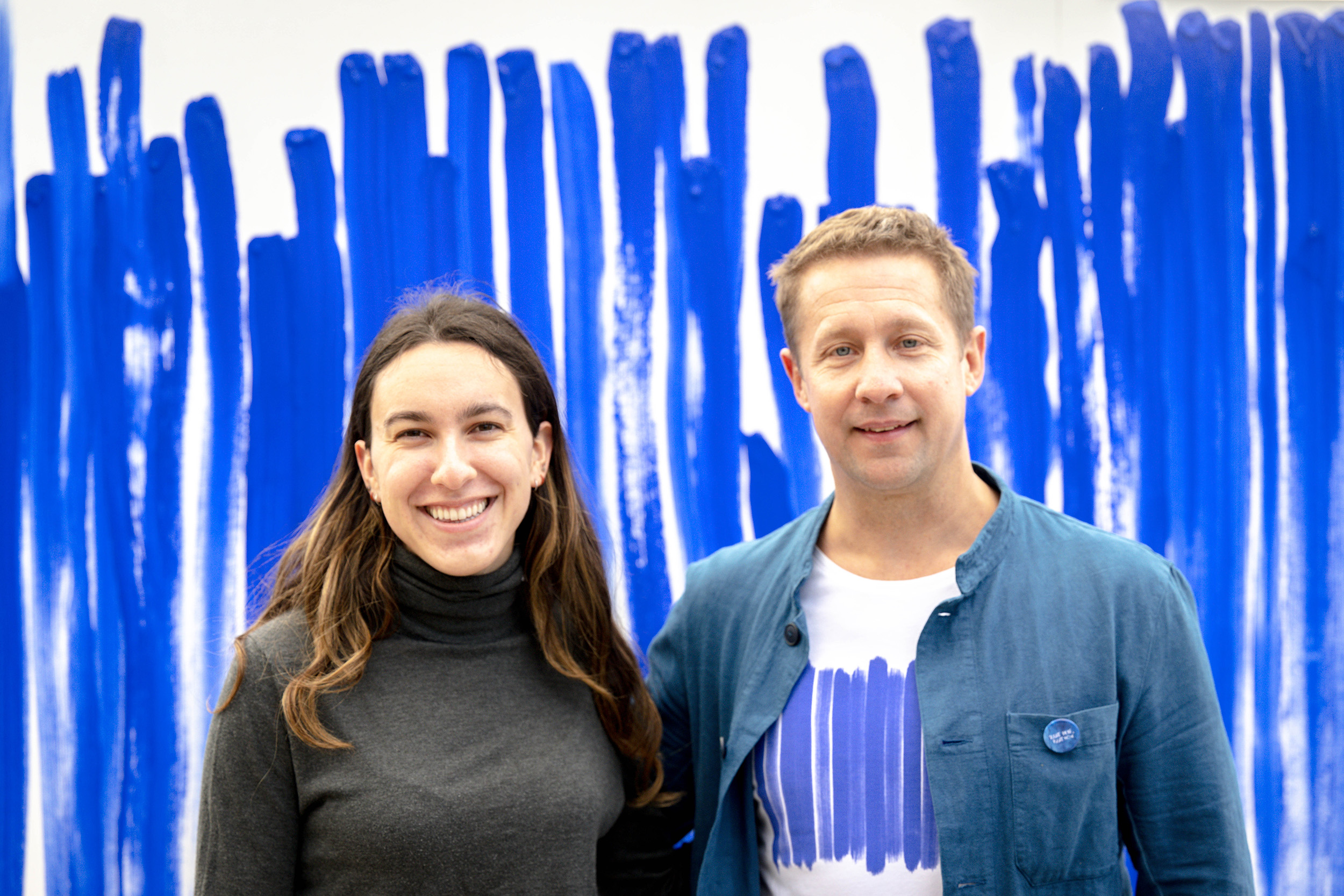 Afterward, Hein urged everyone in attendance to channel their inner artist and join him in a collective mural-making project to illustrate something invisible — our breath. As Kraus and Hein each grabbed a brush dipped in bright blue acrylic paint, Hein explained that as "our breath connects us and keeps us together, let's paint (our breath) as a symbol of being together."
As if on cue, when CMCers —including faculty members, staff, students, and alumni— were brushing vertical lines to match their individual inhales and exhales, a group of students from local Vernon Middle School on a CMC campus tour, were urged by Hein to take up paint brushes and join the project. "Let's do this!" one student said.
For Rachel Keady '23, Hein's presence at CMC was more than a welcome break from studying for finals. Last spring, the literature major wrote a research paper exploring the artistic origins of Hein's "Modified Social Benches" series. Meeting him in person, she said," was an exciting, full circle moment. He was very kind, and encouraging of everyone's artistic abilities."
Contact
Office of Strategic Communications & Marketing
400 N. Claremont Blvd.
Claremont, CA 91711
Phone: (909) 621-8099
Email: communications@cmc.edu

Media inquiries: David Eastburn
Phone (O): (909) 607-7377
Phone (C): (808) 312-8554
Email: deastburn@cmc.edu