Qwalala magically glows at CMC dedication
At the official unveiling of Qwalala, CMC's newest public art installation, artist Pae White promised that her glass sculpture would appear to evolve each time it is viewed.
The 250-foot-long artwork was dedicated just before sunset on Claremont McKenna College's campus for guests from CMC and the local Claremont community on Sept. 20. As dusk approached, the sculpture's over 1,500 glass bricks in a palette of 26 colors became gracefully illuminated, taking on a magical quality, glowing and evolving as the sky darkened. 
The newest addition to CMC's Public Art Program, Qwalala was dedicated in a ceremony that celebrated the program's goals to enhance and support the educational mission of the College.
Since 2015, the Public Art Program has enriched CMC's campus with works by Chris Burden, Carol Bove, Ellsworth Kelly, Jeppe Hein, and Mary Weatherford. 
CMC Life Trustee Christopher Walker '69, who chairs the Public Art Subcommittee of the Board of Trustees, offered a warm welcome, saying, "Our goal has been to integrate art into the campus life as an everyday experience" to be viewed as members of the CMC community walk to class or dinner at the Athenaeum, and, "for the lucky students who live in Mid Quad, who look out their dorm windows and see Pae White's magnificent sculpture."
Devanshi Guglani '25, co-president of the CMC Student Art Council, spoke of how Qwalala "represents the fusion of art, culture, and nature," and "is a testament to the ingenuity of artist Pae White. It has completely revitalized our Mid Quad space," she said.
The artwork's name, Qwalala, is derived from the Pomo tribe describing the meandering path of the Gualala River on the northern coast of California. Fittingly, the work serpentines through Mid Quad, amidst the backdrop of sycamore and California oak trees.
In her remarks, White, who is a 1985 graduate of Scripps College, said she felt honored to be among the artists represented in CMC's public art collection. 
She noted how the ambient sounds of a thriving campus enhanced her own experience of viewing the work, saying, "the piece becomes alive through active participation of the viewers, the students, which is why this is such a great location."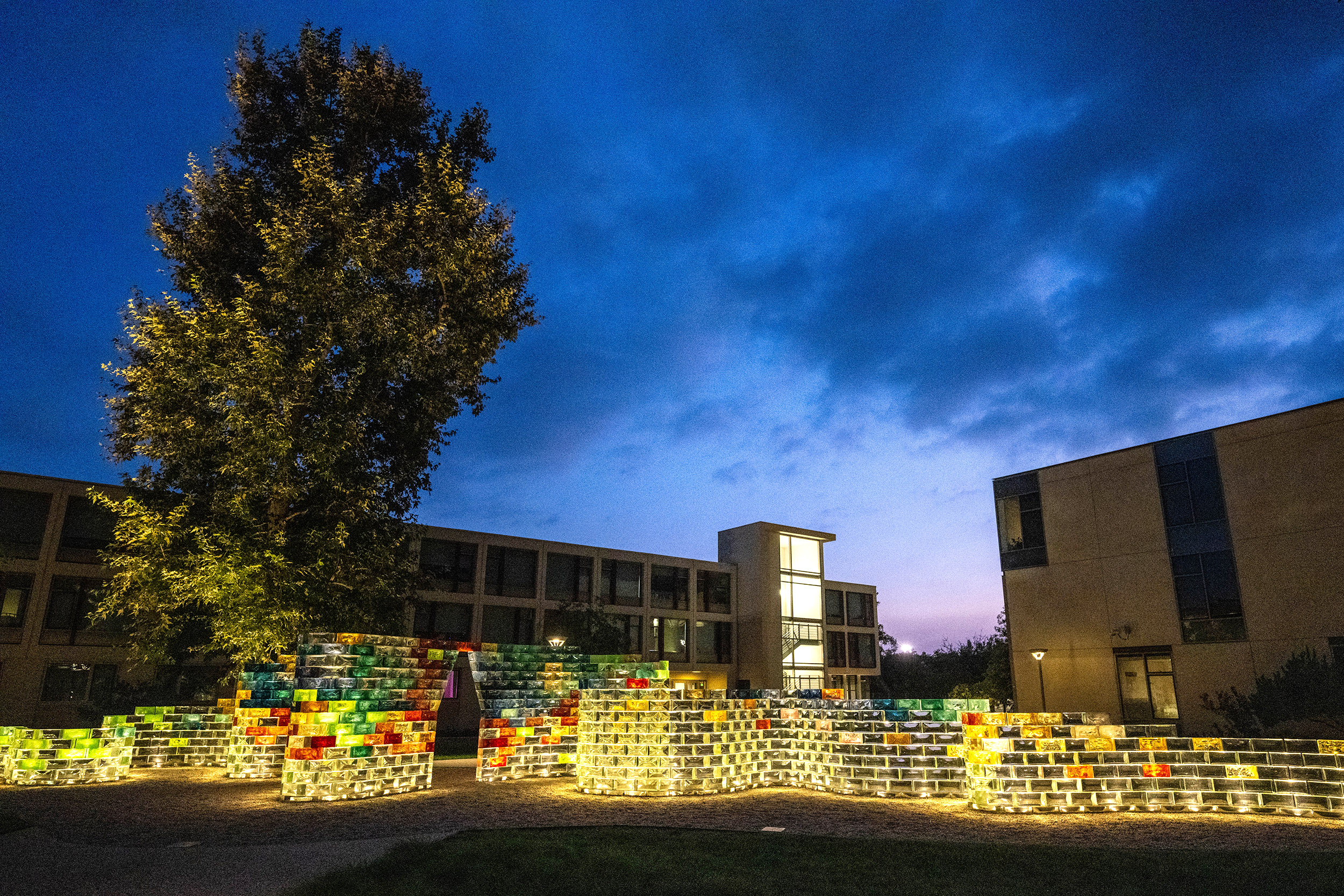 White described how her artwork was integrated into "a complex and incredible landscape plan," with the lighting as "the final flourish."
"Even as I stand here, if you look away for two minutes, you look back, it's going to be different," she said. "So, to have that kind of ever-evolving aspect of the piece, it's just a dream. And it looks also very beautiful during the day when it's sunny."
Kimberly Shiring, Director of Public Art, closed the ceremony by thanking those involved in the Qwalala installation. She then described how CMC's Public Art Program is an essential component to providing "an active residential environment that seeks to promote the personal and intellectual growth of students. With Qwalala surrounded by residence halls, we have public art that has activated a social space to inspire, to challenge, to bring wonder, and to engage with each other constructively."
Shiring encouraged guests to "mingle and meander" around Qwalala and follow the path throughout its two archways.
Zane Yamamoto '24, CMC student body president, was among those who explored the path along the serpentine sculpture. Having tracked Qwalala's progress as it was built, Yamamoto said he's enjoying how Qwalala flows and changes depending on the time of day. 
Taking a close-up look at the glass bricks hand-forged by Italian artisans, Yamamoto noted how they reminded him of home. "I'm from Hawaii," he said. "When I look at these bricks, I see the ocean."
Contact
Office of Strategic Communications & Marketing
400 N. Claremont Blvd.
Claremont, CA 91711
Phone: (909) 621-8099
Email: communications@cmc.edu

Media inquiries: David Eastburn
Phone (O): (909) 607-7377
Phone (C): (808) 312-8554
Email: deastburn@cmc.edu