Women and Leadership Alliance

Our Mission
The Women and Leadership Alliance is a joint endeavor to support and promote student programs at the Claremont Colleges that will highlight issues faced by women in leadership in business, government and the professions.
How We Began
In 2010, students at CMC approached Sarah Smith Orr (then Executive Director of the Kravis Leadership Institute at CMC) about the need and desire for female leadership mentors on campus. Support quickly came together for the first Women & Leadership Workshop, designed to support all 7-C students during their time of preparation for post-graduation opportunities and employment, as well as connecting students with successful women leaders representing fields such as law, non-profit, entrepreneurship, finance, consulting, entertainment, education, government service, marketing, and health services. We decided to capitalize on the momentum generated by the workshop's success, and thus, the Women & Leadership Alliance was born.
Who We Are
We welcome and encourage involvement from all of the educational institutions in Claremont. Currently, we have representatives from the Kravis Leadership Institute, the Berger Institute for Work, Family, and Children, the Robert Day School of Economics and Finance, the Mgrublian Center for Human Rights, the Marian Miner Cook Athenaeum, the Center for Writing and Public Discourse, the Dean of Students Office, the Dean of Faculty Office, the Office of Development, the Center for Global Education, CMS Athletics, Intercollegiate Feminist Center for Teaching, Research and Engagement of the Claremont Colleges, and the CGU School of Educational Studies. Please join us! Contact [name] for more information.
Upcoming Events
WLA Meeting -- come, and bring your friends
Friday, October 28
12:15-1:15 p.m.
Kravis LC63
Gender and Sexuality on the Campaign Trail: Responses to the Presidential Election
Featuring Andrew Busch (CMC), Emily Pears (CMC), and Jean Schroedel (CGU), panelists
Monday, Nov. 14
11:45 a.m. (talk begins at 12:15 p.m.)
Athenaeum luncheon
Gender and Sexuality Studies Sequence at CMC: a pre-registration tea at the Ath
Thursday, Nov. 10
4:15-5:30 p.m.
Learn more about the Sequence. All are welcome!
---
Join us for "The Next Wave," a conference to celebrate the pioneering work and impact of Applied Women's Studies!

What kinds of social change and careers are possible for Applied Women's Studies students at Claremont Graduate University?
Come and listen to answers from AWS Director Linda Perkins and alumni with AWS backgrounds at "The Next Wave: Effecting Change Through Applied Women's Studies," a special conference on October 14 to celebrate the 15th anniversary of this pioneering program and how its graduates are changing the world.

Please RSVP to reserve your place. We hope to see you there! Lunch will be provided for all registered attendees.

The day's program features keynote remarks by leadership expert, alumna, and AWS mentor Dr. Sarah Smith Orr and the story of the program's creation from its first director, Jean Schroedel. The conference includes several alumni panel discussions on how internships and an interdisciplinary approach have positioned them for careers in politics, policy, activism, the non-profit and for-profit sectors, education, as parents, and much more.

Your voices are important to this event. The conference begins at 8:30 a.m. with coffee and informal conversation and concludes with a networking reception at the university's President's house: we want you to have chances to share your experiences and questions with each other and our conference participants.

The Next Wave: Effecting Change Through Applied Women's Studies
Friday, October 14, 2016
8:30 a.m.–4:30 p.m.
Albrecht Auditorium at Claremont Graduate University
924 North Dartmouth Avenue
Claremont
91711
---
CMC Welcomes John Prendergast!
John Prendergast will be at CMC during the week of October 3-7. Mr. Prendegast, Founding Director of the Enough Project and a Human Rights Activist and Podlich Fellow, he first visited CMC in February 2016 and is back for a week-long series of special events. Please go to the Mgrublian Center for Human Rights for more info about events.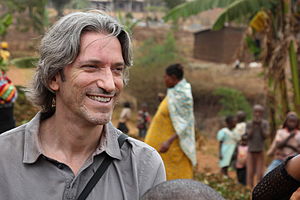 Women and Gender Leadership Fund
The Women and Leadership Alliance and CMC are excited to launch the Women and Gender Leadership Initiative. This two-part initiative consists of program facilitation and the funding of student proposals focused on student education and engagement around gender and leadership.
The fund invites students of all genders identities to propose projects focused on building awareness and empowering women and other gender identities.
More details about the initiative.